Although I've never been to the crazy SEMA aftermarket automotive show in Las Vegas, I have a pretty good idea of what goes on there. Namely: people modify cars to ridiculous levels. Of course, there are lifted trucks, and lowered sports cars, and crazy lighting modifications, and wild paint schemes. But there's also just… insanity. It would not surprise me even slightly if someone reporting from SEMA revealed that there was, currently being shown, a pickup truck powered by cabbage.
So what happens to these vehicles after the show? It varies — but they usually end up looking for an owner. And that means many former SEMA show cars get listed on Autotrader, where they eagerly await a new home. So with that in mind, and with SEMA going on right now, here are five of our favorite former SEMA show cars currently for sale on Autotrader.
2015 Chevy Silverado 2500HD
This 2015 Silverado 2500HD doesn't just have a lift kit — it's wearing stilts. Offered for $83,991 by Lewisville Autoplex in Lewisville, Texas, near Dallas, this 2015 Silverado 2500HD is what happens when some Texans decide they want to see exactly how high they can lift a pickup truck before it becomes truly ridiculous. This one is, indeed, bordering on "truly ridiculous," featuring a 12-inch lift, 24-in wheels, 37-in tires and one of the most absurd, imposing appearances of any vehicle you might ever see on the street. Given this Silverado's unusual appearance, we're not surprised it only has 3,700 miles — since you probably wouldn't want to drive it very often. Find a 2015 Chevrolet Silverado 2500HD for sale
2015 Ford Expedition Platinum
This is not your typical Ford Expedition. Instead, this gray 2015 Expedition Platinum — dubbed the "Tjin Edition" — is lowered with custom fender flares and custom 24-in alloy wheels. While it looks fairly subtle on the outside (except, you know, for the fact that it's a full-size SUV lowrider), it boasts several other modifications, too — including a custom exhaust, upgraded brakes, an air suspension for raising and lowering, and a light tune for 405 horsepower (up from the factory 365 horses). To me, this is the coolest car on this list — and if you feel the same way, you can find it on sale for $44,995 at Jordan Motorz in Milwaukie, Oregon, just outside Portland. Find a 2015 Ford Expedition for sale
2008 GMC Yukon XL Denali
There's crazy, and then there's really crazy. This 2008 GMC Yukon XL Denali falls into the second category. For sale in Fayetteville, Arkansas, by a private owner who's asking $29,900, this Yukon XL Denali is ridiculous on many, many levels — like the huge roof rack, the red lighting in front, the giant lift kit, the ridiculous paint scheme, the custom hood and the custom fender flares. But the most ridiculous thing about it is the mileage: Despite all this customization, which you'd think would make it rather difficult to drive, this '08 Denali has traveled nearly 165,000 total miles. This thing certainly is an acquired taste — but I have to admit, it has a certain appeal to it. And it certainly costs a lot less than you'd spending building it yourself. Find a 2008 GMC Yukon XL for sale
2003 Hummer H1
Undoubtedly the most absurd vehicle on this list is this 2003 Hummer H1, which is part Hummer and part monster truck. Painted bright green with giant flames down the side and featuring a huge lift with monster-truck-style tires, this H1 is available for $139,991 in — where else? — Texas. As if the exterior weren't ridiculous enough, check out the interior: It, too, features copious amounts of bright green, along with a wide range of upgrades to the electronics — and a crazy steering wheel and gauges. But the most ridiculous part of all this can be found in the last four pictures of the listing: This H1 is sold with tank-style treads you can use in place of the wheels. Find a 2003 Hummer H1 for sale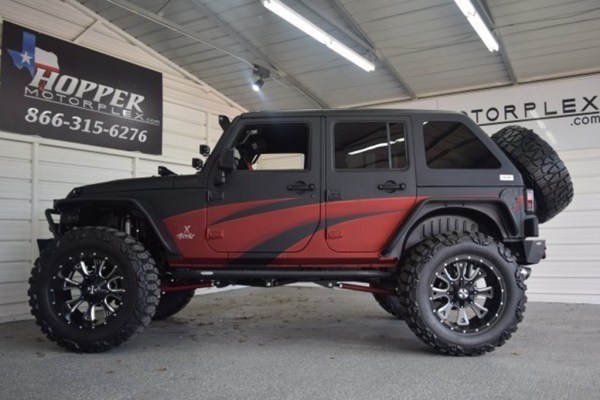 2015 Jeep Wrangler Rubicon
This listing starts with the line, "If you're looking for an off-road monster, then your search is over." And, indeed, that's true, because this thing is quite the off-road monster. For proof: Check out the 6-in suspension lift in order to make room for the 40-inch tires, which truly look like they could go over anything. Also worth noting: The giant slant-back hardtop, with accompanying mounted spare tire — and a pod on the dashboard that solely controls the Jeep's vast amalgamation of LED exterior lights. If you're interested, this used Jeep Wrangler four-door for sale is in the land of former SEMA cars — Texas, apparently — where it's offered by Hopper Motorplex, near Dallas, for just under $69,000. Find a 2015 Jeep Wrangler for sale
Doug DeMuro is an automotive journalist who has written for many online and magazine publications. He once owned a Nissan Cube and a Ferrari 360 Modena. At the same time.
MORE FROM OVERSTEER:
Here's Why the Audi Q5 and Q7 Have Two Sets of Brake Lights
Here's What It Cost Me to Own an Aston Martin for a Year
How Do You Finance a Car That's More Than 10 Years Old?