If you're interested in buying a perfect 1990s Japanese sports car, Autotrader has you covered. The "Golden Era" of Japanese performance cars was surely the 1990s, when every brand seemingly had a sports car — even Subaru. And while that era is now long gone, many people preserved these 1990s Japanese sports cars — and here are five examples you can buy today.
1993 Mazda RX-7 – $31,900
This 1993 Mazda RX-7 is a perfectly preserved example of the famed rotary-powered Japanese sports car, which was only sold in the United States for three model years. Offered by Gas MotorCars in the Atlanta area, this RX-7 has covered fewer than 30,000 miles from new, and it's currently listed for $31,900. Find a Mazda RX-7 for sale
1995 Mitsubishi 3000GT VR-4 Spyder – $28,500
Although the Mitsubishi 3000GT is a well-known 1990s Japanese performance car, few people know about the 3000GT Spyder. Indeed, it was a convertible version of the 3000GT with a retractable hardtop — and it was wildly expensive, with prices easily cresting $100,000 when you account for inflation. This pristine 3000GT VR-4 Spyder has covered just 6,500 miles from new, and it's offered by a private seller in Indianapolis for $28,500. Find a Mitsubishi 3000GT for sale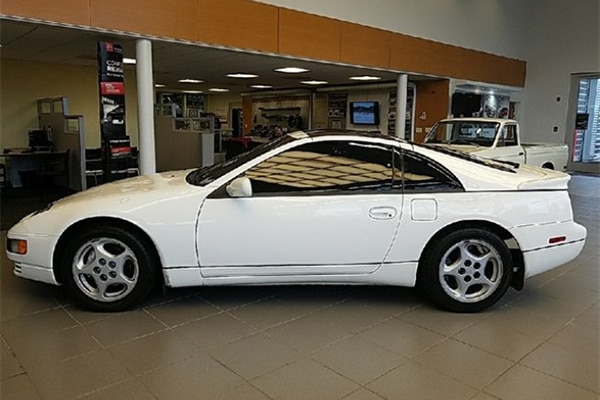 1991 Nissan 300ZX Turbo – $30,000
The 300ZX was Nissan's contender in the world of 1990s Japanese sports cars, and twin-turbocharged models are the fastest — and, naturally, the most desirable. This 1991 300Z Twin Turbo is offered by Smolich Nissan in Bend, Oregon, where it's listed for $30,000 — likely on account of the fact that it's covered just 34,000 miles from new, and because it boasts the most desirable combination: a turbocharged engine mated to a manual transmission. Find a Nissan 300ZX for sale
1996 Subaru SVX – $7,995
The Subaru SVX was Subaru's unusual attempt at a 1990s Japanese sports car. It wasn't as sporty as rival models, as it only offered a maximum of 230 horsepower, and you could only get it with an automatic transmission. But it was cool and special, touting an impressive design with strange glass and a weird look. This SVX is one of the nicest on Autotrader; it's offered with 67,000 miles by CarSource near Columbus, Ohio for $7,995. Find a Subaru SVX for sale
1994 Toyota Supra Turbo – $69,997
The Toyota Supra is among the most famous of the 1990s Japanese cars, and this combination was the most desired: a Supra Turbo with a manual transmission. This particular Supra is gorgeous, touting a red exterior and black interior, all unmodified from when it was first sold nearly 25 years ago. This Supra is offered with 36,000 miles by Cosmo Motors, a Supra specialist in Hickory, North Carolina, where it's listed for $69,997. Find a Toyota Supra for sale
Doug DeMuro is an automotive journalist who has written for many online and magazine publications. He once owned a Nissan Cube and a Ferrari 360 Modena. At the same time.
MORE FROM OVERSTEER:
The Early Chrysler LX Cars Aren't Aging Well
Video | Here's Why the BMW i3 Isn't Worth $50,000
Here Are the Cheapest Electric Cars For Sale on Autotrader