Later today, I'm bringing you a review on the best Kia model ever made — and you'll see that shortly. But right now, I figured I'd take you on a little trip down Kia memory lane, just so you can remember where Kia has come from in order to get to its current position.
And so, here are five surprisingly nice older Kia models listed for sale on Autotrader — all of which are far better than you'd expect, given their age and their Kia status. After all, most people don't really preserve their Kias, so it's weird to find any older ones in good condition — but these are the exceptions.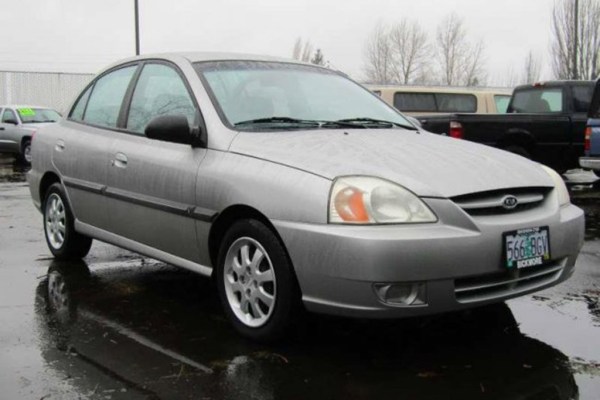 2004 Kia Rio With 59,000 Miles — $6,288
When this 2004 Kia Rio was sold new, it was by far the cheapest car on sale in the United States. Back in 2004, the base price of this thing was $9,740. It apparently hasn't lost much value (and, frankly, it didn't have much value to lose), as it's currently offered in truly excellent condition with just 59,000 miles by Bickmore Auto Sales near Portland, Oregon, for $6,288. The Carfax report shows it's been an Oregon car its whole life, with the first owner driving it from 2004 until 2016 before a second owner took over. This one is pretty basic, but it has a lot of life left. Find a Kia Rio for sale
2003 Kia Sedona With 45,000 Miles — $5,995
This 2003 Kia Sedona is a good example of just how far Kia has come. The new Sedona — loaded with features, packed with convenience, modern in its appearance — is a huge step forward from this original version, which went on sale in the U.S. market for the 2002 model year. With that said, this Sedona seems like a great deal: It's covered just 45,000 miles, it's in excellent condition and it's on sale for just $5,995 from Good Rides in Stuart, Florida, on the Atlantic Coast. Find a Kia Sedona for sale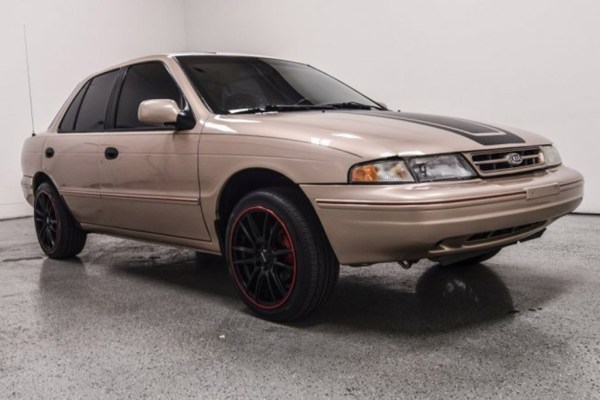 1994 Kia Sephia With Upgrades — $4,991
This 1994 Kia Sephia is probably the most unusual car on this list. First, it should be known that this is the very first Kia from the very first model year that the brand ever existed in the United States. And, in fact, this car was sold new on June 21, 1994, making it one of just 12,000 Kia models sold in that first year in the United States. While a '94 Sephia is generally worth nothing, this one has some value — if only because it has the nicest entertainment system ever fitted to a Kia Sephia, complete with a huge full-color center screen. It also features aftermarket wheels, a racing stripe and upgraded upholstery. No word on exactly why. It's offered for $4,991 by Mark Kia in the Phoenix area. Find a Kia Sephia for sale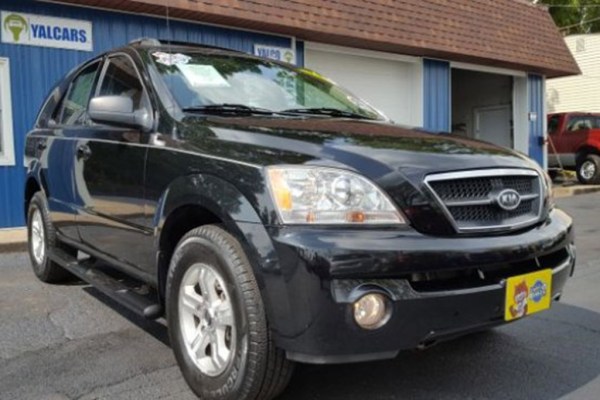 2004 Kia Sorento Manual — $4,995
No, the Kia Sorento hasn't always been a midsize crossover designed to compete with the Toyota Highlander. Few remember it now, but the original Kia Sorento was a body-on-frame, truck-like SUV with burly styling, and it was sold like this from 2003 to 2009. Back then, there was even an available manual transmission, which this one has: a Kia Sorento with a stick shift. Better yet, it's a stick shift with 4-wheel drive, which is a desirable combination. This Sorento is a 1-owner example that's covered just 63,000 miles from new, and it's offered for only $4,995 from Yalcars in Youngstown, Ohio. Find a Kia Sorento for sale
2000 Kia Sportage Convertible — $4,987
This 2000 Kia Sportage Convertible is my favorite car on this list, if only because it represents just how different the SUV world was back when the Sportage was first released 20 years ago. Back in 1995, when the Sportage came out, it was a rear-wheel-drive, body-on-frame, truck-based SUV with a convertible variant; now it's a little 4-door crossover like everything else. This is probably the nicest convertible left — although, sadly, it's a 2-wheel drive model, offered for sale by Shawnee Mission Ford in the Kansas City area for $4,987 with only 96,000 miles. Find a Kia Sportage convertible for sale
Doug DeMuro is an automotive journalist who has written for many online and magazine publications. He once owned a Nissan Cube and a Ferrari 360 Modena. At the same time.
MORE FROM OVERSTEER:
Here Are 5 Unusually Well-Preserved Economy Cars For Sale on Autotrader
Autotrader Find: 2018 Bugatti Chiron
Here's the Easiest Way to Tell Apart the New Jeep Wrangler and the Old One