If you're looking for something cool, I've got you covered — like always. Today I've decided to round up seven of the coolest used Japanese cars currently listed for sale on Autotrader, which was an unusually easy task, because — as it turns out — there are a lot of cool used Japanese cars listed for sale on Autotrader. This list isn't mean to be comprehensive, but it's a nice sampling of the coolest Japanese stuff you can buy if you're looking for something special.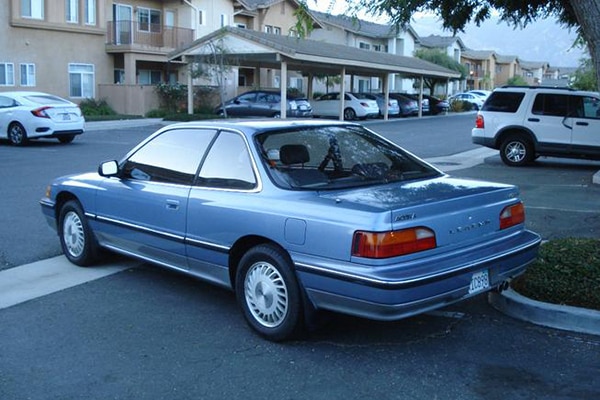 You don't see a lot of first-generation Acura Legends — and you especially don't see a lot of first-generation Acura Legends that look this good. Pictured here is a 1989 Legend Coupe, finished in blue with a blue interior, in absolutely fantastic shape. This version of the Legend was Acura's first-ever flagship car, and now you have the chance to see what late-1980s luxury was all about. It's offered by a private seller in Goleta, California, near Santa Barbara, for $5,000.
Why is a 1997 Nissan 240SX listed for almost twenty grand? If you're asking that question, you probably don't know about this car's status as a revered drift-mobile — a car that's loved by all enthusiasts and fans of drifting, thanks to its rear-wheel-drive architecture and small size. This has to be one of the last clean, unmodified 1997 240SX models left with a manual transmission — hence the relatively high price. It's offered with 97,000 miles by J's Motors in El Cajon, California, near San Diego.
Here's another special Nissan: a 1986 300ZX with only 26,600 miles on the odometer. Offered for a reasonable $13,995 by Auto Exotica in Red Bank, New Jersey, on the Jersey Shore, this 300ZX is in pristine original condition, including the ridiculous digital gauge cluster that must've seemed so cool back in the 1980s.
Although 1980s Nissan pickups were known for their toughness, they generally weren't known for … this. This is a 1985 Nissan pickup that's been converted into a monster truck, even featuring a bed that tilts to the side. This truck is offered by J and R Auto Sales in Sioux Falls, South Dakota, with 138,000 miles for a surprisingly reasonable $9,995 — an especially reasonable figure considering how much work must've gone into making it.
This 1986 Suzuki Samurai is everything we wish the Samurai could be: It's "freshly rebuilt," according to the ad, and certainly looks like a good example, with nice paint, a few interior upgrades and what appears to be a small lift with nice wheels and tires. This Samurai is currently offered by Driven Autoplex in Dallas for $6,997.
When was the last time you saw a Toyota Pickup that looked like this? The answer, of course, is 1986, back when this truck was new — but if you thought all the ultra-clean Toyota Pickup models were gone, you're mistaken. This particular example is in absolutely beautiful condition, and the selling dealership — Hayes Auto Sales in Roseville, California, near Sacramento — says it's been comprehensively restored. It looks perfect — and it's listed for $21,995.
1990 Toyota Supra Turbo – $20,999
Although most car enthusiasts get especially excited about the "Mark IV" Supra, which was sold in the mid-1990s, the "Mark III" model — sold through the late 1980s and early 1990s — is pretty desirable, too. This is an excellent example of an MkIII Supra, with just 42,200 original miles and color-matched white wheels. It's offered for $20,999 by Superior Auto Sales in Hamburg, New York, near Buffalo.
Doug DeMuro is an automotive journalist who has written for many online and magazine publications. He once owned a Nissan Cube and a Ferrari 360 Modena. At the same time.
MORE FROM OVERSTEER:
The Early Chrysler LX Cars Aren't Aging Well
Video | Here's Why the BMW i3 Isn't Worth $50,000
Here Are the Cheapest Electric Cars For Sale on Autotrader