If you're looking for a family minivan, you can buy the regular ol' "usual suspect" models everyone gets — like the Honda Odyssey or the Toyota Sienna or the Chrysler Pacifica or the Kia Sedona. Or, you can branch out and get something a little cooler. To illustrate what I mean, I've rounded up the five coolest minivans currently listed for sale on Autotrader — all of which would make excellent, if bizarre, alternatives to the standard family van.
1994 Ford Ambulance — $22,500
Who says your kids need windows in back? This 1994 Ford E-350 Ambulance looks both a bit creepy — the current owner painted it all black, including the wheels — and surprisingly cool, as a giant box on the back gives you unlimited possibilities for creating an adventure vehicle, a family van or both. Assuming you don't mind riding around in a former ambulance. This one is offered by a private seller in Fredericksburg, Virginia for $22,500. Find a Ford E-350 for sale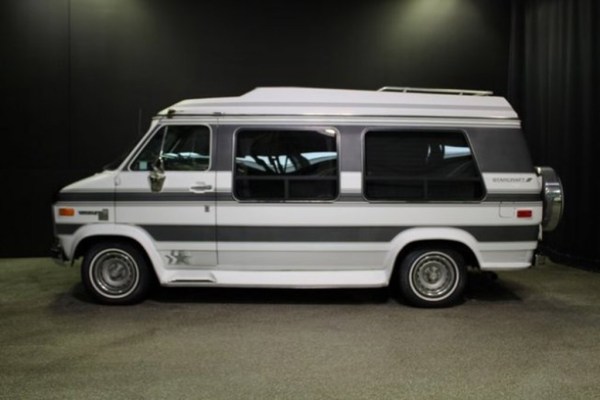 1988 GMC Conversion Van — $6,400
Remember conversion vans? While conversion vans today often take on the persona of the vehicles listed below — expensive and luxurious — conversion vans of the 1980s and 1990s were cheaper and often used as cool family-transport vehicles (or family road-trip vehicles) that happened to have overstuffed seats, blinds and a TV and VCR mounted in the roof. This 1988 GMC conversion van is in excellent shape with just 93,000 miles from new, and it's offered by LaFontaine Cadillac Buick GMC in the Detroit area for only $6,400. Find a GMC van for sale
2016 Mercedes-Benz Sprinter Luxury Van — $134,995
The Mercedes-Benz Sprinter seems to offer endless customization possibilities — one of which is creating a luxury van with top-quality materials. This is exactly that, as it features upscale interior trim throughout the entire van, along with excellent materials on every surface — including the countertops and the ceiling, which boasts recessed lighting. This Sprinter is offered by Auto Holding of Mountain Lakes in Northern New Jersey for $134,995 — a good deal if you're looking for a luxury Sprinter, considering this one is just one year old and it's traveled just 3,000 miles since new (and considering a new one would be far more expensive). Find a Mercedes-Benz Sprinter for sale
2017 Mercedes-Benz Sprinter Off-Roader — $215,894
Despite the Mercedes-Benz Sprinter's large size and top-heavy appearance, it's quickly becoming a popular vehicle for campers, off-roaders and other "van life" people interested in seeing the country (and the world) in the back of a van. This one appears to have been lifted for improved ground clearance and it features a host of other upgrades to make it great for traveling — like a kitchen sink, a water heater, an awning, a bed, cabinets and flooring and roof racks with a ladder, along with a solar generator to power most interior items. It's a new van, and it's currently listed by Autobahn Motors in the San Francisco Bay Area for $215,894. Find a Mercedes-Benz Sprinter for sale
1999 Volkswagen Rialta Winnebago — $19,500
Although the Volkswagen Eurovan (Volkswagen's 1990s and early 2000s take on a minivan) was a cool and unusual vehicle, Winnebago took the Eurovan to the next level in the 1990s with the "Rialta" model — effectively an Eurovan with a Winnebago body in the rear three-quarters. That means it looks like a Volkswagen up front but features the typical RV trappings in back, including a sink, a toilet, a bed, some chairs and a table. This Rialta has traveled just 40,200 miles since new, and it's currently offered by a private seller in Santa Barbara, California, for $19,500. Find a Volkswagen van for sale
Doug DeMuro is an automotive journalist who has written for many online and magazine publications. He once owned a Nissan Cube and a Ferrari 360 Modena. At the same time.
MORE FROM OVERSTEER:
There Is a Batmobile Tumbler For Sale on Autotrader
The Hyundai Galloper Was a Rebadged Mitsubishi Montero
Video | I Bought the Cheapest Chevrolet Corvette Z06 in the US