In the world of Ford Mustangs, most are relatively similar: You get a 2-door car, rear-wheel drive, V6 or V8 up front (or, in today's brave new world, a 4-cylinder), coupe or hardtop. Some are "special" Mustangs, like maybe a Shelby or a Saleen model, and that's that. Except, it isn't quite. There are some, er … special Mustangs out there — and today, I'm going to show you six especially unusual ones currently listed for sale on Autotrader.
1982 Ford Mustang Zimmer Conversion – $19,000
Here's a Ford Mustang that's barely even a Ford Mustang at all. While it's a Ford Mustang underneath, and while the Carfax report calls it a Ford Mustang, this is actually a Zimmer — a car that started life as a Mustang before being transformed into something a bit more creative. This was actually reasonably common back in the 1980s, though companies doing the transformations rarely used Mustangs — but this is a Mustang conversion, and it's offered by Certified Benz and Beemer in the Phoenix area with 36,000 miles for $19,000.
1988 Ford Mustang ASC McLaren – $52,900
Here's a Mustang not many people know about: the ASC McLaren Mustang. While Ford offered a Mustang convertible in the 1980s, there was also something of a "Speedster" version with a different, distinctive convertible body style. That was the ASC McLaren model, with "ASC" standing for "American Sunroof Corporation" — a firm that converted these Mustangs into the distinctive convertible model you see here. This is a time capsule example with 1,083 miles, offered by RK Motors in Charlotte for $52,900.
1988 Ford Mustang Drag Racer – $93,900
If you want to go drag racing, this Mustang will take you down the strip — and fast. It's a purpose-built 1989 Mustang drag racer, offered by GR Auto Gallery in Grand Rapids, Michigan. It has a truly immense list of upgrades and modifications, all designed to make it a little faster on the drag strip. This is hardly your usual "Fox Body" Mustang, and the price reflects that: it's listed for sale for a whopping $93,900.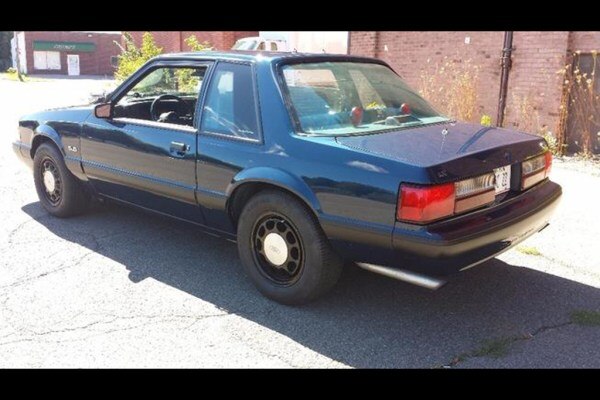 1989 Ford Mustang Police Car Clone – $16,900
This is one of my favorite Mustangs on Autotrader: a 1989 model that's been done up to carefully recreate a New York State Trooper vehicle. Finished in the correct dark blue color, it boasts the right wheels and a slew of cool police gear — a reminder of an era when cops used Mustangs to chase down speeders. This one is offered by a private seller in Cortland, New York, near Ithaca, with 100,000 miles for $16,900.
1995 Ford Mustang Cobra R With 147 Miles – $69,900
The Mustang Cobra R was an especially rare, high-performance version of the 1995 Mustang that saw just 250 examples manufactured. This one was saved and preserved, and it's traveled just 147 total miles in the 23 years since it was sold new. It's now offered by a private seller in Valparaiso, Indiana, for $69,900.
2000 Ford Mustang SVT Cobra R – $54,995
The Mustang SVT Cobra R was an ultra-rare, track-prepared version of the Mustang that was made in very low numbers: Just 300 examples were built in 2000, all finished in red. The Cobra R was especially unique because it was truly "track prepped," with Recaro seats, a huge rear wing and no air conditioning or stereo. These are starting to gain more appreciation among collectors, and this one is listed with 4,297 miles by Naples Auto Collection near Naples, Florida, for $54,995.
Doug DeMuro is an automotive journalist who has written for many online and magazine publications. He once owned a Nissan Cube and a Ferrari 360 Modena. At the same time.
MORE FROM OVERSTEER:
The Early Chrysler LX Cars Aren't Aging Well
Video | Here's Why the BMW i3 Isn't Worth $50,000
Here Are the Cheapest Electric Cars For Sale on Autotrader