If you look up "van life" on Instagram, the pictures you see portray a life of freedom on the road, visiting amazing scenic venues, and spending practically nothing to do it. The reality is a whole lot more complicated, of course — but it's still a rather reasonable way to travel. Plus, sleeping in your vehicle avoids the expense of staying in hotels. It's caught my attention as an affordable way to travel, so I've done some searching on Autotrader for various ways to live the dream. Here are a few options.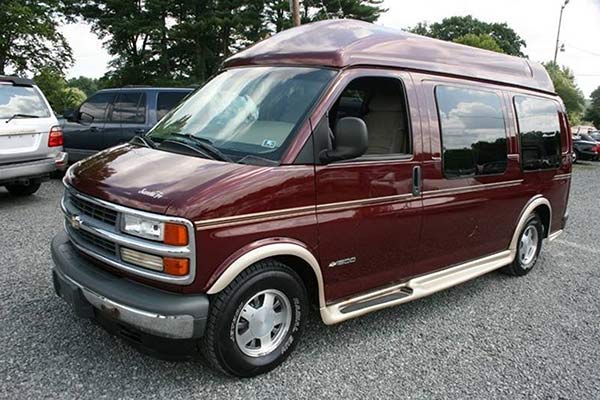 The custom conversion van saw its peak of popularity during the 1970s and 1980s, fading in popularity as gas prices increased. But they still exist and present a viable option — particularly for the aspiring part-time van dweller. The main advantage of a conversion van like this 2002 Chevy Express is that the work of converting it from a basic van into something you can live in is already done. A high-top roof has been added, providing extra storage, as well as a TV — not to mention more headroom. The rear bench seat folds out into a bed, while screened windows provide adequate cross-ventilation. But conversion vans aren't typically made for full-time living, just the occasional vacation. They're not insulated, and they lack many of the amenities of home. For $4,500, there are far cheaper ways to get into van life.
It's not nearly as pretty, but this 1997 Ford E250 cargo van costs less than half the price of the conversion van at $1,995. It's the extended version, giving you a few more feet of living space. The interior is bare, but this gives you the flexibility to finish it exactly the way you want to. A little bodywork and white paint will make it look good again — and white is an advantage for any van, because it reflects the sun and the heat. Add a big bed or a small cot depending on your needs. Want to insulate the van for better temperature regulation in cold and hot weather? Want running water? Electricity? A shower? A toilet? There are countless websites and YouTube videos telling you how to build all of these for yourself.
Cargo vans are also more stealthy than conversion vans, which can help if you're parking overnight in a populated area, as you can look like an honest tradesman instead of someone living van life. And this one is already equipped with a trailer hitch, which means the van can also tow your boat or race car depending on your personal needs. Add the ladder racks common on work vans and you have a great place to mount solar panels.
But maybe you don't need as much space as a huge cargo van, or maybe you're not comfortable driving something that big. Or maybe you simply can't afford a big van. That's where the minivan comes in, like this 2002 Chrysler Town and Country for just $388. That's no typo — it's listed for three hundred eighty-eight dollars. A minivan gives you a great deal of maneuverability and fuel economy over a full-sized van. If van dwelling in the city is your thing, this is an excellent choice. It's much smaller than a full-size van for easy parking. And although minivans are not as common as they once were, they're still everywhere, providing the ultimate stealth. People will think it's a soccer mom's van parked for the night instead of your personal tiny house on wheels. Obviously, it's not as roomy as a full-sized van, and likely best for just one person. A minivan is also a great way to try out van life and still be a car you can drive daily in your regular life.
Another option that may appeal to people who want to get even farther away from it all is a 4×4 pickup truck, like this 1997 Ford F150 listed for $1,995. Rather than the popular crew or extended cab, you may want to skimp on interior space to maximize the size of the bed as this truck does, which includes the all-important cap over the bed where you'll sleep. It even has a 5-speed manual transmission for fun and better control off-road.
While not as capable as a true overland vehicle, 4-wheel drive and the toughness of a truck can get you even farther into the back country, without worrying about whether you'll be able to get through that mud puddle on the way out after it rains. A popular option is to build a raised bed for sleeping inside of the truck bed, providing plenty of enclosed storage below. The main downside of a pickup truck is that, unless you're very tiny, there's no way to climb from the bed in the back into the driver's seat for a quick getaway in the middle of the night in case bears — or aliens — attack.
The best solution to all of these may be the Chevy Astro and its twin the GMC Safari. This particular 1998 GMC Safari is listed for just $599. It combines all of the height and space elements that make a full-size cargo van appealing, yet it does not have a much bigger footprint than a minivan, nor a much thirstier engine with its 4.3-liter V6. This particular van also features all-wheel drive, making it almost as sure-footed as a 4×4 pickup in slippery conditions. Although this one is a passenger van, stripped out cargo versions were also available. Unfortunately, these haven't been built since 2005, but they're still out there. This would be my top choice for van life.
Of course, you could just splurge for a full-fledged RV. But those tend to be extremely expensive, and some tend not to be particularly durable over time. You don't have to be a master carpenter to try camping or living in your van. Just remove any seats and add a cot or a mattress, along with some plastic boxes or drawers.
MORE FROM OVERSTEER:
Video | The Volvo XC40 Is the Quirkiest Volvo in Decades
Lexus Once Had a "Pebble Beach Edition" Trim Level
Video | A $25 Part Fixed My Broken Rolls-Royce Phantom