In just over 26 years, the Toyota Tacoma has cemented its reputation as a durable, go-anywhere pickup with sterling resale value. That the Tacoma holds up well to abuse and offers impressive off-road ability is no surprise. The shocker here is that there have just been three versions of the Tacoma in that time.
Slow and steady seems to be the Tacoma's key to success.
Here's a look at how the Tacoma got its start, plus some insight into why it continues to be a popular mid-size pickup truck. Find a Toyota Tacoma for sale on Autotrader
An Americanized pickup: The first Tacoma
Toyota offered plenty of pickups in the decades leading up to the Tacoma's 1995 arrival, but the new truck was designed for and built in the U.S. It even got an American name, curiously honoring the eponymous industrial city to the south of Seattle. Officially, Toyota says the truck was named (like the port city) after the indigenous Salish people's term for what's now called Mount Rainier, but few outside Washington are likely to know this fact.
The first-generation Tacoma shared a lot with the contemporary 4Runner SUV and the Hilux trucks sold outside the U.S., but it had its own styling and interior both penned by Toyota's Calty Design Research center in Southern California. Two basic versions were offered: a lower-riding rear-wheel-drive truck that came standard with a 2.4-liter inline-4, and a higher-riding version primarily available with 4-wheel drive that swapped in a more powerful 2.7-liter inline-4. On both, a 3.4-liter V6 was optional.
Lower-riding versions were inexpensive. Toyota wanted around $11,000 for an inaugural Tacoma, admittedly a basic truck primarily intended for work use. Toyota charged extra for power steering and a clock, not to mention such niceties as a radio and air conditioning.
More iconic was the taller version, which eventually added a PreRunner version for the 1998 model year with 4×4 looks and a price point about $2,000 less than a comparable 4-wheel-drive model. Both PreRunner and real 4-wheel-drive versions could be had with an optional locking rear differential as well as an Off-Road package created by Toyota Racing Development.
The Tacoma initially came in regular- and extended-cab configurations that shared a 6.2-foot-long bed that was decidedly shorter than long beds available on competitors.
Toyota revamped the first-generation Tacoma twice during its long production line. The first update came for the 1998 model year when a new grille and headlight design were standardized and a passenger airbag joined a lightly revised dashboard. A second update for 2001 included another grille revamp, at which time a 4-door crew cab with a 5.5-foot bed was added to the lineup.
Early Tacoma pickups have a deserved reputation for durability, in part due to their relative simplicity. Beneath their North American-market styling and suspension tuning, they are close cousins to the Hilux that has proved itself in war zones across the world. Still, there are some things to look out for on an early Tacoma, most notably disastrous frame corrosion from poor rustproofing at the factory.
Toyota in 2008 recalled around 800,000 Tacoma trucks and replaced the frames on many, though by now rust can be an issue once again. Additionally, V6 versions use a timing belt that needs to be replaced at 90,000-mile intervals, and this costly service is often skipped.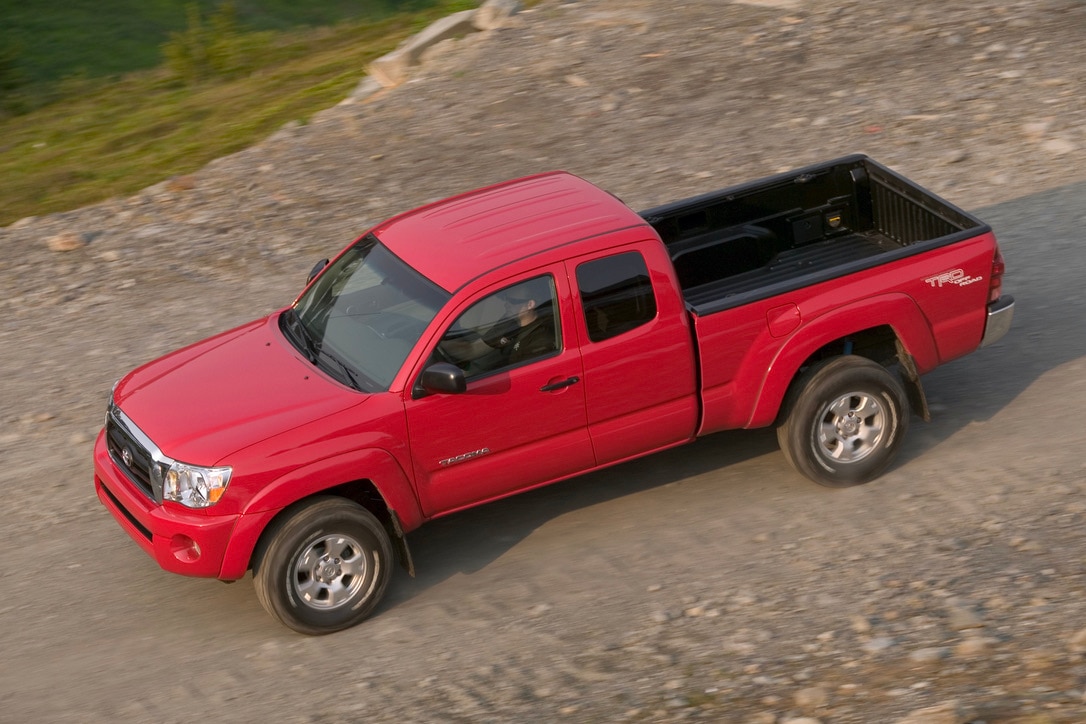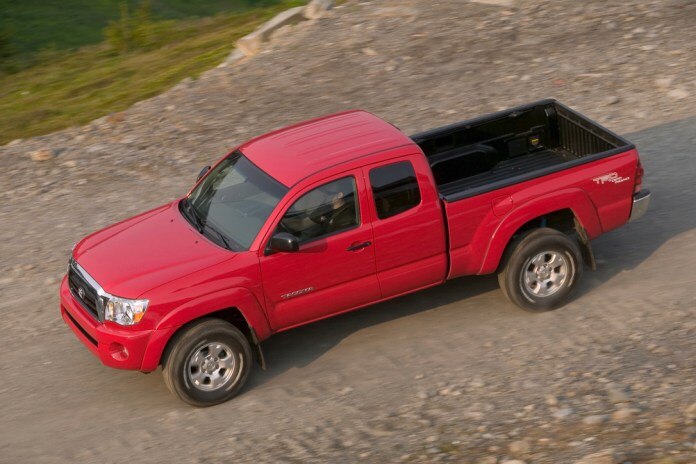 Bloat without gloat: The Tacoma grows up
The second-generation Tacoma arrived for 2005 as part of a wave of fresh, upsized pickup truck designs from rivals including Chevrolet, GMC, Dodge, and Nissan that were generally larger than their predecessors. A half decade or so later, only the Tacoma and the Nissan Frontier were left in what had transitioned into the mid-size pickup ring.
The Tacoma followed the same recipe as before, but with slightly larger dimensions. Regular, extended- and crew-cab configurations were again available, and base rear-drive trucks once again sat low to the ground while high-riding models could be had in either rear- or four-wheel-drive setups.
The Tacoma's interior was decidedly more spacious with big, plush front seats and a more car-like dash that nonetheless retained the umbrella-style parking brake lever that had graced Toyota truck dashes for generations. New options included stability control and side-impact airbags, features that would become standard down the line.
Underhood, a new 2.7-liter inline-4 was standard fare, while a new 4.0-liter V6 shared with the 4Runner delivered a healthy boost to 245 horsepower.
Toyota revamped the Tacoma with new styling for 2012, but once again the changes were incremental rather than extensive.
Another unfortunately familiar issue was rust. It took Toyota until 2016 to properly address this situation, and certain earlier Tacoma frames were swapped out for new steel.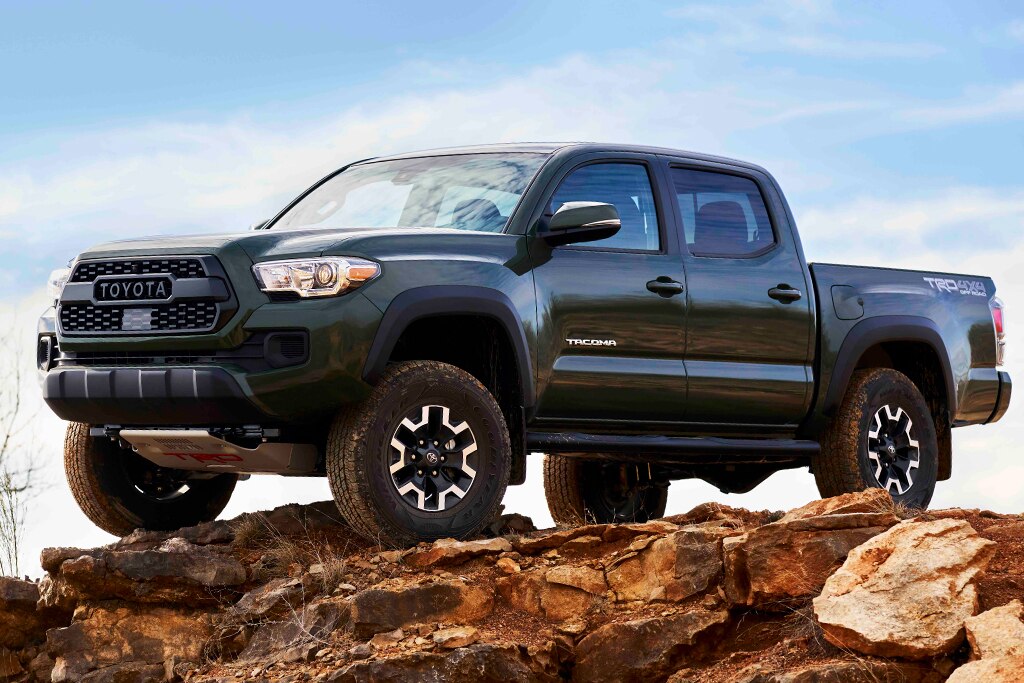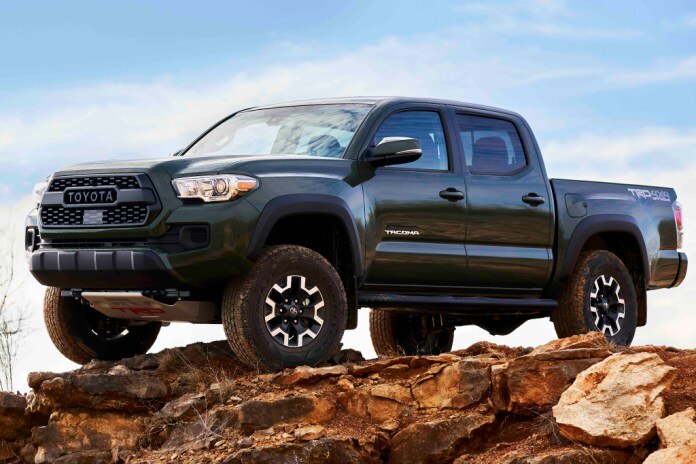 Getting serious: Toyota goes way off-road
The third-generation Tacoma arrived for the 2016 model year, more than 20 years after the original went on sale. The new truck was only slightly larger than before, though its blockier styling makes it look bigger than its predecessor. Additionally, the low-riding version was not renewed; all Tacoma trucks now had roughly the same ride height. Only extended- and crew-cab models were offered.
Changes inside and under the hood were even more notable. The Tacoma gained a new interior with standard touchscreen infotainment and a far more dramatic design than before.
The new 3.5-liter V6 was unique in that it operates on the Atkinson cycle in an effort to improve fuel efficiency. Though a close relative to the same-size V6 used in a slew of Lexus and Toyota vehicles primarily with front-wheel drive, the Tacoma version was rated at a relatively tepid 278 horsepower from the factory. The upside to this is that Toyota continues to offer a 6-speed manual transmission, at least through the 2021 model year.
For 2017, Toyota upped the four-wheeling ante with a new TRD Pro version with Fox internal-bypass shocks, a factory suspension lift, and various other bolt-on bits. Each year, Toyota swapped out the color palette for the model — like Skittles, Toyota seems to encourage Tacoma TRD Pro drivers to collect the rainbow.
Toyota added its full portfolio of crash-avoidance features as well as adaptive cruise control in 2018. A modest update arrived for 2020, and perhaps the longest-awaited update was a new power-adjustable driver's seat that partially addresses longstanding concerns with outward vision.
Clearly, today's Tacoma is a far cry from the original work truck, but that seems just fine with buyers. In a given month, Toyota typically sells twice as many Tacoma trucks as its nearest rival, and in some particularly strong months almost as many new Tacoma pickups find owners in the U.S. than every other mid-size truck combined. Find a Toyota Tacoma for sale