Back in 2008, General Motors was in serious trouble. And by "serious trouble," what I really mean is "bankruptcy." The automaker was in dire straits, it was taking on a government bailout, and it was doing whatever it needed in order to survive — and that included selling off its historical concept cars.
And so, in early 2009, General Motors took hundreds of concept cars, preproduction vehicles, race cars, SEMA show cars, test mules and all sorts of other things to the Barrett-Jackson auctions in Arizona for a huge sell-off. My friend Drew recently reminded me of this event, and he sent me a link to one of the cars — and that piqued my interest
It's been eight years since the concept car sell-off, so I had to wonder: Where exactly did these things end up? So I browsed the auction listings and I ran Carfax reports on dozens of these old GM corporate vehicles — all of which were sold at Barrett-Jackson with scrap titles, likely to help GM avoid some sort of liability. While many were never titled after the auctions, some were — and I've selected nine especially interesting GM cars with especially interesting fates for your enjoyment. All pictures courtesy of the wonderful Barrett-Jackson auction website, which is truly a place where you could lose an afternoon browsing old listings.
Anyway, to the cars: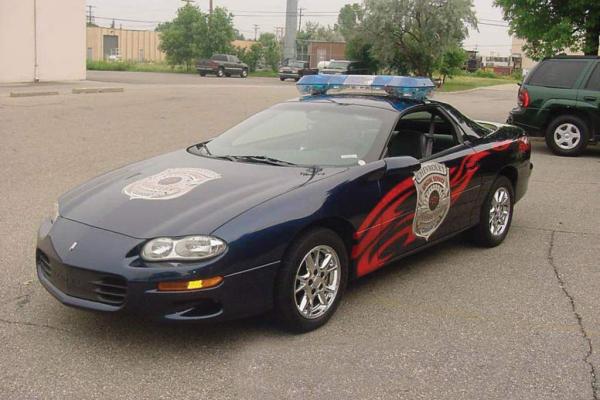 2002 Chevrolet Camaro Police Car Demonstration Unit
This 2002 Camaro police car demonstration unit has the least interesting "Where are they now" story on this list — but it's one of the most interesting cars. Fitted with Chevrolet's "B4C" Special Service package for police duty, this Camaro police car showed departments across the country what could be — if they wanted to leave behind the normal Crown Victorias. It featured a light bar, a flame paint job, and a badge on the side from the "CHEVROLET SPECIAL SERVICES" police department. It sold for $31,900 in 2009, and it only has two Carfax-reported hits since then: for sale listings at a Chrysler-Jeep-Dodge dealer in Ohio in 2011 and at Hubbard Chevrolet in Monticello, Indiana, in 2012. In both cases, it had covered about 9,200 miles. Find a used Chevrolet Camaro for sale
1994 Chevrolet Impala SS — Factory 6-Speed Manual
Although several 1994-1996 Chevrolet Impala SS sedans have been converted to 6-speed manual transmissions by owners (largely because the factory transmission wasn't a match for the car's additional power over a standard Caprice), General Motors converted only one in-house: this one. After selling for $27,500 at the Barrett-Jackson auction, it apparently went to a new owner local to Scottsdale, who kept it from 2009 to 2016 and added just 300 miles to the odometer, bringing its current reading to about 20,300. Its last Carfax event, in April 2016, reported it was for sale at a local dealership in Arizona. Find a used Chevrolet Impala for sale
1994 Chevrolet Impala SS Wagon — Corvette Test Mule
Somehow even cooler than the stick-shift Impala SS above is this '94 Impala SS … station wagon. Apparently a marriage of Impala SS styling to a Chevy Caprice Wagon body, the listing doesn't indicate whether this car had all the SS upgrades — like an improved suspension or more power. It does, however, note a sale price of $13,750. Following the sale, this Impala wagon went to a buyer in Minnesota, who's been driving it: It had around 27,000 miles at Barrett-Jackson, and its last Carfax event (in April 2014) reports a comprehensive service at 35,900 miles. Find a used Chevrolet Caprice for sale
2000 Chevrolet Tahoe 2-Door
This is undoubtedly my favorite car on this list. While Chevrolet stopped making a 2-door Tahoe (initially the "K5 Blazer") after the 1995-2000 Tahoe body style ended production, the automaker apparently made a concept-car version of what a next-generation 2-door Tahoe would look like — complete with a rear soft top. Dubbed the "K5 Tahoe" and surprisingly not sold with a scrap title, this one sold for $16,500 to a bidder in Missouri, with around 3,500 miles. After trading hands and heading to Texas, it appears to now be located in Wilkes-Barre, Pennsylvania, with only a few additional miles: just 4,100, according to its last Carfax event in 2013. Find a used Chevrolet Tahoe for sale
1989 Geo Metro Design Project
This 1989 Geo Metro is listed as a "design project" for Chuck Jordan, who was General Motors' famed vice president of design. Despite this, the only real "design" I can find is yellow paint and some aftermarket wheels — and buyers apparently felt the same way, as it sold for just $3,300. Despite its Chuck Jordan history and its Barrett-Jackson pedigree, this Metro has been treated like a normal used car. After the auction, it found its way to a new owner in Quincy, Illinois, where it remains as of its last Carfax event just a month ago. It was involved in an accident in 2011, and its last Carfax service was a tire rotation at a Sears in 2011. Find a Geo Metro for sale
1994 Geo Tracker Kalahari Concept
This 1994 Geo Tracker "Kalahari Concept" was apparently just a Tracker with some off-road goodies — although that isn't a bad thing, as most off-roaders will agree the Tracker and Suzuki Sidekick had some untapped off-road potential. This one didn't command much respect at auction, however, selling for just $5,170. After the auction, it's bounced around to several new owners in Arizona, all of whom have driven it quite a bit: It had just 425 miles when it crossed the block, and it now has 41,000 miles as of its last service at a Big O Tires branch in Arizona just last week. Find a Geo Tracker for sale
2007 GMC Yukon Denali Jay Z Edition
In 2007, General Motors teamed up with Jay Z at an "exclusive runway event" called "GM Style." Apparently, this GMC Yukon Denali was included in the event, finished in bright blue — or, as the Barrett-Jackson listing says, "Jay-Z Blue." It sold for $40,700 at the auction (remember, it was, after all, a 2-year-old GMC Yukon Denali at the time), and it's currently owned in Arizona by the same person who bought it from General Motors back then. The only difference is that it now has some miles on it: 42,600 as of its last service in Scottsdale about two months ago. Find a used GMC Yukon for sale
2001 Pontiac Aztek — The First Aztek
Yes, that's right: You're looking at the very first Pontiac Aztek. If you don't believe me (or General Motors), here's more proof: The VIN ends in 00001. Likely finished in black to hide its hilarious body cladding, this Aztek sold for a (surprisingly high) $15,950 and found its way to a buyer in Texas. In 2014, it changed hands once again, reaching a new owner in the southwest Missouri town of Springfield — where it remains today. Unfortunately, the last mileage report on the Carfax was in 2012, when it was serviced (with 7,700 miles) at a Hyundai dealer — so there's no way to know just how much the first-ever Aztek is being driven today. Find a Pontiac Aztec for sale
1991 Saturn Sedan — Preproduction Unit
Behold, a 1991 Saturn SL sedan — but not just any 1991 Saturn SL; a wonderfully preserved preproduction version with a VIN ending in 00008. Undoubtedly one of the earliest remaining Saturns, this one would be great for any collector interested in some of GM's more unusual history — except, that isn't where it went. This SL sold for just $3,850 at Barrett-Jackson, which is deep into the heart of "normal used car" territory. Its Carfax report notes that it originally went to Montana, then Washington, but settled in with a new owner in Connecticut in early 2011. Since then, it has indeed been treated like a normal used car, going from 461 miles in 2011 to 51,490 miles just 2 years later, at the time of its last Carfax mileage report at a Valvoline Oil Change location in Connecticut. Find a Saturn SL for sale
MORE FROM OVERSTEER:
The Dodge Rampage and Plymouth Scamp Were Compact El Caminos
Here's What It's Like to Drive the DeLorean Time Machine
Autotrader Find: 1997 Volkswagen Eurovan Camper