I recently attended Monterey Car Week, which is this wonderful automotive event that brings together car enthusiasts from all over the world and exotic cars from all over Montana.
I say this because virtually every high-dollar exotic car you see during Monterey Car Week has a Montana license plate. LaFerrari? Montana license plate. Porsche 959? Montana license plate. After a while, you start to wonder if maybe next year they should scrap the whole Monterey Car Week thing and simply hold the event in Helena just to make it easier on everyone.
Except there's one problem: None of these exotic cars have ever seen Montana. They're all registered there for tax purposes. So today I'm going to explain the situation with exotic cars and Montana license plates for any of you out there who have ever attended a car show somewhere like Houston or New York and wondered to yourself, "Did that guy really drive his F40 here from Montana?"
To start, it's important to explain the biggest reason why so many exotic cars have Montana license plates: Montana has no sales tax. Zero. Zip. Zilch. Nada. Walk into a DMV in California to register your new $1.5-million McLaren P1, and you'll pay something like $120,000 … for a license plate. That's like $17,000 per letter or number. It's $10,000 per inch of license plate. This is a lot of money, even if you have a McLaren P1. Most McLaren P1 owners probably did not earn enough money to buy a McLaren P1 by paying $10,000 per inch of anything.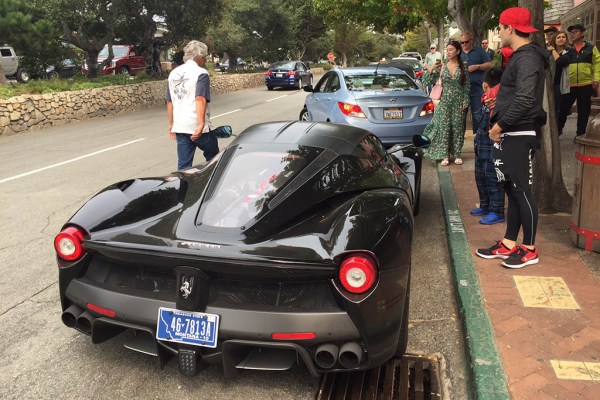 On the other end of the spectrum, you have Montana. Rural, comfortable, relaxed Montana, where there's no sales tax, and registering that very same McLaren P1 costs you something like $200 in registration fees. This cost difference — for those of you without handy access to a calculator — is roughly $119,800. In many places, this amount would buy you a condominium that includes an assigned parking spot and a community swimming pool with at least nine adult-only swimming hours every week.
Or you could get a license plate.
And so, many exotic-car owners are willing to trek to Montana just to save this money. Except, this brings us to reason No. 2 why so many exotic cars have Montana license plates: You don't actually have to go to Montana. Montana has no vehicle inspection, in which your car is looked over by a safety inspector to make sure it has, you know, seat belts. Montana has no emissions tests, in which your car must prove it isn't polluting. I get the sense that you can get a license plate for anything in Montana, including a tape dispenser.
Better yet, there are businesses in Montana solely dedicated to helping people avoid a sales tax on exotic cars and expensive recreational vehicles. Here's how it works: You hire a Montana law firm, they set up an LLC for you, they charge you a fee, and then they register your vehicles in Montana. Not only does this save you money, it also saves you time and aggravation, since the Montana business goes to the DMV for you. This simple fact alone may make Montana registration worth it.
So then, after a little while, the Montana business mails you your Montana title and your Montana license plates, and you've saved thousands of dollars. Everything is nice, you're happy, the birds are chirping, and you're cruising around with a big smile on your face as you drive your tape dispenser.
With two little exceptions.
Exception No. 1: insurance. Your insurance company generally writes policies in the state where your car is registered, not the state where your car is operated. So you get Montana plates and insurance on your exotic car, which is all fine and good until you get into an accident, and then your insurance company asks, "Why were you operating this Montana car in New York?" Then they deny your claim, your McLaren P1 is totaled, and you have to spend the next 6 months eating SpaghettiOs out of the box because you can't afford running water.
But there's a work-around for this. All the big exotic-car insurance companies — such as Hagerty and American Modern — have no problem with the Montana thing. They know exactly how it works and what to do. So if you have an exotic car and you're trying to insure it in Montana, you should be fine. But if you want to register a normal car in Montana, I don't think there's a way to make the insurance work.
Exception No. 2: your Montana license plates. Although you might be pretty excited that you've just saved thousands of dollars in taxes, your neighbors might see your Montana plates and get a little jealous. Here's a person with some exotic sports car, they might think, some loud sports car, a toy, painted in some obnoxious color, and he's driving around without paying sales tax when I had to pay $1,149.73 to register my 1999 Pontiac Grand Prix. And so they might report you.
And indeed, some people have faced criminal penalties for doing the Montana thing — penalties that can include back taxes, fines and maybe even jail time. At one point, Massachusetts was sending police into RV parks to check for Montana plates. And California has a program through which you can anonymously turn in your neighbors who haven't registered their vehicles in California. So you have to be very careful.
Unless, of course, you actually live in Montana with your LaFerrari. Then your license plates will blend right in. Your car, however, may raise a few eyebrows.
MORE FROM OVERSTEER:
Here Are the Cars That Have the Vanity Plate FUN Across the Country
I Bought a 1997 Dodge Viper GTS, and I Drove It 500 Miles Home
These Are the 7 Highest-Mileage Cars Listed on Autotrader