Americans love trucks, don't we? Here's a fun fact: for 2017 in the United States, Ford sold 896,764 F-Series pickup trucks. In other words, we bought 2,457 F-Series trucks every single day. Just in the United States alone. In the same year, Toyota sold 1,160,495 Corollas … for the entire world. Like I said, we like our trucks.
However, we also like our trucks a certain way: more. More power, more ground clearance, more towing capability, more chrome. I managed to find a truck that is the exact opposite of these things, so I had to drive it: the 1990 Honda Acty Attack. This is the Pomeranian of trucks, in the sense that it looks like it'll attack your shin and then leak coolant all over the floor.
I borrowed this car from my new friends at Carter's Cars, a used car dealership in South Burlington, Vermont. On top of the usual popular used cars, there are a handful of, uh, interesting cars available as well — and I was given the opportunity to drive a few of them.
The Honda Acty has been in production since 1977 as a kei-class truck in Japan. This particular car was built with Honda's Real-Time 4-wheel drive, a manual transmission and a carbureted 656cc (0.6L) 3-cylinder engine that creates an adrenaline-pumping 38 horsepower. Unlike the more luxurious versions such as the Acty "Town" — which had such a crazy feature as a tachometer — the Attack is meant for real utility work. In place of a tachometer, it shows you on the speedometer the acceptable speed ranges for the first, second and third gears. What it does have, though, is a locking rear differential, an ultra-low forward gear and an ultra-low reverse gear, which I don't think I've ever seen before! I had to look up what the heck UR meant on the shift lever! I never got close to its top speed of 65 miles per hour, but that's probably for the best.
While getting familiar with the car, I found some interesting things. First, the bed is actually pretty big, in the sense that I could easily lay down straight and have the tailgate up. Also, the sides of the bed fold down for easy loading or unloading. The engine is nestled underneath the bed, which makes this a mid-engine truck. You can't say that about your Sierra Denali Longhorn Platinum Titanium Reserve. However, unlike the behemoth trucks on the road today, the cab is rather small. Both headroom and torso room were just fine — however, my legs felt like I was sitting in the backseat of the kind of car we laugh at Doug for trying to contort himself into.
The pedals are tiny and move in a more vertical fashion than horizontal. The steering column comes up between the brake and the clutch — so, sorry racing fans, no left foot braking here. Inside, some of the controls, like the radio, are in English — but all the warning labels and a couple buttons on the dash are in Japanese. One of the more intriguing warnings is on the visor and has to do with the 4WD system. Based on the photo below, my best guess is that they don't want you accidentally driving your Acty into a frying pan, which, considering its size, is a distinct possibility.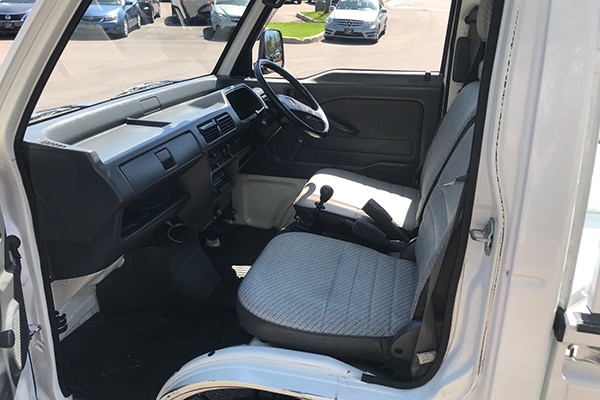 This is a truck, legal to drive on the road, with less horsepower than most ATVs — so I wasn't expecting much when I got behind the wheel. Here's what wasn't surprising: it's slow. It also doesn't turn sharply or crisply like a sports car. The tires are so skinny they wouldn't look out of place on a Tour de France bicycle (they run on 145-width, 12-inch tires … take that, BMW i3!), so cornering grip isn't high. However, with big windows all around and no hood, visibility is fantastic. That makes it pretty easy to park, once you remember to turn your head to the left to see behind you, instead of the right.
Here's what was surprising: If I stopped thinking about the fact that my knees would act as the only crash protection and that I couldn't outrun a stair lift even if I was going downhill, it really wasn't terrifying to drive. Don't get me wrong, you do have to familiarize yourself with a speedometer in kilometers per hour, shifting on the left, signaling turns on the right and making sure you're keeping the car in its lane. But it also has a tall driving position so you don't feel dwarfed by the RAV-4s and CX-5s that surround you. It's also easy to see out of, so you always know who's driving around you. The controls are all pretty simple, the ride and comfort are good enough, and it stopped well, too.
So, as a homeowner, it would be a fun little alternative to having to haul around a massive truck every time you need to go the store. The Acty is cheap to buy, cheap to insure and it can't possibly be expensive to run. It's small enough to navigate any parking lot or your lawn — and, as a bonus, it's light enough it likely won't sink in. Though, if it does, just pop it into ultra-low reverse and it'll probably just claw its way up and out.
You may not be able to bring the whole family to Home Depot with you, but the bed is big enough to fit pretty much anything you'll need — and it's lower than the typical truck, so you won't have to do as much lifting! The Honda Acty may not have the big three shaking in their high-profit-margin truck booties, but it's still a funky little alternative. That is, as long as you don't have to leave town or carry more than several hundred pounds.
MORE FROM OVERSTEER:
The Early Chrysler LX Cars Aren't Aging Well
Video | Here's Why the BMW i3 Isn't Worth $50,000
Here Are the Cheapest Electric Cars For Sale on Autotrader