The Centers for Disease Control and Prevention highly advises against riding public transportation or hailing a ride-share vehicle, at least until they have a better idea of how the coronavirus is spread. However, many commuters — especially in highly urbanized cities, such as New York or Chicago — are wholly dependent on these means of transportation.
If you're not a car owner, don't despair! It's possible to practice safe social distancing to substantially reduce the risk of coronavirus infection while riding a bus, a subway or a train, or even while riding in close proximity with an Uber or Lyft driver. If you do own a car and you're worried about contacting coronavirus at the gas pump, we have some tips on that as well.
Here are a few tips.
Sanitize Everything!
Pack sanitizing wipes or paper towels and a sanitizing spray. Before you sit down, give the surface a good scrub, and don't forget about any touch points such as handles, armrests or seat belts. An Uber or Lyft driver should be highly receptive to this as well — if not, it's worth reminding the driver that you're helping reduce their risk of spreading coronavirus as well. Here are some tips on how to disinfect your own car.
Dress Appropriately
Latex-style gloves and face masks are this season's it items. Simply being in public while wearing them is a good practice these days, and we wouldn't consider riding a train or hopping in the back seat of a Lyft car without having them on. Be extra careful about not touching your face while wearing them and subsequently sanitize handles on any bags or briefcases you might be carrying with you. Afterward, make sure to dispose of the gloves and mask quickly and appropriately.
Additionally, clothing that would potentially allow your bare arms or legs to come in contact with a seat is probably best to avoid for now as well. Even in a warmer climate, light pants and long-sleeve shirts are a good bet for being out in public.
Try to Avoid Rush Hour
Rush hour is a relative term now that many are working from home, but trains and buses will still be busier during typical morning and evening commutes. If possible, try to take an earlier or later ride into work or wherever you may have to go. Spreading ourselves out doesn't just mean sitting farther apart, it means adjusting our schedules as much as possible, too.
Don't Be Afraid to Open the Window or Move Away from Others
The weather may not always encourage it, but opening windows in an Uber or Lyft — or even on a bus or certain types of trains — can improve airflow substantially. Pack an extra-warm coat if it's cold where you're riding or consider an iced beverage if you're in a warm climate.
Additionally, watch carefully for your fellow passengers. Even if someone isn't showing symptoms of coronavirus, it's smart to sit as far away from one another as is possible. If you're riding the subway and you have time to wait for the next train, for instance, it is worth skipping a full train and waiting for the next one. No matter what, ridership is way down, so waiting for a less-full subway is more realistic now than it would have been before.
The CDC recommends staying at least six feet away from your fellow passengers.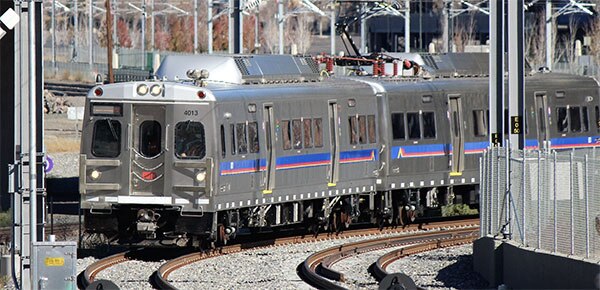 Plan Well Ahead

Many cities have adjusted transit schedules considerably, and the number of Uber and Lyft drivers out waiting for passengers is much lower now than it was just a few weeks ago. You'll want to check your local transit agency's website for any schedule adjustments, and you'll definitely want to plan ahead.
For instance, Amtrak has said it is cutting its schedule by 60%, and nearly every major transit agency has dialed back bus and rail schedules dramatically.
A commute that may have taken just 20 minutes a month ago could take double or triple that now as you wait for connections.
Watch Your Own Health

Feeling a fever? A tightness in your chest? A cough? If you are showing any symptoms associated with the coronavirus, by all means, do not take public transportation or expose a ride-share driver to what may very well be the virus. Immediately contact a healthcare worker for their recommendations.
Be smart and stay healthy! We're all in this together.
Looking for more info relating to you, your vehicle, and the COVID-19 pandemic? Check out more of Autotrader's Coronavirus content.