I spent the last week driving a 2019 Mazda Miata RF, and I get it now. I fully understand why people love these small, "under-powered" and impractical roadsters. And after 500 miles in this thing, I think I can summarize it rather succinctly: to understand the Miata is to understand driving itself.
The first Miata, known as the "NA" and famous for its pop-up headlights, was introduced in 1989 and was sold through 1997. The second generation, or "NB" Miata, came out for the 1999 model year and did away with the pop-up lights, but it still shared a variety of components with the NA. The "NC" Miata was built from 2005 through 2015, it shared zero components with previous Miatas, and it was the first to introduce a power-folding hard top for the model. While sometimes criticized for being heavy, the NC Miata's lack of popularity makes a used example one of the best sports car bargains available today. The NC was replaced by the "ND" Miata for the 2016 model year. The ND Miata was smaller and lighter than its predecessor, and is the lightest Miata since the original.
Up until a week ago, I had never driven, or even sat in a Mazda Miata. The one that was dropped off in front of my apartment was a brand new, 2019 Grand Touring RF model — the best Miata of all time. Let's break down everything that goes along with it.
2019
The Miata receives an update for 2019, with the most noteworthy change being the addition of more power. While 2016 to 2018 Miatas came with 155 horsepower, the 2019 model gets a bump up to 181 hp, a 17 percent increase, and sees its redline increase from 6,800 rpm to 7,500 rpm. Torque gets a theoretical bump as well, up to 151 lb-ft from 148 lb-ft. While I've never driven an earlier Miata, I have to think this power increase is the difference between the Miata feeling ever so slightly under-powered, and having exactly the appropriate amount of potency. Pair this with its high redline, and you've got ample power through just about every point in the power curve.
The 2019 Miata also gets, for the first time, a telescoping steering wheel, along with a few other revisions.
Grand Touring
The Grand Touring is the highest of three available Miata trim levels, the others being the Sport and Club. Sport is a base trim available only on the soft-top Miata. Club models add performance upgrades like a Bilstein suspension, a limited-slip rear diff, a strut tower brace and other convenience items like blind spot monitoring and a Bose audio system. The Grand Touring trim adds non-essentials like automatic climate control, navigation and heated seats.
RF
As most people reading this probably know by now, the Miata RF features a partially retractable hard top, with the RF suffix standing for "retractable fastback." Top up or down, the Miata RF is one of the best looking cars on the road. With the top up, the RF offers a fully-enclosed, coupe like cockpit. Put it down and you've got an open-air driving experience, but with the added security of a fixed roll bar behind your head.
With that out of the way, on to my experience with the RF. In order to fully indoctrinate myself to the way of the Miata, I reached out to a few friends who are Miata owners themselves, and set up times to drive some of the area's windiest canyons.
First I linked up with my friend Preston, who purchased a bright red, almost all-original 1993 NA Miata with a five-speed manual and 103,000 original miles just two months ago. We met up at the base of what's known as the Alpine Loop, a 20-mile scenic drive through Utah's Wasatch front. The route was rampant with twists and turns amid steep drops and jagged rock faces, with parts of the road littered with aspen trees glowing bright yellow in the late September evening. Most of our driving was done in second gear, and within the first mile I was already regretting my choice of boots given the amount of shifting required along the route. While the Miata didn't penalize my footwear too heavily, I imagine a vehicle with a less user-friendly clutch pedal and transmission wouldn't have been so forgiving. We reached a good spot to pull off for some pictures and up from behind came another first-generation Miata that happened to be following our same route — Miata fandom runs deep. The driver opted to join our convoy and we pushed on through the trees until we reached a clearing where we got out, took some more pictures and talked about Miatas.
Next, I got together with my friend Wes, who owns a track-prepped NB Miata, and is well-connected in the local Miata scene. He brought a few friends along, both owners of NA Miatas, one of which was supercharged. While my previous Miata meetup was with newly-minted Miata owners, these guys were Miata diehards who had more or less removed every bit of comfort and civility from their Miatas in the interest of lightness and shortened lap times. We proceeded to carve through East Canyon, an area rampant with tight hairpins and quick elevation changes. It was along this route that I really came to appreciate the ND Miata's balance of power and drive-ability. I was able to drive it fairly hard, using every bit of the rev range, but at no point did I feel like I didn't have absolute control of the vehicle. By the end of the day, it felt like my right hand was fused to the Miata's shifter, and my left leg one with the clutch pedal, the vehicle's every move becoming pleasantly predictable.
Altogether, I put about 500 miles on the Miata over the course of my week with it. I just kept driving, and driving, and driving and I didn't want to stop. I've never had more effortless, low-risk fun in a vehicle. And while this is (somewhat) beside the point, I also saw between 32 and 35 miles per gallon the entire time.
My goal had been to drive one of each of the previous-generation Miatas as well. While I wasn't able to track down an NC, I did get a chance to drive a model from both the NA and the NB generation, and I can say that while the vehicle has evolved considerably over the years, the ethos is the same. The Miata offers everything you need and nothing you don't, making it perhaps the purest, most well-sorted vehicle on sale today.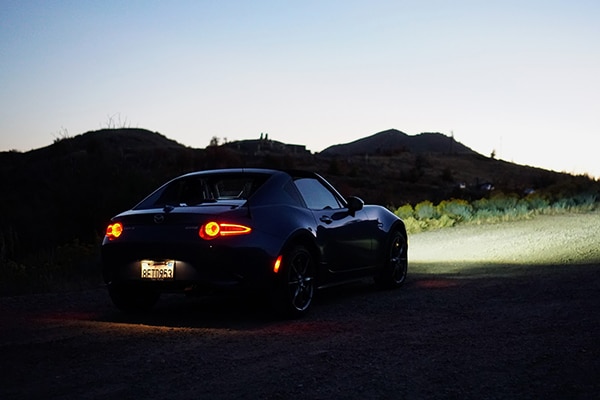 Chris O'Neill grew up in the Rust Belt and now lives in Salt Lake City, Utah. He worked in the auto industry for awhile, helping Germans design cars for Americans. Follow him on Instagram: @MountainWestCarSpotter.
MORE FROM OVERSTEER:
The Original Dodge Viper Is Insanely Undervalued
Video | The Saab 9-5 Was Saab's Last Gasp For Life
Autotrader Find: 1988 Yugo For $5,500