I get unreasonably excited when I see a Japanese-market vehicle on American roads. Once I finally process what I'm looking at and realize, "Hey, THAT GUY IS DRIVING FROM THE PASSENGER SEAT," I stare, I savor the moment and then I scramble for my phone to take a picture. Skylines and Delicas and 70-Series Land Cruisers in a sea of F-150s and Camrys (and 15-passenger vans, because I live in Utah) — these vehicles are serious outliers.
But there's another, fairly more common JDM-import that we all tend to overlook: Kei trucks. "What's a Kei truck?" you might ask. Not to be confused with the K-Car, Chrysler's 1980s attempt at an automobile, "Kei" vehicles are designed specifically for the Japanese market to meet tight vehicle emissions and size restrictions set by the Japanese government for its densely populated urban areas. As a result, they generally aren't sold outside of the big cities in Japan, mainly because they really aren't that suitable for use anywhere else — let alone in the sprawling United States.
Now, as you might already know, the United States forbids the importation and registration of any non-federalized, foreign-market vehicle that isn't at least 25 years old; a rule that applies to kei cars and most desirable JDM models as a whole. But there's an exception: 21 states allow kei trucks (also known as "mini-trucks") of any age to be imported as off-road vehicles and registered as ATVs, and many of these states happen to allow ATVs to be driven on public roads. You can see where this is going.
Utah, my current stomping grounds, happens to be one of these states — and it goes so far as to allow ATVs and mini-trucks to be driven on any road except for interstate highways, at speeds of up to 50 miles per hour. Since kei trucks happen to be extremely practical, it's not uncommon to see these weird, tiny Japanese automobiles with the steering wheel on the wrong side scurrying around downtown Salt Lake, or being used at one of the dozens of resorts in Southern Utah. Here are a few that I've encountered in the 18 months that I've lived in the Beehive State.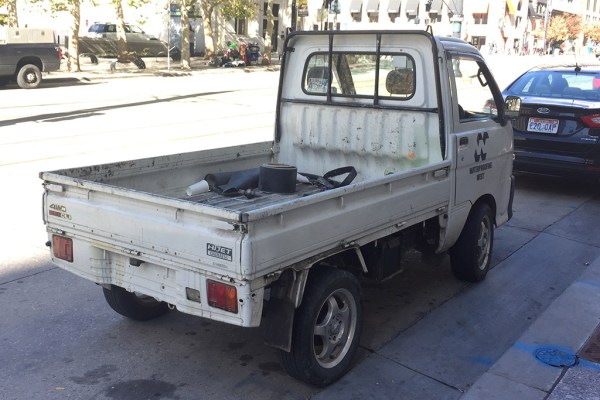 This one is a ninth-generation Daihatsu Hijet I spotted in downtown Salt Lake City. It would have been sold new in Japan between 2000 and 2004 — still a good decade from the standard 25-year import threshold, if it wasn't a mini-truck. It looked like it was owned by a waterproofing company that was presumably working to put the finishing touches on the newly opened Eccles Theater. While there's a space in the bumper where a standard Japanese license plate used to be, note the Utah motorcycle/ATV license plate now mounted in the rear window.
Here's a tenth-generation Suzuki Carry, built from 2002 to 2009. This one was at the Red Cliffs Lodge in southern Utah, about 15 miles east of Moab. The lodge had four or five of these, all sporting ATV license plates and loaded up with shovels, buckets and other groundskeeping supplies.
Mini-trucks are right at home in these environments. Since at their core they're really just a tiny, depreciated, de-contented automobiles, they're able to be purchased for significantly less than a new "utility task vehicle" (or "side-by-side"). As a result, and given the legal flexibility offered by the state, they end up being bought en masse by resorts and other places with grounds to keep.
This is the first kei-car I ever noticed in the wild — a sixth-generation Mitsubishi Minicab, which I saw back back in 2013 at the Lexington Inn in Jackson Hole, Wyoming, where the mini-truck laws are largely the same at Utah's — though this one is unique in the fact that, well, it technically isn't a mini-truck but rather a mini…van. I have to wonder if this still fell under the mini-truck classification for import purposes, or if there was a bending of the rules involved.
Needless to say, these are all fun little vehicles — not because they're fast or desirable, and not even because they really provide any real off-road benefit (although you may want to Google "off-road kei truck" — you're welcome). Instead, they're fun because they're from a different country, their steering wheels are on the other side, they're cheap, very few people in the U.S. have ever seen one, and they're just plain weird. And I want one. Especially now after Googling "off-road kei truck." Find a truck for sale
Chris O'Neill grew up in the rust belt and now lives in Salt Lake City, Utah. He managed to work in the auto industry for a while without once crashing a corporate fleet vehicle.
MORE FROM OVERSTEER:
The Maserati Ghibli Absolutely Wasn't Worth $80,000
Used Jaguar F-Types Are Already Starting to Creep Below $40,000 on Autotrader
Here's How You Can Tell Apart the Ferrari 550 Maranello and the 575M from the Outside