The 2020 Jeep Gladiator is one of the most exciting new vehicles to come onto the market in ages. It's a Jeep. It's a pickup. It can tow. It's a convertible. The doors come off. The windshield folds down. It's got solid axles. It'll have a diesel. The list goes on.
But I'm most excited about the bed.
By themselves, pickup beds offer immense utility. For starters, you can pile a bunch of stuff into them. You can put a cap over them, making for an enclosed space. You can add a roll cage. You can add drawers. You can add a rack system, onto which you can mount kayaks, bikes, a cargo box or a rooftop tent. The possibilities are endless. And now you can do all of this with a Jeep Wrangler-based vehicle, which offers loads of configurability and capability to begin with.
Given that the aftermarket for the Jeep Wrangler is already huge, expect to see a variety of clever solutions incorporating the Gladiator's added real estate aft of the rear seats — things that wouldn't be possible with a basic Wrangler.
Here are just a few ideas I've come up with that I'm looking forward to seeing put in practice once the aftermarket gets a chance to catch up.
Roll Bar With Lights
Keeping things simple to start, the roll-bar-with-lights look is a classic 1980s aesthetic that we've never before seen applied to a modern Wrangler-based vehicle. I'm willing to bet it will look awesome.
Soft-Top Canopy
This is probably the simplest option, but one that I'm willing to bet will also look exceptionally cool. I'll take my Gladiator in green with a tan canopy, please.
Fully-Enclosed Cap
Simply putting a bed cap on a Jeep Gladiator would effectively turn it into a fairly large solid-axle Jeep SUV. I'm not sure that integrating the cap with the vehicle's roof would be conceivable, given that the Gladiator's bed is likely designed to flex independently from the rest of the body. If some solution could be devised that would allow for a pass-through behind the rear seat, something already made possible by the Gladiator's removable rear window, passengers could have full access to the enclosed rear cargo area of the vehicle. This would effectively create a full-size Wrangler SUV, adding a fourth profile to the already expansive Wrangler/Gladiator lineup.
Pop-Top Cap
The pop-top roof design is great, because it can be sleek and low profile when you don't need it, but can then expand into an area tall enough to stand in when it's time to camp. With a variety of pop-top styles and configurations currently available on the market for pickups, I imagine at least a few designs will emerge with features unique to the Gladiator. If the pop-top is made to go over the passenger area, access points could be integrated so that when the Gladiator's roof pieces are removed, occupants could have access to the main passenger area from inside the pop-top and vice-versa. These designs already exist for the Wrangler, and would really be able to capitalize on the Gladiator's added length.
Ditching the Bed Completely
Vehicles like the 79 Series Toyota Land Cruiser and the Land Rover Defender 130 are often seen fitted with a variety of different alternatives to a traditional pickup truck bed, like a flatbed with fold-down sides or a self-contained camper habitat. A Gladiator fitted with one of these would be quite unique, and capable. As in the case with the pop-top example, occupants could have access to the passenger area from inside the camper, given the vehicle's removable roof pieces.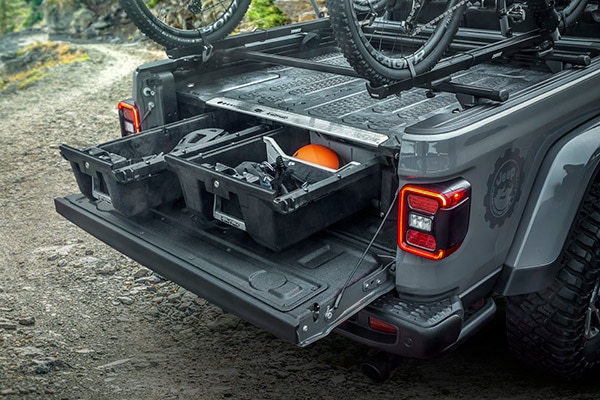 As I am merely an outsider with little insight into the technical feasibility of any of the above ideas, it goes without saying that I can't wait to see what the aftermarket is actually going to come up with for this thing. The upcoming Moab Easter Jeep Safari, Overland Expo and SEMA shows should all be highly entertaining.
What else can you dream up for the new Gladiator? I feel like we could take this pretty far … Let us know in the comments.
Chris O'Neill grew up in the rust belt and now lives in Salt Lake City, Utah. He worked in the auto industry for a while, helping the Germans to design cars for Americans. On Instagram, he is the @MountainWestCarSpotter.
MORE FROM OVERSTEER:
Here's Why the Koenigsegg Agera RS Is Worth $10 Million
I Bought the Most Unreliable BMW Ever Made
Autotrader Find: 1990 Subaru Legacy With a Landau Roof