Enthusiasts should be marching to their car dealerships to protest that no new manual transmission station wagons will be available in the 2020 model year. Whose fault is this?
Well, it's apparently ours, because we didn't buy enough of them.
Volkswagen dialed back its U.S. Golf lineup considerably for the 2020 model year as it readies a new generation that'll likely hit the U.S. for the 2021 model year. The shrunken lineup leaves just a few trims of the standard Golf hatch, the sporty Golf GTI and the e-Golf electric car on dealer lots. The SportWagen and lifted Alltrack are gone, and with their demise went the last opportunity to take home a stick-shifted long-roof car with that new car smell.
The stick-shift wagon took a long time to vanish from American showrooms. As recently as the early 2000s, Audi, BMW, Subaru, Volvo and even Cadillac tempted fans of practical motoring with manual transmissions. BMW and Cadillac are out of the wagon game entirely in the U.S., while Audi, Volvo and Subaru have largely shifted — pun very much intended — to tall-riding crossover-like automatic wagons.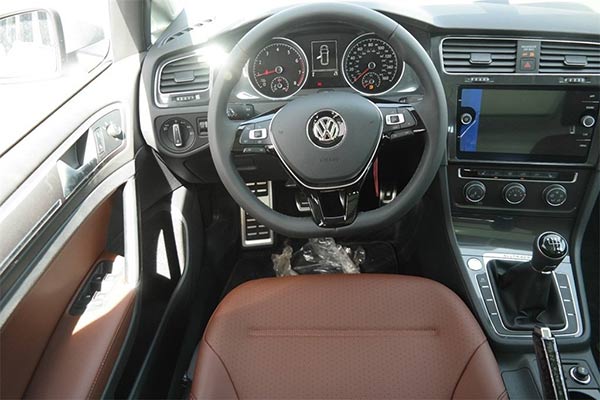 Alternatives to SportWagen and Alltrack Golfs run the gamut, but none is a conventional wagon. They're all hatchbacks — generally more comparable to the standard Golf and GTI. The all-wheel-drive Subaru Impreza and Subaru Crosstrek can be had, in certain configurations, with a manual transmission — though their smaller cargo holds swallow just 55 cu ft of goods, compared to 65 cu ft in the discontinued VW wagons. Only one version of the Mazda3 hatchback is available with a 6-speed manual — but its 47 cu ft of storage space is nearly 30 percent less than the VW wagons'. The Mini Cooper Clubman is even smaller.
The silver lining is that, at least for now, stick-shift Golf SportWagens and Alltracks aren't hard to find on dealer lots. I found more than 600 brand-new examples on Autotrader with asking prices under $20,000 for a front-wheel-drive Golf S wagon.
If I were shopping — I'm not, because I'm a typical enthusiast reluctant to put his money where his mouth is — I'd grab an Alltrack in Great Falls Green Metallic or Pure White with the Marakkesh Brown vinyl interior. Find a Volkswagen Golf Alltrack for sale
MORE FROM OVERSTEER
Video | I Bought the Most Unreliable Cadillac Ever Made: The 1993 Cadillac Seville STS Northstar
Here Are My Favorite Old Station Wagons for Sale on Autotrader
Asuna Was a Weird GM Brand in Canada