The Mountain West, continental America's forgotten time zone, is a quirky place. There's something for everyone — national parks, the amazing skiing, secretive government compounds, legal marijuana, casinos, maybe aliens, ghost towns. Pick your poison: The list goes on. Needless to say, there's much to explore here. You're seemingly never more than a 20-minute drive from adventure. Right in line with this sense of adventure, the Mountain West is home to some of the weirdest, rarest and quirkiest cars in America. Now that I've lived here for almost two years, I think I've come up with the three main reasons why this is the case:
1. Climate. There's a reason they refer to the upper Midwest as the Rust Belt. Having grown up in Pittsburgh, I've experienced my fair share of humid summers, where you step outside and more or less swim through the air rather than walk through it. In the winters, that moisture in the air makes just a walk down the street bitter and unforgiving.
Here in the mountains, on the other hand, it's dry heat during the summer and a dry cold — which I assure you is a real thing — during the winter. Dryness means less corrosion — and while you'll still see rust buckets on the road now and then, it's less of a factor. Among many of the unique vehicles you encounter out here are old, rust-prone Japanese cars that would've rusted away long ago in other, damper, parts of the country. I had never heard the term 'survivor' used to refer to a car until I saw a flawless first-generation Subaru Leone in downtown Salt Lake. Japanese, European or American, it's one less thing to worry about when buying an old car that's lived its life in the west: Vehicles simply last longer here.
2. The Wild West. Back east, tastes skew towards older American cars for the simple reason that much of the domestic auto industry was born there. Car cruises feature big sedans from the '40s and '50s. The popularity of NASCAR has elevated the status of the muscle car. Even growing up, I recall friends whose parents only drove American cars, as family members who worked for the automakers.
You don't feel that as much here. I think it's because the Mountain West is so far from the epicenter of industry that's the eastern part of the United States. What's left is room for more of the individuality and adventurousness that personifies the vehicles we see here. Before moving here, I had never seen or even heard of a Laforza in my life — and I've now seen two in the short time that I've lived in Salt Lake. People hold onto stuff for no other discernible reason than the fact that it's unique.
3. Adventure. This is the land of doing. People buy vehicles that they can go camping with, take four-wheeling and then use to transport skis and snowboards up and down snowy canyons going to and from the ski resorts. Personally, I bought an old Land Cruiser a few months after moving here, and I use it any time I go into the mountains or to southern Utah. It's perfect for the lifestyle here, allowing me to take advantage of all the geography the region has to offer. I think that's why we come across so many old unique vans and 4x4s here, which are some of my favorite cars to see. Isuzu Troopers, Jeeps and pop-top Vanagons; even Land Rover Defenders are seemingly everywhere. Europeans will ship their bizarre looking camper vans over the Atlantic and then spend the summer driving around the country on the classic American road trip. Even old Subarus and 4-wheel-drive Toyota Tercels and Previas that would've long been discarded anywhere else are maintained and driven here simply because they offer cheap off-road transportation, enabling a lifestyle unique to the mountains.
Between the dry weather, the western mystique and the endless opportunities for adventure, the Mountain West offers just the right conditions to really indulge your quirky side when it comes to choosing a vehicle. So the next time you find yourself in Salt Lake City, or Yellowstone, or Denver, keep an eye out — because you're sure to see something interesting driving down the road. Maybe even a Laforza or two. Find a car for sale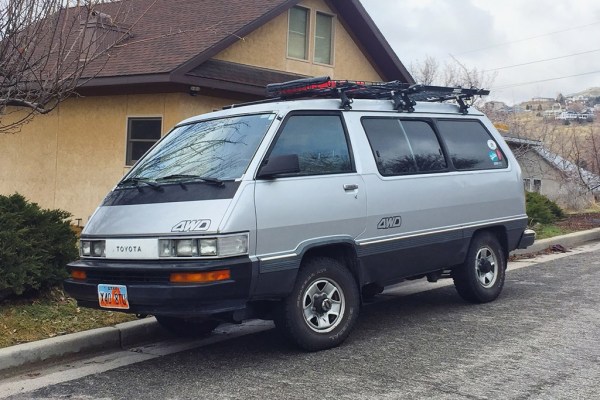 Chris O'Neill grew up in the rust belt and now lives in Salt Lake City, Utah. He managed to work in the auto industry for a while without once crashing a corporate fleet vehicle. On Instagram he is the @MountainWestCarSpotter.
MORE FROM OVERSTEER:
I Needed a Chainsaw to Extract My Stolen Mercedes ML55 AMG
How Can I Avoid Valet Parking?
This Volkswagen Touareg V10 TDI Video Is Still My Favorite Video Ever