Perceiving the shift toward pickup trucks as both workhorse and luxurious family transportation, General Motors debuted two different dashboard designs for its full-size Chevrolet Silverado and its GMC Sierra in 2007.
Lower-trim versions used what GM called the pure dash design. It placed the audio and climate controls up high next to the instrument cluster. Pockets for small-item storage were located on either side of the climate controls, and the truck had dueling glove boxes in front of the passenger. In many ways, the design was an evolution of what GM trucks had used for decades, with its squared-off design cues dating back to the 1988 model year.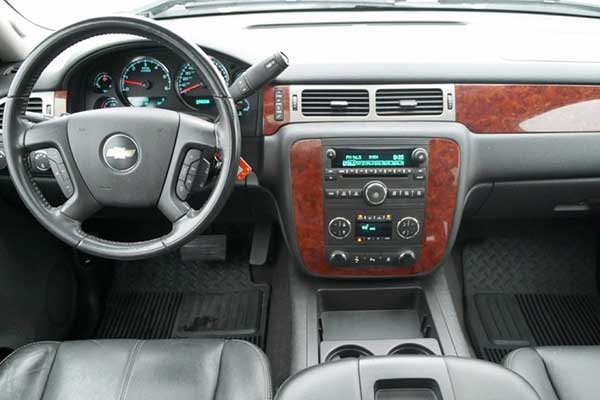 Opt for a tony Silverado LTZ or a Sierra SLT, and GM would swap in a totally different design with a lower dash top and controls grouped vertically below the air vents. The luxury design, as GM called it, looked as though it was plucked from a contemporary Chevrolet Impala — not exactly an icon of opulence, admittedly. The luxury design was shared with the Chevrolet Tahoe and the Suburban and the GMC Yukon, though the contemporary Cadillac Escalade had its own carlike dash.
The pure dash looked as though it was designed for bench seats (which you can still buy on GM's trucks and SUVs), and the luxury design, with its lower center stack, was the perfect mate for a center console and bucket seats. When equipped this way, each truck looked perfectly fine inside. However, pickup trucks have always had a greater degree of optional equipment customization potential compared to other vehicles, and the GM twins were no exception. Across the trucks' 8-year production run, GM made it possible at various points to mix and match bench seats, bucket seats and the dash designs. Pure dashes with center consoles merely looked awkward, but luxury dashes with bench seats looked like a mistake. The unlucky front-center passenger had almost nowhere for their legs to go between the high transmission hump and the low-hanging dash.
When GM redesigned its trucks for 2014, it consolidated to a single dash that's still used in today's Silverados and Sierras. No doubt the consolidation saved a considerable amount of engineering and production cash.
It's hard to imagine how much money GM spent developing two dashboards for its trucks, though those costs — not to mention the automaker's bankruptcy — might help explain why the 2007 designs stuck around for quite a while. Certainly, the Chevy and GMC SUVs had to gradually amortize the design costs, though apparently not enough for GM to try again with subsequent trucks.
For now, twin dash designs on a single truck will remain an odd footnote in automotive history. Find a GMC truck for sale or Find a Chevrolet Truck for sale
MORE FROM OVERSTEER
Video | GM Was Brilliant to Bring Back Hummer But Should Also Revive the Typhoon
5 Great 1980s SUVs for Sale On Autotrader
Autotrader Find: 1989 Mitsubishi Precis for $2,475