Subaru got in on the crossover game at just the right time with its Outback and later its Forester. Those two vehicles alone have helped the Japanese automaker break sales records almost every month for the last decade.
But what if the automaker had chosen to become a builder of niche convertibles rather than mainstream SUVs? It could have happened. The automaker commissioned the Subaru Technical Center in Garden Grove, California, which it should be noted is basically suburban Disneyland, to build a Miata fighter in the early 1990s. The result was a Smurf blue droptop with inexplicably gray rocker panels and bumpers. The little roadster was apparently built using Subaru Justy bones, meaning it was based on the humblest of subcompacts and had an engine slightly larger than the Subaru-powered pressure washers Costco sold a few years ago. It has understandably been forgotten and should probably remain so.
However, a decade or so later, Subaru's fortunes had improved and the company figured it would try again with a convertible. This time, Subaru debuted three concepts at the 2003 Tokyo Motor Show, including the B9 Scrambler roadster. It may have been a small car, but there was a lot to take in starting with its Fisker-like mustache front end and extending to its hybrid–electric powertrain. A 2.0-liter boxer-four teamed with an electric motor supposedly offered emissions-free driving up to 50 mph. It would take Subaru another 10 years to sell its first hybrid to American consumers, the short-lived first-generation XV Crosstrek Hybrid. Truthfully, Subaru still hasn't offered a competitive hybrid yet, though an Outback hybrid is expected in the next year or two.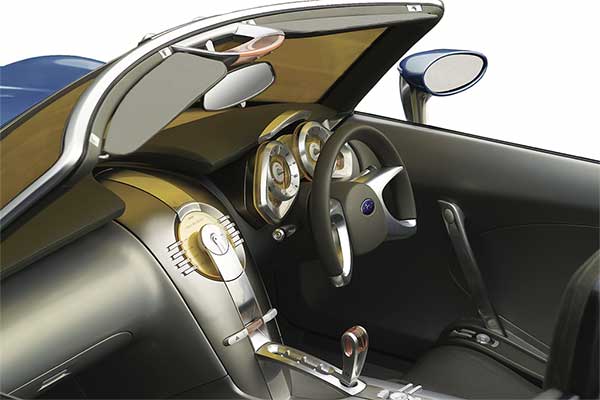 The B9 Scrambler's interior was dominated by a vertical CD player like that used on home audio systems sold by Bang & Olufsen at faux-riche shopping mall stores wedged between Cinnabon and The Sharper Image. And let's not forget about the yellow-tinted windshield, which gave the car an oddly Walter Sobchak-like expression.
Subaru quickly swept the B9 Scrambler under the rug, though the alphanumeric nomenclature and the mustache showed up briefly on the B9 Tribeca crossover. Even though the B9 Tribeca was hardly a hit, it eventually paved the way for the decidedly mainstream and strong-selling Subaru Ascent. Stick to crossovers, Subaru. And keep taking them off-road. Find a Subaru for sale
MORE FROM OVERSTEER
The Suzuki Equator RMZ-4 Was an Off-Road Truck Named After a Dirt Bike
5 Ridiculously Cheap V12 Cars for Sale on Autotrader
Autotrader Find: 2003 Volkswagen Passat W8 Manual With a New Engine