No matter what you're considering for your next car -- no matter what vehicle type, manufacturer, model, trim level or price point -- I can almost surely promise you one thing: You aren't looking for a pink car. Nobody is. And yet, there are a few very, very pink vehicles currently listed for sale on Autotrader for the few people out there who are interested in going a little crazy with their next vehicle -- and, specifically, going pink.
Ever wonder what happens to the Mary Kay cars once they're done serving their reps? Well, apparently, they find their way to Autotrader. For the uninitiated, cosmetics line Mary Kay provides vehicles to their top-performing sales representatives across the country -- vehicles usually painted in a specific shade of pink, like this one. In fact, not only is this 2014 Cadillac SRX finished in "Mary Kay Pink," but it still retains the Mary Kay logos on the door. It's available with 78,000 miles at Mercedes-Benz of Fort Washington, in the Philadelphia suburbs, for $21,982.
1984 Chevrolet Corvette -- $7,950
This 1984 Chevy Corvette certainly didn't leave the factory in pink -- but it's pink now, and it's currently offered by J & S Auto Sales in rural Fremont, Nebraska, near Omaha, for $7,950. Given that the front bumper cover has a breast cancer ribbon on it, this Corvette was likely painted pink in a breast cancer charity tie-in -- but if that's the case, the listing doesn't announce it. Instead, it mentions that the car runs on "gasoline fuel" and has "seats." I also suspect it turns a lot of heads -- especially in rural Nebraska.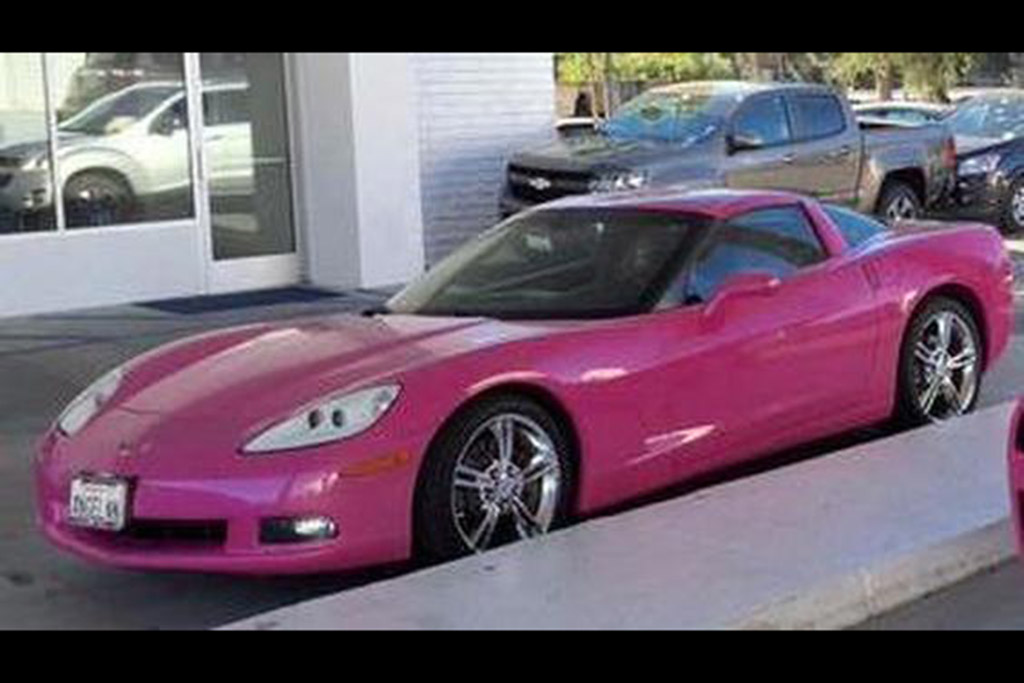 2008 Chevrolet Corvette -- $28,000
This 2008 Chevy Corvette is unusual for several reasons. One is obvious: It's bright pink, which isn't something you usually see on Corvettes (except for, well, the other Corvette we have listed right above it). It's also traveled a whopping 190,000 miles, which might be even more unusual than the color: Corvettes are typically used as second cars or weekend cars, with mileage added sparingly -- and this one was driven daily and driven a lot. Finally, it's a one-owner car, meaning it's been driven by the same person for a decade -- and all 190,000 of those miles. It's offered by a private seller in Los Angeles for $28,000 -- and the listing claims it's been "drooled over by celebrities such as Kim Kardashian and James Franco."
Perhaps the most unusual pink vehicle on this entire list is this one: a 2017 GMC Sierra SLT Crew Cab, brand new and offered by Dennis Dillon Auto Park in Boise, Idaho, for $48,940 -- a slight discount over its original MSRP of $50,505. The unusual part is that this vehicle's pinkness isn't really explained: It's a pickup, which isn't exactly a vehicle you'd expect to be painted pink, and it's a completely new car, which means it probably wasn't done as a special order by a customer -- unless that customer ordered delivery and then backed out. Either way, if you're interested in a new pink pickup, here's your chance.
2004 Mercedes-Benz SL500 -- $16,500
Here's a car you definitely don't expect to see painted pink: It's a 2004 Mercedes-Benz SL500, and it's offered with 80,000 miles by Whitt's Auto Sales in Houston for $16,500. Offered with upgraded wheels from a later SL model, it appears this car was actually painted pink, and not wrapped -- and the Carfax report helps us pinpoint exactly when it happened: The car color was noted as red until March 2011 and pink by March 2012. Interestingly, this car has had seven owners -- but the last owner (the one who painted it pink, apparently) has kept it for more than five years. Probably because it's one of the only pink SLs in existence.
Pink is an especially unusual color for a full-size SUV since, well, it's a lot of vehicle to paint pink. This particular Nissan Armada is proof of that, as it appears the owner who painted it pink decided to stop half way -- so the pink only covers part of the vehicle (and it also comes to an unusual V shape in the back). The result is that this Armada has a tremendously distinctive color scheme for drivers reeeeeally looking to stand out. It's offered by A Plus Motors in Oklahoma City with 130,000 miles for $9,950.
2015 Volkswagen Beetle -- $15,475
If you've ever wanted to own the most head-turning Volkswagen Beetle on the market, this is probably your best bet. Here's a 2015 Beetle that's not only painted pink, but covered with a series of purple flower decals on the front and rear fenders. The best part about this Beetle is the fact that, even though it likely wasn't painted pink from the factory, it's offered with Volkswagen's certified pre-owned warranty -- meaning you get a discounted Beetle with a factory warranty and a pink exterior (if, ya know, that's your thing). This pink Beetle is available with 30,100 miles from Luther Burnsville Volkswagen in the Minneapolis suburb of Burnsville, Minnesota, for $15,475.