It's time to do a roundup of the highest-mileage pickup trucks currently listed for sale on Autotrader, which is always an exciting thing to see, because some people really, truly, seriously drive a lot. I mean … a lot. And these people are often driving pickups, because they're hauling something, or driving from job site to job site, or delivering something, or whatever. So these are the six highest-mileage pickups currently listed on Autotrader — and while some trucks are listed with higher mileage, I often find that people mistake "60,000 miles" and type "600,000 miles," so this list only includes trucks with a VIN and mileage that can be verified using Carfax. With that in mind, time for the list.
2001 Ford F-350 – 872,000 Miles
Although I intended to comprise this list solely of vehicles that had verifiable mileage numbers in Carfax, I made an exception for this truck. That's because it has a claimed 872,000 miles, and the seller explains why: "I used to deliver camping trailers all over the USA. I have stopped doing that." Indeed, this truck probably does have 872,000 miles, if it was used to bring camping trailers across the country — and while those are 872,000 hard miles, the seller notes he's spent a lot on the truck over the years. This F-350 is currently offered in Independence, Kansas, for $7,000.
1999 Chevy Silverado 1500 – 585,000 Miles
Shockingly, the next-highest-mileage truck on our list isn't a "heavy-duty" pickup, as you might expect, but rather a light-duty 1999 Silverado 1500. This truck, finished in gold with a camper shell, is offered by American Auto in Kearney, Nebraska, and it's traveled an amazing 585,000 miles from new. According to the Carfax report, the high-mileage owner bought it used in 2002 with just 73,000 miles, and then started racking them up, putting on 20,000 miles in the first 5 months of ownership and going from there. Now it can be yours for $4,988.
2005 GMC Sierra 2500 HD – 524,000 Miles
This 2005 GMC Sierra 2500 HD is gold, with aftermarket wheels and cloth seats that have held up surprisingly well to lots of miles — lots and lots of miles. Indeed, this is one of the few trucks currently listed for sale on Autotrader that has covered more than 500,000 miles, with the listing noting that the current mileage is just over 524,000. The truck is offered by Mills Motors in Centralia, Washington, and it's listed for $13,998.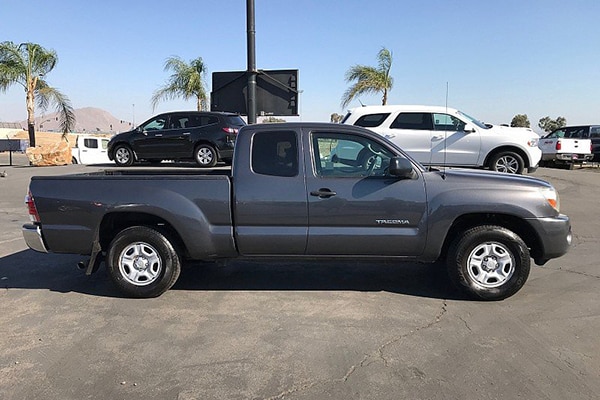 2011 Toyota Tacoma – 489,000 Miles
I was so convinced that this Toyota Tacoma hadn't done 489,000 miles that I thought there must've been an error in the odometer photo — but it's true. This Tacoma is just a short ways from hitting the 500,000 mark. That's truly impressive in any vehicle, but especially unusual in a compact truck, as it's usually the full-size, heavy-duty diesel pickups that rack up these miles. This truck, which uses the Tacoma's base-level 4-cylinder engine, is offered by Chadwick Auto Wholesale in Colton, California, east of Los Angeles, where it's listed for $8,950.
2001 GMC Sierra Tow Truck – 481,000 Miles
This truck has certainly had quite a life. It's a 2001 GMC Sierra tow truck, and it's currently listed by AR Motorsports near Atlanta with 481,000 miles on the odometer. That's a huge figure, and it's especially big when you consider this truck has likely spent an inordinate amount of that time pulling other vehicles around — meaning this truck has had a long life of work. If you're ready to see if it can handle even more, it's available for just $5,000.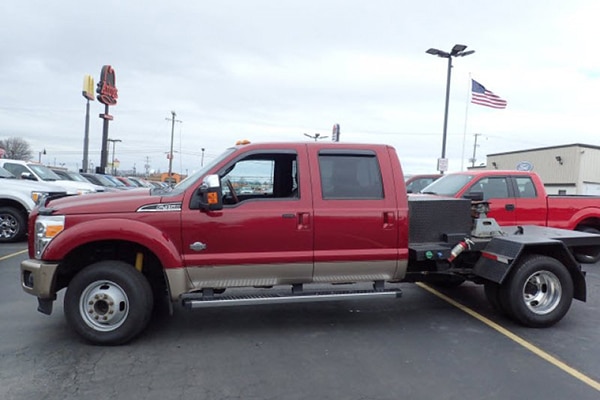 2013 Ford F-450 Stripped Chassis – 461,000 Miles
This is the most impressive vehicle on this list, to me, because it's only a 5-year-old truck — and it's already racked up 461,000 miles. Offered by Don Meyer Ford in Greensburg, Indiana, this F-450 is a Lariat model, with a luxurious interior — but it has a stripped chassis in back for serious towing. The Carfax report is quite a sight to behold, as it shows the truck was sold new on September 13, 2014 — with 20,000 miles added within 30 days. From there, it was off to the races, with an entry from June 2015 — just 9 months after the truck was purchased — showing 125,000 miles. Now the truck can be yours for $19,988.
MORE FROM OVERSTEER:
Video | Here's Why the Original Tesla Roadster Was a Total Failure
Video | Here's Why the Pagani Huayra Is Worth $3 Million
Video | Which Cars Do Doug DeMuro and Tyler Hoover Want to Own the Most?