If you're looking for a cool old hatchback, we've got some options for you. I've listed six of the coolest older hatchback models currently for sale on Autotrader, all of which are special, and unique, and a bit of a blast from the past. Hatchbacks certainly had a good run, years ago, and each of these vehicles hails from the golden age of hatchbackery — and now you can relive those years.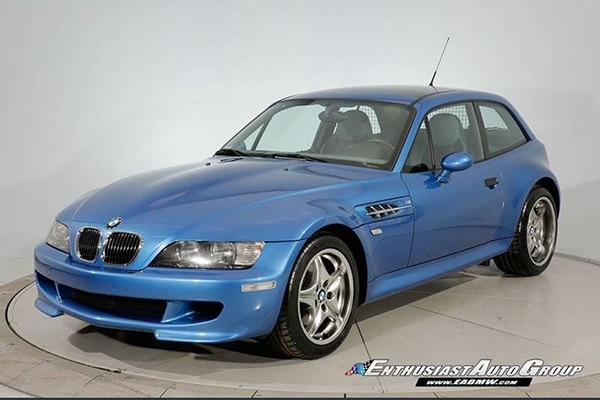 This M Coupe is the newest and by far the most expensive hatchback on this list, but I just had to include it because it's such a special hatchback — one of the rare times a European automaker decided to make a high-performance hatchback. BMW called it a "coupe," but a quick glance at the car will disavow you of any "coupe" notion, given its large rear quarter windows and cargo area. This M Coupe is the ultimate example: a low-mileage model (17,500 miles) with the more powerful "S54" engine finished in BMW's famous Estoril Blue. It's offered by Enthusiast Auto Group in Cincinnati, Ohio for $89,990.
This 1985 Honda Accord hatchback reminds us of Accord models from a bygone era — back when the Accord used to offer a hatchback version. This particular example is in incredibly nice shape, boasting a well-kept light blue exterior and a blue-and-gray interior. It's offered with less than 24,000 miles by VIP Honda in North Plainfield, New Jersey, and I think it's a total bargain at just $7,888, considering its condition and originality.
The Honda CRX Si was a popular 1980s hot hatchback, with sporty handling and an enjoyable, thrilling driving experience. It's really hard to find a CRX Si in nice shape, but this one looks surprisingly good, finished in red with a gray interior, largely original and untouched. This CRX Si is offered by a private seller in Hollywood, Florida, and the only potential drawback is the mileage: 241,000 and counting, which is a big number. Still, it's in good shape, and it's hard to find any CRX Si — and this one is offered for just $5,000.
1993 Plymouth Laser RS Turbo – $9,988
The Plymouth Laser is the lesser-known "DSM car," which was a trio of sporty hatchbacks in the early 1990s that also included the Mitsubishi Eclipse and the Eagle Talon. The Laser was rarer, though it still offered the same performance versions as the Talon (the sporty version of which was called the TSi) and the Eclipse (whose sporty model was the GSX). The Laser RS Turbo is the sportiest Laser, with the turbocharged engine, though this particular one is a front-wheel drive automatic version rather than the desirable all-wheel-drive manual. Still, it's a cool car, and it's offered by Tailgate Motor Company in Fremont, Nebraska, with an amazing 11,500 miles for just $9,988.
1982 Toyota Celica GT – $9,000
Here's a very early example of the Toyota Celica that's traveled just 24,800 miles from new. Finished in beige and brown with a matching beige and brown interior, this Celica GT is a true time capsule — incredibly well preserved, and almost hard to believe in this condition 35 years after it first went on sale. This Celica is offered by St. Charles Toyota in St. Charles, Illinois, and it's listed for $9,000.
1990 Volkswagen Corrado – $7,990
Volkswagen's sporty hatchback of the early 1990s was the Corrado, which was effectively a more fun and more exciting version of the Golf. The early Corrado, sold from 1990 to 1992 and called the G60, used a supercharged 4-cylinder engine — and early Corrado models are tremendously hard to find in good shape. This particular example is in excellent condition with 77,000 miles, and it's finished in yellow with a manual transmission, a black leather interior, and no obvious modifications. It's a peach — and it's offered for just $7,990 by Boutique Auto Sales in Woodland Hills, California.
MORE FROM OVERSTEER:
Here's Why the Koenigsegg Agera RS Is Worth $10 Million
I Bought the Most Unreliable BMW Ever Made
Autotrader Find: 1990 Subaru Legacy With a Landau Roof