You want a Ford F-150 SVT Raptor. You know you do. Even if you aren't into pickups, even if you have no need for one, even if you don't really off-road, you know that when you see them on the street, you look at them with some desire. In case "desire" turns to "purchasing," however, you know the Raptor can be pricey, but here are a few of the cheapest Raptors on Autotrader, which may ease the pain a little bit.
Cheapest Overall: 2010 Ford F-150 Raptor – $22,995
The cheapest overall F-150 SVT Raptor on Autotrader is this 2010 model, which has traveled 157,000 miles from new. Since it's a 2010 model, it's a short bed, extra cab Raptor, rather than the Super Crew version that became available the next year. It's a high-mileage example with the "small" engine — a 310-horsepower 5.4-liter V8 — but it's still a Raptor, so it's still desirable. That translates to an asking price of $22,995 from Silver State Imports in Raleigh, North Carolina.
Cheapest 6.2-liter V8: 2010 Ford F-150 Raptor – $25,900
This is the cheapest Raptor equipped with the more desirable 410-hp 6.2-liter V8. It's offered by Main Line Auto in Philadelphia, and, like all 2010 models, it's a short bed, extra cab model. It's traveled 116,000 miles from new, and it's offered for $25,900 — still big money for an 8-year-old truck that's gone nearly 120,000 miles, but a screamin' deal for any sort of Raptor.
Cheapest Crew Cab: 2011 Ford F-150 Raptor – $25,988
Most Raptor owners opt for the SuperCrew model, which comes with four full doors. The SuperCrew wasn't added to the Raptor lineup until the 2011 model year, so SuperCrew Raptor models can be a bit pricier than early 2010 extra cab versions. This is the cheapest SuperCrew: a bright red 2011 model offered by Charlie's Used Cars in Huntsville, Texas, northwest of Houston, that's traveled around 164,000 miles from new. It's listed for $25,988, making it only a little more expensive than the extended cab models listed above.
Cheapest New Raptor: 2017 Ford F-150 Raptor – $52,994
The cheapest "new" Raptor, which came out for the 2017 model year, is amazingly listed for $52,994. I say "amazingly" because the base price of a new Raptor is technically $53,900, and the 2017 model has been out for roughly two years — meaning that even if you factor in options, depreciation is basically nonexistent. This particular 2017 Raptor has already covered 62,000 miles, and it's offered by John Eagle Acura in Houston.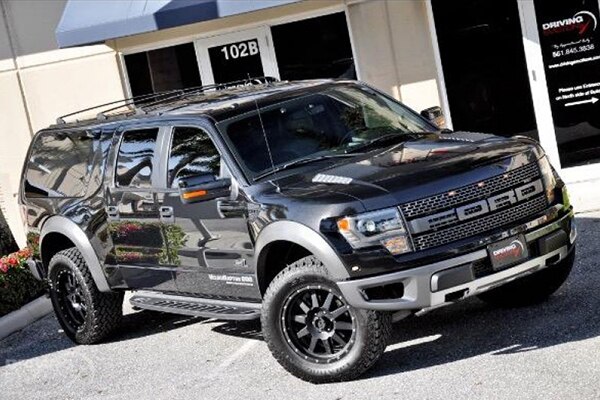 Cheapest SUV Conversion: 2013 Ford F-150 Raptor – $174,800
OK, this isn't cheap at all, but it's certainly cool. Hennessey, the famous tuning company in Texas, has taken to building SUV versions of the Raptor for interested buyers. Dubbed the "VelociRaptor," this is one such example, and it's amazing: a Raptor for the whole family. This 2013 VelociRaptor is offered with just under 20,000 miles by Driving Emotions in Lake Park, Florida, near Palm Beach, for $174,800.
MORE FROM OVERSTEER:
The Original Dodge Viper Is Insanely Undervalued
Video | The Saab 9-5 Was Saab's Last Gasp For Life
Autotrader Find: 1988 Yugo For $5,500