If you wanted a really expensive SUV 3 years ago, you were choosing between a Range Rover and a Mercedes-Benz G-Class. If you wanted an even more expensive SUV, you added a few options. That was it. Those were your only choices.
Not anymore.
Although automotive-industry experts will tell you the fastest-growing segment in the industry right now is subcompact crossovers like the FIAT 500X, the Mazda CX-3, the Audi Q3, the Chevy Trax and the Mercedes-Benz GLA, that's only true if you go by sales volume. If you consider the actual number of competitors, the ultra-luxury SUV has grown much faster — from zero just 2 years ago to a half-dozen (and counting) within the next 2 or 3 model years.
Since it's hard to keep track of all these new high-end SUVs, here's what's coming — or what's already arrived — in the world of the expensive SUV.
Aston Martin DBX
Yes, it's true: The brand of sleek, exotic, perfectly proportioned sports cars driven by James Bond is coming out with an SUV. Revealed in concept form at last year's Geneva Auto Show, the DBX will show up in production form sometime in the next few years. But first, Aston Martin has to build a factory in Wales that can handle another model's production volume. So what exactly is the DBX? Given that the concept car looked like a regular Aston Martin coupe with a lift kit, we're not exactly sure what to expect from a production model — and it's possible that Aston hasn't even finalized it yet, either. One noteworthy item, however: The DBX Concept was fully electric.
Bentley Bentayga
Bentley's ultra-luxury SUV is already on sale, combining the amazing straight-line performance of a Bentley sedan or coupe with the seating position and ride quality of an upscale SUV. In fact, the Bentayga might just be the perfect overall car, with enough luxury-vehicle, sports-car and SUV characteristics, plus cutting-edge technology, to satisfy just about every driver. Except for one little problem: the price tag. The Bentayga starts at $230,000 with shipping, and that's before you start picking options from the hilariously long list of extras. Find a Bentley Bentayga for sale
Lamborghini Urus
Revealed in concept form more than 4 years ago, the Urus is intended to be an SUV from in-your-face sports-car manufacturer Lamborghini. And while some purists may cry sacrilege at the idea of a Rolls-Royce or Aston Martin SUV, it's worth noting that Lamborghini has been down this road before, building the V12-powered LM002 in the late 1980s. The Urus, however, will likely be a little more exciting to drive than the LM002 — and a lot sleeker, if the concept version is anything to go on. Right now, Lamborghini says the Urus will go on sale in 2018, which (in case you haven't noticed) is rapidly approaching. Find a Lamborghini Urus for sale
Maserati Levante
The Maserati Levante is the only model on this list that isn't really an ultra-luxury SUV, given that its starting price is just $73,000. But it's undoubtedly a luxury SUV from an exotic brand, formerly known only for its efforts in the world of powerful sports cars and exciting sport sedans. Aimed directly at high-end versions of the BMW X5 and the Range Rover Sport, the Italian-built Levante offers two V6 engines (one naturally aspirated, one turbocharged) with up to 424 horsepower — and there's reportedly a 500-plus-hp model on the way. Find a Maserati Levante for sale
Mercedes-Benz G65 AMG and G500 4×4 Squared
Although the Mercedes-Benz G-Class has been an ultra-luxury SUV ever since its U.S.-market debut for the 2002 model year, things have really gotten crazy in the last 12 months. Two exciting new models have arrived: the G65 AMG, which is powered by a twin-turbocharged 6.0-liter V12 that makes 621 hp and 738 lb-ft of torque, and the G-Class 4×4 Squared, an off-road-oriented G-Class that features portal axles for extra ground clearance. All of this sounds very cool until you check the pricing: The G65 AMG starts at $219,800 with shipping, while the impressively capable 4×4 Squared will likely be right around that figure. Find a Mercedes-Benz G-Class for sale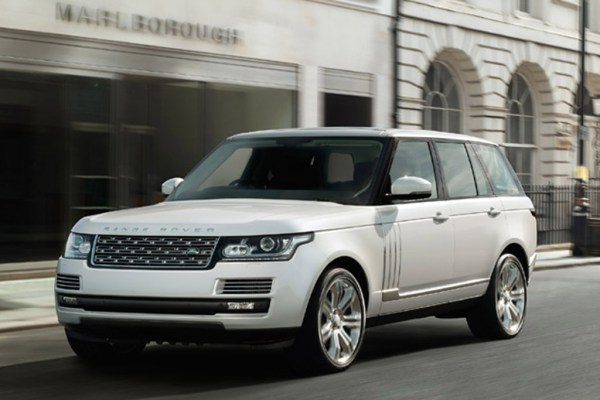 Range Rover LWB Autobiography
Not content to sit out in the segment that it helped create, Land Rover is battling back against the new crop of ultra-luxury SUVs with one of its own: the Range Rover LWB Autobiography. While the standard Range Rover starts from just $85,900 with shipping, the LWB Autobiography model (now mysteriously called the SVAutobiography) costs an impressive $200,495 with destination. That's a big figure — but then again, it includes everything, including 24-way power front seats, a rear center console with a bottle chiller, rear tables, an automatic parking system and so much more. Find a Land Rover Range Rover for sale
Rolls-Royce Cullinan
Maybe the upcoming ultra-luxury SUV to end all ultra-luxury SUVs is the Rolls-Royce Cullinan, presumably named after enormous Cullinan Diamond. Although we have no idea what it's going to look like, what engine will be powering it and when it's going to come out, we know this for sure: If Rolls-Royce's other models give us any indication, the Cullinan will likely be the most opulent SUV of all time. Then again, it might also be the most expensive. My guess at the Cullinan's basics: Expect a V12 under the hood, a starting price over $300,000, and a release date sometime in 2019. Find a Rolls-Royce Cullinan for sale
Doug DeMuro is an automotive journalist who has written for many online and magazine publications. He once owned a Nissan Cube and a Ferrari 360 Modena. At the same time.
MORE FROM OVERSTEER:
Here's Why the Tesla Model X Is (Not) an Awful Car
The Aston Martin DB11 Costs $250,000 — and It's Amazing
Why Don't Other Car Companies Build a Raptor?