Check out our newer version of Top Fuel-Efficient SUVs and Minivans With 3-Row Seating for 2019
It can be hard to combine family transport and fuel efficiency. But those are two things many shoppers would like to have, since family haulers usually spend a lot of time on the road. To help, we've listed the most fuel-efficient SUVs and minivans with 3-row seating.
1. Toyota Highlander Hybrid
The Toyota Highlander Hybrid is the most fuel-efficient 3-row vehicle on the market. While several rivals have better highway gas mileage, no one can touch the Highlander Hybrid's 28 miles per gallon in the city — a figure that rivals many economy cars. Since much family hauling is done in city traffic, that's a major benefit for most moms and dads who have to shuttle their kids around. Unfortunately, hybrid technology doesn't come cheap: The Highlander Hybrid starts around $41,000 with shipping. Find a Toyota Highlander Hybrid for sale
2. Mitsubishi Outlander
The recently redesigned Mitsubishi Outlander boasts a whopping 31 mpg in highway driving. That, combined with its 25 mpg city rating, makes it the second-most efficient 3-row vehicle on the market — and we're not even talking about the plug-in hybrid Outlander scheduled to go on sale next year. Instead, these impressive mileage figures apply to the Outlander ES and SE models, which start around $24,000 with shipping. The SUV boasts a standard continuously variable transmission (CVT) automatic mated to a 166-horsepower 2.4-liter 4-cylinder engine. Find a Mitsubishi Outlander for sale
3. Nissan Pathfinder Hybrid
The Pathfinder Hybrid is due out later this summer. Shoppers who can wait a few more months to pick up their new crossover will get a reward, as the Pathfinder Hybrid returns 27 mpg city/25 mpg hwy. It also boasts a brand-new design that will help you stand out from the typical minivan and SUV crowd. Pricing has not yet been announced, but Nissan says it should command $3,000 over a standard Pathfinder. That suggests a base price of around $36,000 with shipping. Find a Nissan Pathfinder for sale
4. Mazda5
The Mazda5 is a compact minivan with dual sliding doors and a standard 4-cylinder engine. That engine, a 2.5-liter that makes around 160 hp, returns an impressive 22 mpg city/28 mpg hwy. And while the Mazda5 offers a standard manual transmission, the available automatic actually boasts its best gas mileage. For some drivers, a major drawback is that the Mazda5 only seats six; however, others will be hard-pressed to find a better 3-row deal, considering its base price of around $21,000 with shipping. Find a Mazda5 for sale
5. Ford Explorer 2.0-Liter
The newly redesigned Ford Explorer is available with two powertrains. Shoppers looking for more muscle can choose the 3.5-liter EcoBoost V6, which returns 290 hp or — in Sport form — a robust 365 hp. For drivers interested in fuel economy, Ford offers a 2.0-liter turbocharged 4-cylinder model. That version returns 20 mpg city/28 mpg hwy, placing it among the most fuel-efficient 3-row vehicles on the market. And despite only four cylinders, the engine's 237 hp means it feels adequate for nearly all situations. Choosing the 4-cylinder engine adds $1,000 to an Explorer's base price, for a starting price of around $31,000 with shipping. Find a Ford Explorer for sale
6. (tie) Audi Q7 TDI
The diesel-powered Audi Q7 TDI is an expensive 3-row SUV, with base prices starting around $53,000. But shoppers who get one will be rewarded with a spacious, high-quality interior and a long list of luxurious equipment. Standard features include leather, dual-zone automatic climate control, heated seats and a power tailgate. Most important, the 240-hp diesel V6 returns 19 mpg city and a whopping 28 mpg on the highway, though it can sometimes feel labored powering the 5,500-lb SUV. Find an Audi Q7 for sale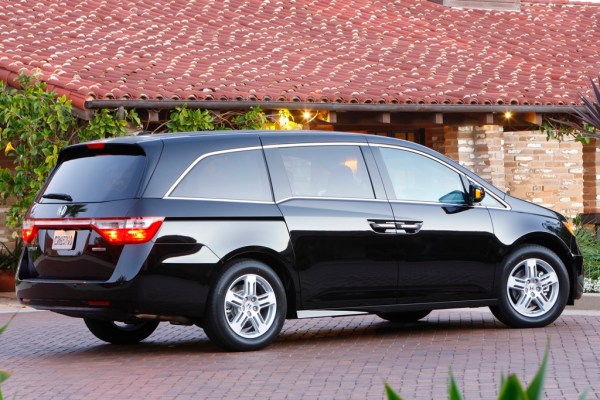 6. (tie) Honda Odyssey
The Honda Odyssey is powered by a 248-hp 3.5-liter V6. The model's lower trim levels — LX, EX and EX-L — return 18 mpg city/27 mpg hwy, according to the Environmental Protection Agency (EPA). But the Touring and Touring Elite models use Honda's variable cylinder management system to gain a little extra power. The result is 19 mpg city/28 mpg hwy, which ties it with the Q7 TDI among the most fuel-efficient 3-row vehicles. As a bonus, the Odyssey seats up to eight passengers, compared to seven like its SUV rivals. The Odyssey starts around $29,500, though upgrading to a Touring model for improved gas mileage adds more than $10,000 to that figure. Find a Honda Odyssey for sale
7. Kia Sorento
The Kia Sorento is a midsize crossover with available 3-row seating. The Sorento was recently updated for the 2014 model year with revisions to its interior and exterior. While the Sorento's V6 provides ample grunt, its available 191-hp 2.4-liter 4-cylinder is the engine to have if you're looking for gas mileage. It returns 20 mpg city/26 mpg hwy while still offering an acceptable 0-to-60 time of around 8.5 seconds. Sorento pricing starts around $25,000, while 3-row seating is an $800 option. Find a Kia Sorento for sale
What it means to you: Our list of fuel-efficient SUVs and minivans with 3-row seating proves you don't need to spend a fortune on gas to carry your whole family.