I've got a "thing" for Wyoming. I think it's the wide-open land, the western history and the fact that it isn't an obvious vacation spot for many people. I've had a lot of great memories in Wyoming, and not the usual ones, like posing for a picture in a spot where thousands of tourists have done so before. This is the place where I experienced absolute silence for the first time in my life. No cars in the distance, no buzzing of a power grid, not even rustling trees. Nothing. So when it came time to plan a last-minute overland camping trip with some friends recently, I threw out a location — Western Wyoming. None of us had much of an idea what was there. As it turns out, there's a lot.
You don't get much good info when you do a Google search for "Western Wyoming." Sure, there's plenty of info on the region's national parks, Yellowstone and Grand Teton, and of course the town of Jackson, where "gentrification" means the millionaires that previously occupied the town are being priced out of their homes by an incoming barrage of billionaires. But as far as "scenic off-road 4×4 trails" go, there isn't exactly a long list. Upon discovering this, we had to plan the trip using little more than Google Maps and a sense of adventure. We opted to start out by driving into Bridger Teton National Forest, which turned out to be an amazing array of canyons, wildflowers and dense woodland pine. We set up our first night's camp spot at dusk and were treated to an amazing view of the sunset over the town of Afton.
The next morning we set out along 80 miles of forest road, where we encountered wildflower fields, bald eagles, herds of free-range cattle and snow-capped mountains around every corner (along with an abandoned Audi A6).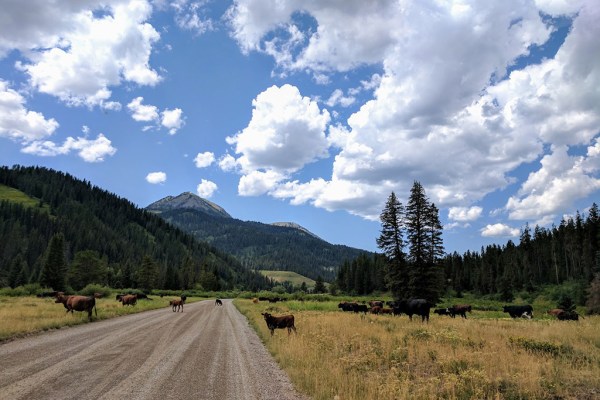 Following a stream that turned into a creek that then turned into a full-blown river, the trail led us to the budding mountain town of Alpine, which sits at the base of the Snake River canyon, on the edge of a reservoir completely surrounded by mountains. After passing through, I have a hunch that once the last remaining "affordable" bits of real estate are spoken for around Jackson Hole, Alpine will become the region's hot real-estate market. After a quick recharge at Melvin Brewing Company, we set out for Jackson on what turned out to be an incredible drive: 37 miles of twisting asphalt set high above the Snake River, with views of the rapids rushing through the steep canyon below.
We managed to make it to Jackson Hole just as the sun started to set, and chose to make camp for the night in the 'Gros Ventre Wilderness' area, just across the valley from the iconic Grand Teton Mountain Range.
After the sunset, a thunderstorm passed through the valley, and we got to watch the thunder and lightning roll across the mountaintops from our vantage point high up in the hills.
The next morning we packed up, stopped in town for lunch and cruised home comfortably in my Land Cruiser through more of the open fields and golden rolling hills of one of America's greatest states. Another Land Cruiser-assisted wild west adventure in the books.
Chris O'Neill grew up in the rust belt and now lives in Salt Lake City, Utah. He managed to work in the auto industry for a while without once crashing a corporate fleet vehicle. On Instagram, he is the @MountainWestCarSpotter.
MORE FROM OVERSTEER:
How Do You Service an Exotic Car That's Never Driven?
Here's Why Everyone Loves the Honda S2000
Autotrader Find: 2009 Mercedes-Benz SL65 AMG Black Series