Here in the Midwest, a used Suburban (or similar General Motors product) is a more common sight than a used Camry or Accord. So many people willingly tolerate the gas-guzzling to pilot these giant beasts, as they comfortably haul large families without the stigma of owning a minivan. Used Suburbans are also fairly reliable and widely available at cheap prices, so it actually makes some sense to buy one — but deciding which of the three previous generations of used offerings to buy can be tough.
The true Chevy geeks divide these trucks by their chassis designation: GMT 400, GMT 800 and GMT 900. The letters stand for General Motors Truck, and, yes, the Suburban does have the same chassis as the Silverado, Sierra, Tahoe, Yukon and Escalade. Since these shared platforms also share drivetrains, they also share many similar benefits and downsides — but for now, let's focus on the big ol' bowtie-badged Suburban.
GMT 400: 1992-1999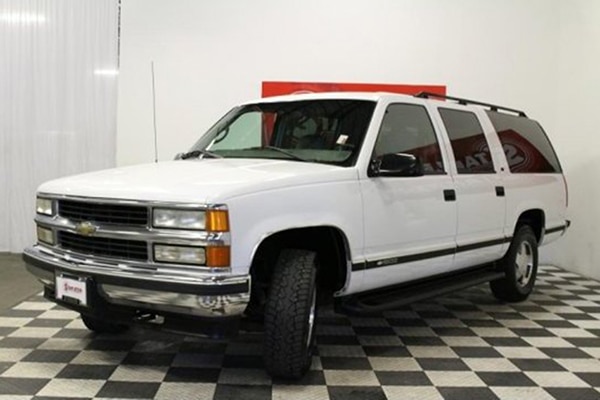 The boxiest of the bunch is also the most basic, as the thought of going full-out luxury on a large SUV wasn't as prevalent in the '90s. The coolest of these Suburbans still roaming the road are the aftermarket conversions from coachbuilders like Regency and Southern Comfort. The blank canvas of this chassis lent well to weird customizations such as pillow-top seats, mood lighting and solid oak consoles. Compared to more modern generations, the old 5.7-liter V8 in half-ton versions is underpowered — but this was the last Suburban with a mostly flat floor, which is ideal for hauling cargo. While these are certainly the most affordable of the three generations, their age may make it harder to locate one with lower miles and less wear and tear.
Benefits: Flat cargo area, lowest price, simple mechanics, many custom conversion models, easiest to maneuver around a parking lot
Problems: Narrow track has greater rollover risk, less safety equipment, transmissions not as durable for towing, half-ton version is underpowered, leaks from plastic intakes, most rust-prone
GMT 800: 2000-2006
Despite its age, driving this generation of Suburban still feels very modern — while also having a few throwbacks to things from the good old days. It's the last of the Suburbans to have plush, thick-foamed seats that make long road trips feel like you're riding in a La-Z-Boy on wheels, but things also got more upscale, with a lot more luxury features available than the previous generation. The 5.3-liter Vortec V8 of this era is nearly indestructible, and its transmissions more durable as well. This was also the last generation of Suburban offered with the big-block 8.1 liter V8 — a rare beast that's still coveted by Chevy fans looking for the family hauler that can also tow a small planet.
Benefits: Bulletproof mechanics, good towing capability, extremely comfortable seats, modern luxuries, easy/affordable maintenance, Z71 and high trim packages available, affordable pricing with great examples readily available
Problems: Fuel pumps fail regularly/without warning, knock sensor underneath intake prone to water damage, sunroof sealing and operation issues, hard plastic interiors that wear poorly
GMT 900: 2007-2014
This generation of Suburban benefited greatly by the improvements in materials for the interior — and finally, the Suburban was given a luxury treatment comparable to the Denali and Escalade. Although the 2500 Suburban was still offered, the engine was downsized to the 6.0 V8 — but the 5.3 Vortec of this generation was improved for greater power and fuel efficiency. This was also the first generation to get a serious modern infotainment system — which has actually aged pretty well.
Benefits: Modern technology and safety equipment, most luxurious, higher-quality interior materials, improvements in power and fuel efficiency, infinite examples available at a wide range of pricing
Problems: 5.3 engine issues with oil sludging requiring engine teardown, exterior door handles breaking, power hatch failures, more expensive for nice examples, higher maintenance costs/least DIY friendly
The Verdict?
While the thought of having a custom-conversion GMT 400 with oak cabinetry is tempting, as well as all the technology and safety features with the newer GMT 900, if I were shopping for a used Suburban with for around $10,000, the GMT 800 would be the winner for me. The comfortable seats and invincible mechanics outweigh the boring cosmetics and cheaper interior materials. That's my personal opinion, but there's really no bad choice with these fantastic machines.