Enthusiasts love to lavish Mazda with praise, saying that all of its cars possess the sprightly Miata's DNA. Spoiler: Cars are inanimate objects, and anyway the only car with a real familial relation to the Miata is the Fiat 124 Spider.
When car nerds wax nostalgically about Mazda's impressive ability to pair balanced handling with stylish design cues at a reasonable price, they typically reference an ethos that dates to the original Mazda3. Offered here from 2004 to 2009, the 3 rode on a version of a platform shared with Ford (Focus) and Volvo (S40), and it struck a pleasant balance between the two while outshining them in a number of key ways: It was more fun, more refined and better equipped.
The original 3 was so far ahead of its like-priced rivals that it was more a budget-priced Audi or BMW than a competitor for like-priced cars such as the Nissan Sentra and Chevrolet Cavalier. Yes, that's right — in 2004, you could spend your hard-earned money on a Cavalier that rode on 1980s architecture, or you could buy a Mazda3 with six airbags, Xenon headlights and a navigation system.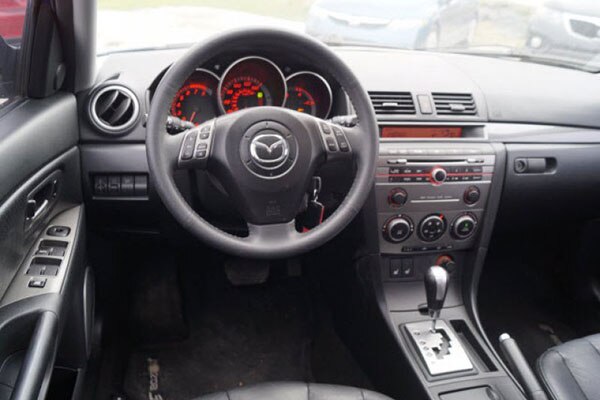 What made the 3 so good wasn't just its features, although there were plenty that were largely unheard of in cars costing around $15,000 to $20,000 15 years ago. Tick all the boxes and, over the course of the model's run, Mazda would sell you a 3 with stability control, Bose speakers, rain-sensing windshield wipers, heated front seats and automatic climate control. In the mid-aughts, those features were uncommon on mid-size sedans, let alone many luxury cars. Those high-end features came at a price, though, as Mazda was beginning to stake out a spot for itself between mainstream rivals and luxury brands. If there was ever to be a slot between, say, Honda and Acura, Mazda sought to occupy it.
The 3 earned accolades early on for its balanced handling and willing powertrains. Though the base 2.0-liter inline-four was no rocket, the upgrade 2.3-liter's 160 horsepower was good for the era. Better yet was the new-for-2007 Mazdaspeed 3, which used a high-zoot turbocharged 2.3-liter rated at a healthy 263 hp. That was a lot of power to send forward, but the car used its traction and stability control system to keep fun-spoiling torque steer to a minimum.
What happened to the Mazda3? The follow-up that arrived for 2010 was too heavy to be truly fun, while its so-happy styling was something of a buzzkill. Mazda reworked the 3 for 2014, though by then consumers had started to shift strongly in favor of crossovers and SUVs. The current Mazda3 is a standout for its handling and frugality, not to mention its looks — but the company sells more than two CX-5s for every 3.
Fortunately, Mazda sold a ton of 1st-generation 3s between 2004 and 2009, which means they're plentiful on Autotrader. Nearly all are well under $10,000, and yet they still represent a lot of zippy commuter car for the money.
For just under $7,000, this 66,000-mile 2008 Mazda3 s Sport hatchback is an enthusiast-ready choice with its practical 5-door body and its manual gearbox. Find it in Folsom, California. Want something a little fancier? This blue 2008 Mazda3 in Kansas has a hair under 85,000 miles and is loaded up with leather, heated front seats, Bose audio, a moonroof and more. Find a Mazda3 for sale
MORE FROM OVERSTEER
Video | I'm Finally Starting to Fix My Cheap Lamborghini Muricelago Roadster, But It Broke Even Worse
The Chevy Camaro ZL1 is a Used Muscle Car Bargain That No One Talks About
Autotrader Find: 15,000-Mile 1997 Chrylser Sebring JXi Convertible