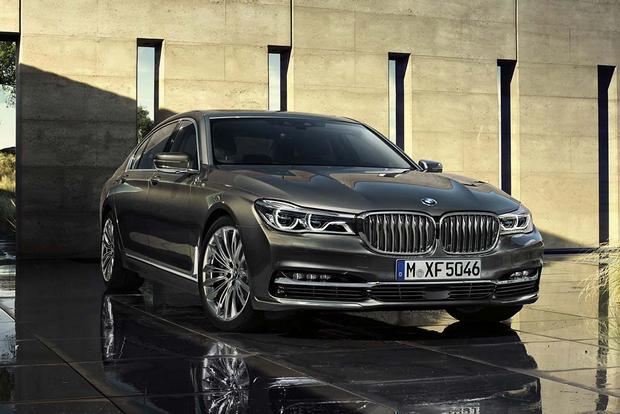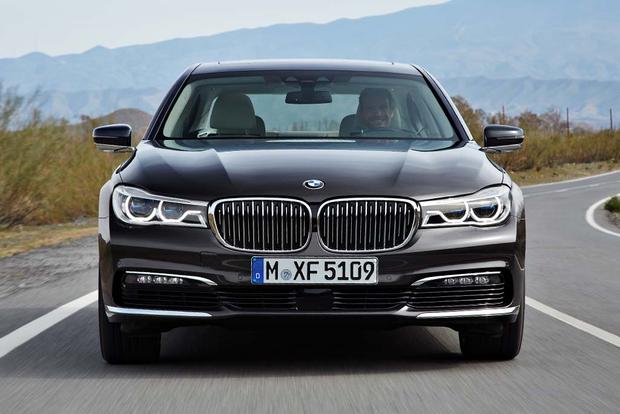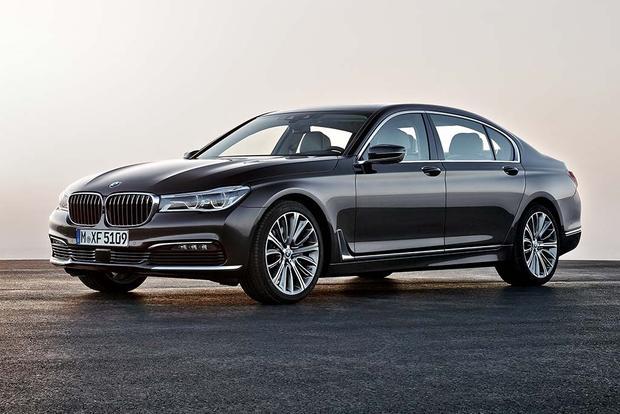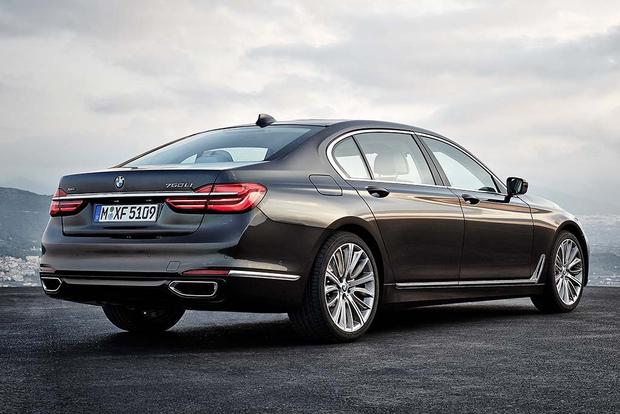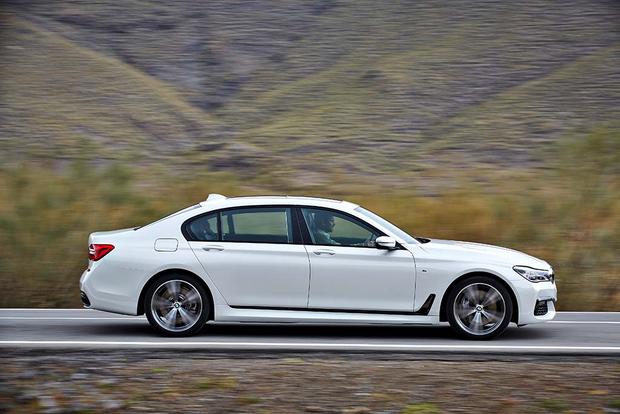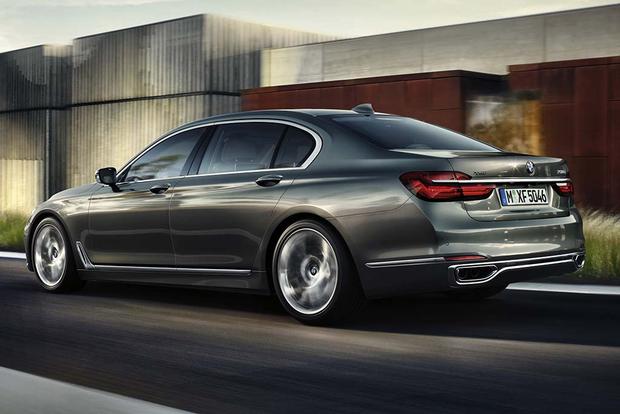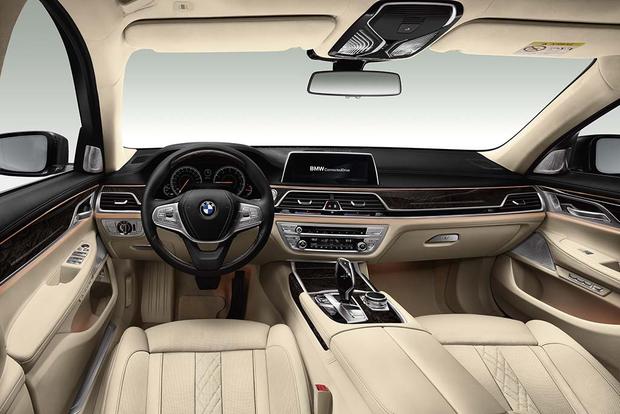 If you're looking for information on a newer BMW 7 Series, we've published an updated review: 2019 BMW 7 Series Review
The 2017 BMW 7 Series is more than a full-size flagship sedan -- it's a technological masterpiece. To recline in the back is to be pampered, to stretch out and enjoy more rear legroom than in the regular Mercedes-Benz S-Class. Or you could sit in the driver's seat and have a surprising amount of fun.

This is the most spacious sedan BMW has ever made, yet it's around 190 pounds lighter than the previous generation. Much of that is because of the frame's radical construction. High-strength steel, die-cast aluminum and carbon fiber reinforced plastic (CFRP) are all placed in optimum locations. The relatively thin A-pillars (for a modern car) have tubes of CFRP inside them that run from the top of the hood over the doors and down to the trunk. An aluminum hood, trunk lid and door panels are then hung on this frame.

There are computers, cameras and sensors to make the car safer and more convenient than a 7 Series has ever been before, along with a standard-issue air suspension for total comfort and fine-tuned composure.
What's New for 2017?
After last year's debut of a new generation, the 7 Series range has expanded to include two high-performance versions and a plug-in hybrid. Remote control parking is available for 740i and 750i variants. The previously optional "display key" (which gives a full-color readout of details like mileage range and cabin temperature, as well as locking and unlocking) has become standard. Upgraded M Sport brakes have joined the options list. And the entry-level 740i may now be specced with all-wheel drive.See the 2017 BMW 7 Series models for sale near you

What We Like
Cutting-edge construction; fabulous engines; high-class appointments; remarkable suspension.
What We Don't
This generation has been out for a year and we still can't think of anything beyond the amount of dollars required to buy one.
How Much?
$82,495 to $154,795
Fuel Economy
The 740i has a 3.0-liter inline 6-cylinder engine turbocharged to produce 320 horsepower and 330 lb-ft of torque. The Environmental Protection Agency (EPA) estimates fuel consumption at 21 miles per gallon in the city, 29 mpg on the highway and 24 mpg in combined driving when using the default rear-wheel-drive setup, or 19 mpg city/28 mpg hwy/22 mpg combined with optional all-wheel drive.

The 750i uses a turbocharged 4.4-liter V8 developing 445 hp and 480 lb-ft of torque. Again, rear-wheel drive is the basic setup. Fuel consumption is rated at 17 mpg city/26 mpg hwy/20 mpg combined, or 16 mpg city/25 mpg hwy/19 mpg combined with the all-wheel-drive system.

Both versions have active grille shutters that contribute to aerodynamic efficiency.

The 740e xDrive plug-in hybrid version combines a 2.0-liter 4-cylinder engine with an electric motor and lithium-ion battery pack (located under the rear seat) for a system total of 322 hp and 369 lb-ft of torque driving all four wheels. EPA ratings comes to 64 MPGe (miles per gallon equivalent) on the combined cycle, and the electric-only range is 14 miles. When using just the combustion engine, it's estimated to achieve 27 mpg combined.

The M760i xDrive has a twin-turbocharged 6.6-liter V12 generating 601 hp and 590 lb-ft of torque. This model is due to arrive in early 2017 and EPA figures will be available then.

The Alpina B7 xDrive makes a similar amount of power -- 608 hp and 590 lb-ft of torque -- from a twin-turbocharged 4.4-liter V8. All-wheel drive is standard and fuel consumption is quoted as 16 mpg city/24 mpg hwy/18 mpg combined.

An 8-speed automatic is the sole transmission for the range.
Standard Features & Options
Although not badged as such, the 2017 BMW 7 Series is the long-wheelbase version, offering maximum rear passenger space. BMW doesn't bring the shorter version into the United States.

The 740i ($82,495) comes with a comprehensive list of standard equipment. This includes 18-inch alloy wheels, full LED lighting inside and out, an adaptive air suspension, quad-zone automatic climate control, leather upholstery, selectable drive modes, keyless entry/ignition, hands-free trunk operation, a twin-panel panoramic sunroof, soft-closing doors, 10-way power-adjustable/heated front seats with driver's-side memory settings, front and rear parking sensors, a rearview camera, rain-sensing wipers, Bluetooth, Wi-Fi, a 10.2-in display and a 16-speaker Harman Kardon audio system with satellite/HD Radio and a pair of USB ports.

The 750i ($95,595) has 19-in alloys, upgraded leather, a head-up display (which BMW claims to be the largest in the industry), a power sunshade for the rear window and 20-way multicontour front seats. This model can also come with all-wheel drive, badged as the 750i xDrive.

Both versions are eligible for the Autobahn package, which uses cameras to read the road surface and then prompts the computer-controlled suspension to react accordingly. It also includes variable-ratio steering and rear-wheel steering (known as Integral Active Steering).

The 750i can be ordered with the Rear Executive Lounge package, where the reclining passenger-side rear seat is more like first class air travel, complete with a retractable footrest and foldaway table, plus a dual-screen rear entertainment system and a tablet that can control various car functions, surf the web or act as a gaming console (and which is held in place by cool little power-retractable clips).

The 740e xDrive ($90,095) adds the plug-in hybrid system and dedicated instruments. Navigation, gesture control and wireless smartphone charging are all standard.

The M760i xDrive ($154,795) comes with the turbo V12, M Sport brakes, an M suspension tune and Integral Active Steering. It's not an out-and-out M version as we've come to know and love them (like the M3, for example), but still incredibly special.

The Alpina B7 ($137,995) includes Integral Active Steering, the Autobahn package, wireless smartphone charging, Wi-Fi hotspot capability, gesture control, powered side sunshades and massaging front seats.

Other options for the range include heated armrests, a cabin fragrance system, massaging seats, a 1400-watt Bowers & Wilkins Surround Sound system with 16 part-illuminated speakers, and night vision and other advanced protective features listed in the Safety section below.

Trunk space is a capacious 18.2 cu ft.
Safety
In addition to all the mandatory safety equipment, the airbag count includes full-length side curtain units as well as a couple for the front occupants' knees.

A Driver Assistance Plus package is available for both models and includes lane-departure warning, blind spot monitoring, forward-collision mitigation with automatic braking, automated parking and a 360-degree camera system. It's not until we get to the Driver Assistance Plus II package (perhaps the one thing we don't like) that adaptive cruise control becomes available. This package also has more "autonomous" technology, with lane-departure prevention and traffic-jam assist bringing a virtual hand to the steering wheel.

This generation of 7 Series has not yet been crash-tested in the United States.
Behind the Wheel
For a long-wheelbase sedan, the new 7 Series has incredible balance and agility. Plenty of owners will probably be captains of industry and need to sit in the back to work, but those who like to drive will be tempted to spend more time behind the wheel.

Yet for all the poise, there's not a hint of jarring. Or road noise. This is a true modern luxury sedan that happens to have some cornering skills when called upon.

Instead of the usual dials in the instrument cluster, the 7 Series has a configurable 12.3-in display with pin-sharp graphics. Gesture control is another cool feature: To answer a phone call, point to a certain spot; to decline the call, make a swiping action. To turn up the audio, spin a finger clockwise; counter-clockwise turns it down. There's also the ability to save a gesture for a specific command, like telling the navigation to calculate the route home.

Alpina is an independent tuning house that specializes in BMW vehicles. But Alpina versions are available from BMW dealers and covered by the same warranties. This B7 version of the 7 Series can sprint from a standstill to 60 mph in just 3.6 seconds. That's phenomenal for a car of this size (even with such advanced construction techniques). The M760i xDrive is just 0.3 of a second behind. These are both incredibly fast, incredibly capable machines.
Other Cars to Consider
2017 Mercedes-Benz S-Class -- Utterly superb and packed with technology. The S-Class has always been the segment leader.

2017 Audi A8 -- Renowned for its predominantly aluminum body. A new generation debuts for the 2018 model year.

2017 Porsche Panamera -- Gorgeous interior, driving talent for days. A new generation debuts for this model year with much improved styling (subjectively speaking).

2017 Jaguar XJ -- Handsome and supple, with a mostly aluminum body. An update is expected for the 2018 model year.

2017 Lexus LS -- Solid and dependable. A new generation arrives in 2017, to be sold as a 2018 model.

Used Bentley Flying Spur -- For this particular mix of space, luxury and driving ability, the options are few. The Flying Spur is one, with a hand-crafted cabin and a 552-hp W12 engine under its imposing hood.
Autotrader's Advice
In an ideal world, the B7 would never cease to thrill and cosset. But even a midrange 750i xDrive and a few options will likely keep all but the most adrenaline-addicted perfectly happy. Find a BMW 7 Series for sale