Car Review
1999-2005 Mazda MX-5 Miata: Used Car Review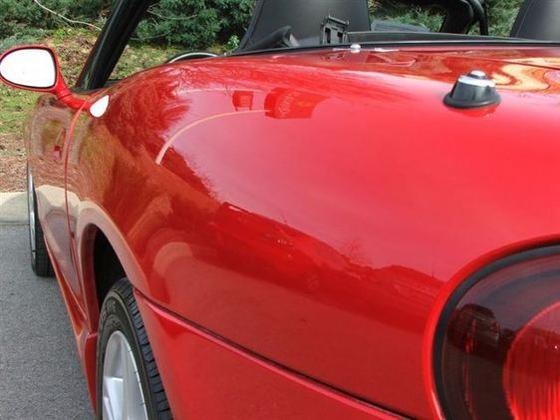 It was the British who pretty much created the small, open-air roadster, championed by brands like Triumph, MG and Lotus. But as much fun as those cars were to drive, they were nightmares to maintain.
In 1990, Mazda borrowed the well-polished British template and applied their engineering and manufacturing excellence to the formula, creating a small two-seat roadster that was as fun to drive as it was reliable. With the birth of the Miata, Mazda not only reintroduced the idea of the compact roadster to the American market, but they also proved that such a car could be as reliable and cost effective as the best Toyota Corolla or Honda Civic of the day.
Why You Want It
Although the second generation MX-5 Miata still bears a striking resemblance to the original, it does so without the pop-up headlamps, flimsy plastic rear window and glove box-sized trunk. The second generation Miata is proportionally identical to the first-generation car, but it addresses many of the concerns raised by owners unhappy with some aspects of the original Miata design.
Horsepower is more robust with the 1999-2005 Miata, and the car features more creature comforts as well as more accommodating front seats. Among the things that didn't change are the Miata's brilliantly balanced ride, its go-kart like handling and its strong reputation for reliability. From its simple soft-top roof that can be securely raised without leaving the driver's seat, to its snug fitting body panels and rock-solid build, the second generation Miata simply seems to do everything right. True to the great cars that inspired its creation, the 1999-2005 Mazda Miata is a wonderful way to escape the confines of city life and enjoy the long lost thrill of open air driving.
Notable Features & Options
Notable on this car is the move to a six-speed manual transmission on some of the more high-end trims, as well as the available Bose audio system (the only Miata radio that can overcome wind noise with the top down). Base cars feature a five-speed manual transmission, air conditioning, power windows, 15-inch alloy wheels, front airbags, a rear window defroster and an AM/FM stereo.
Options include cruise control, leather seats, Bose audio, a limited-slip differential, automatic transmission, power mirrors, remote keyless entry with alarm, ABS, and 16- and 17-inch wheels. Available models include base, LS, SE, 10th Anniversary and a limited-run Mazdaspeed variant that bolts a turbocharger onto the base engine (2004 and later).
Model Milestones
1999: A 10th Anniversary model was introduced, modified with special paint, wheels and seats; leather trim; Bose audio; a six-speed manual transmission; a re-tuned suspension and a hefty price tag.
2000: A new LS trim was introduced featuring leather seats, cruise control, a limited-slip differential and 15-inch alloy wheels. A Special Edition trim was offered featuring a wood Nardi steering wheel, while base cars got more standard equipment, including alloy wheels.
2001: The Miata received a mild exterior freshening and more bracing under its skin. There was a slight bump in horsepower. A British Racing Green model was offered and LS models rolled on 16-inch wheels. Other LS improvements included EBD (Electronic Brake force Distribution) for better stopping power (also on Special Edition models).
2002: Changes for this year were mainly cosmetic, with new paint and trim options including Vivid Yellow. A six-disc CD changer was made available for the first time.
2003: Base cars rolled on 16-inch wheels and two new trims were added. The Shinsen Version (SV) was slotted between base and LS, while the new SE became the top-of-the-line trim. Also offered was a limited-run Club Sport model intended for SCCA racing events. Club Sport models deleted the air conditioning and the power steering, and added a factory hardtop.
2004: The Mazdaspeed package was offered and included a 178-hp turbocharged engine, stiffer suspension components, larger brakes, Bilstein shocks and 17-inch wheels. A detachable hardtop was also offered for the first time.
2005: No major changes as the all-new 2006 model was set to debut.
Engines & Performance
For the model run covering 1999-2005, the MX-5 Miata uses the same 1.8-liter engine mated to either a 5- or 6-speed manual transmission or a 4-speed automatic. Equipped with variable intake control and high compression ratio (9.5:1), the little 1.8-liter motor produces 142 hp, more than enough to move its 2,300-pound feather-weight body with ease.
The MX-5 Miata isn't about straight line performance, however, but taming s-curves with slightest steering wheel input followed by a quick up shift as you rocket out to take on the next twisting villain. Get the Miata out on a winding back road and there's no wiping the smile off your face. The gearshifts are short and precise, requiring only a flick of the wrist to change gears. Turn-in is instantaneous and precise, and a U-turn can be performed in a single movement, even on the narrowest roads.
As a daily driver, the Miata is really quite comfortable, although the driver must contend with a large blind spot over his left shoulder. The Miata's cockpit is snug, and long- legged drivers might find spending more than a few hours behind the wheel to be bum-numbingly unbearable.
The Miata's small trunk can fit a duffle bag or two, but if you're traveling for more than a few days, you should either bring some laundry detergent or plan on buying some new clothes at your final destination.
Lastly, the Miata's fuel economy is pretty good for a sports car: rated at 20 mpg city and 25 mpg highway.
Recalls, Safety Ratings & Warranties
The National Highway Traffic Safety Administration, or NHTSA, has issued the following recalls for the 1999-2005 Mazda MX-5 Miata:
1999: Recalls were issued for a defective component in the fuel filler neck that could make it difficult to refuel the car, and for a misplaced wiring harness that could come in contact with engine and short circuit.
2001-2003: A recall was issued for defective fog lamp sockets that could allow bulbs to fall out and possibly cause burning if in contact with the inside bumper housing.
Recall repairs are required by law, even if the vehicle is out of warranty. Your dealer can check to see if the repairs were performed and if not, he will fix the car at no charge to you.
As for safety, NHTSA gives the 1999-2005 Mazda MX-5 Miata mixed reviews. In the frontal crash test, the Miata's driver earns four out of five stars, and the passenger earns five out of five stars. However, the driver earns only three out of five stars in the side impact test (the passenger was not tested).
The 1999-2005 Mazda MX-5 Miata had a 4-year/50,000 warranty, now long expired. These cars are also too old to qualify for Mazda's CPO (Certified Pre Owned) program, so your best bet is to buy a one- or two-owner car, or have a Mazda mechanic check out the car before you buy it.
You can also get in touch with your local Miata club or SCCA branch, both of which have many members who are well versed in what to look for when buying a used MX-5.
Word on the Web
Big consumer watchdogs such as ConsumerReports.com and JDPower.com give the 1999-2005 Mazda MX-5 Miata excellent scores, rating it high in all but a few minor areas such as squeaks and rattles. JDPower gives the MX-5 Miata good scores for initial quality and reliability.
There are untold numbers of Miata enthusiast sites, including Miata.net, Mazdaforums.com and mazdaworld.org. We found hundreds of posts singing this car's praise. Many owners belong to track clubs or SCCA and race their cars on the weekends. Others simply keep the car as a warm weather toy, enjoying the open air, the fun-to-drive nature and the low maintenance costs.
Some common complaints regard the cramped seats and low windshield that forces tall drivers to look over the top of the cowl. There were some reports of 1999 and 2000 model cars suffering engine failure due to the tolerances on the No. 4 bearing cap being too large. There were also reports of a chattering clutch on 2002 and 2003 models (Mazda did post a TSB for this problem, so dealers know how to fix it).
Competitive Set
The Toyota MR2 Spyder is a close competitor to the Miata. It features a mid-engine design that improves the car's handling by placing more weight over the drive wheels. But the MR2 Spyder isn't as cute as the Miata, and its soft-top is not as easy to lift into place.
You might look at the Honda S2000, which has a more powerful engine and more aggressive styling, but it also costs a fair bit more than the Miata, and it isn't evenly balanced.
The BWM Z3 has much of the Miata's sexy appeal, but its rear end tends to step out when pressed into sharp curves. And you'll pay a premium for the BMW name, both at the dealer's lot and in his repair shop.
If you need a bit more room for passengers and cargo, the Mitsubishi Eclipse Convertible has a small rear seat and a good-sized trunk, plus a power operated top. But it's heavier than the Miata and, again, just not as much fun to play with.
AutoTrader Recommendation
Given a choice, we'd pick a 2001 or newer model, preferably an LS or one of the Special Edition trims (the British Racing Green model is particularly alluring.) These cars come nicely equipped and hold their value well. Some of the Special Editions will probably become collectibles. Try to find a model with ABS and the limited-slip rear differential. A seller who also has the optional hardtop is someone you'll want to do business with.