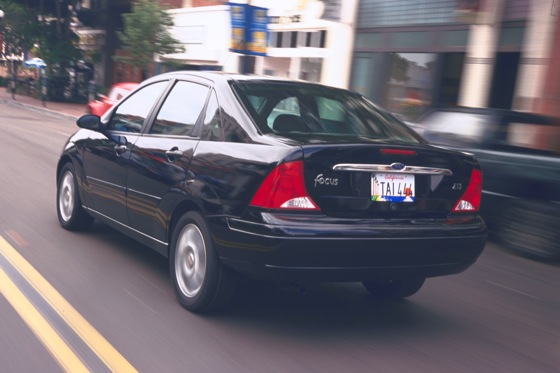 When it first debuted in 2000, the Ford Focus was hailed as the first American small car that could go head to head with the Japanese small wonders from Honda, Toyota and Nissan. Inspired by the European Focus, the American version offered cool styling in a youthful package with great fuel economy, an affordable entry price and a wide range of models and body styles.
It didn't hurt that the Focus was also a great-handling car, on par with the VW Golf and, in many ways, far more engaging to drive than the bland Corollas and Civics of the day. Unfortunately for Ford (and the countless consumers who bought the Focus), the story didn't have a fairy tale ending. Soon after its introduction, the Focus began exhibiting numerous problems, some of them warranting serious safety concerns.
As the complaints and recalls piled up, the Focus' image began to tarnish to the point of turning black. At one point, the Focus was on track to have the most recalls for a single model in its first two years of production. A major overhaul in 2005 fixed many of the initial problems, but the damage was done and the Focus would spend its remaining years basically filling the role of economical entry-level car and rental fleet favorite.
Why You Want It
If the 2000-2007 Ford Focus recall and reliability history doesn't scare you away, there are plenty of things to like about this car. Early models have styling that still looks good today, and many of the more high-end trims such as the ZX3 and ZTS are loaded with upscale features.
The Focus was one of the first small cars to offer stability control on some trims (2001-2003). Fuel economy is near the top of its segment and, with the exception of the two-door model, the Focus scores well in the government's crash tests. The best reason to want a Focus, however, is the car's fun-to-drive factor.
In wagon form, the Focus can be a great family hauler, while the two-door hatchback holds strong appeal for younger buyers. Also, for a brief time, Ford produced a high-performance SVT trim that successfully competes against sporty cars like the VW GTI and Honda Civic Si.
Notable Features & Options
The most basic Ford Focus will have a five-speed manual transmission; power steering and brakes; an AM/FM radio with CD player; a rear-window defroster; and on hatchback models, a rear wiper/washer. SE models bring air conditioning; power windows and locks; power mirrors; better seats and interior materials; and more optional equipment.
The top model ZX3 and ZTS trims can be had with heated leather front seats, 16-inch alloy wheels, premium audio, a power moonroof, cruise control and a more powerful 2.3-liter engine. Anti-lock brakes are optional (standard on ZTS and SVT), as are side curtain airbags and traction control. The Focus SVT includes a 170-horsepower 2.0-liter engine, six-speed manual transmission, sport suspension, sport-style bucket seats and 17-inch wheels.
Model Milestones
2001: Ford offered traction control on upper-end models, while a more powerful 130-horspower 2.0-liter engine was added to the ZX3, ZTS and SE wagon.
2002: The Sport SVT three-door was introduced, as was a new ZTW wagon model.
2003: The SVT five-door was introduced. New options included HID headlamps and an MP3-compatible CD player.
2004: The more powerful 2.3-liter engine became available in all 50 states, while leather seating was offered on the ZX3.
2005: The Focus got a major makeover, with a new front and rear end, new instrument panel and improved engine and suspension. The SVT was dropped from the line, while trim names change to S, SE, SES and ZX.
2006: A CD/MP3 player was made standard on all models, while cars equipped with the six-disc CD changer gained steering wheel audio controls. A Street Appearance Package was offered on ZX4, ZX3 and ZX5.
2007: Some new packages and available leather trimmed sport seats were all that were new for 2007.
Engines & Performance
Over its run, the 2000-2007 Ford Focus has offered a number of engine choices. Early model base cars have a 110-hp 2.0-liter engine, while SE, ZTS and ZX3 get a 130-hp version of the same engine. The SVT offers a high-output 2.0-liter engine good for 170 hp, and after 2004, upper-end models are fitted with a 2.3-liter four-cylinder good for 145 hp.
The standard transmission on all but the SVT is a five-speed manual with a four-speed automatic as optional. As for performance, the 2.0-liter engine is no thriller, but it can get the Focus going where it needs to go when pushed, and it achieves good fuel economy estimated to be around 27 city/34 highway.
The larger 2.3-liter engine is a better choice for the Focus, providing more power with only a modest sacrifice in fuel economy. As for handling, we'd have to say that at its bargain-basement price, it's the car's best feature. The ride can get a bit choppy on rough or uneven pavement, and the interior is not the quietest in this class. But the way the Focus loves curved road surfaces easily compensates for these minor nitpicks. Unfortunately, the same cannot be said of its seats, which are oddly formed and not very comfortable on long trips.
Recalls, Safety Ratings & Warranties
The National Highway Traffic Safety Administration (NHTSA) has issued the following recalls for the 2000-2007 Ford Focus.
2000: Recalls were issued for: B-pillar trim that may impact the passenger if hit from the side; a cruise control cable that could get caught on the throttle preventing it from returning to idle and causing unintended acceleration; a defective rear wheel hub that could come loose causing the rear wheel to separate from the car; a fatigue wiring harness that could cause the loss of the brake lights; and a possible defect in the cruise control module that could allow in moisture, resulting in a short.
2000-2001: Recalls were issued for the station wagon and three-door Focus due to: a defective hinge on the 60/40 split rear seat; a malfunctioning switch in the wiper motor gear box that could lead to a short circuit and possible fire; improperly installed battery cables that could wear and short-circuit; loose pinch bolts that secure the lower control arm to the steering knuckle resulting in possible failure of the ball joint; and a possible clogged fuel filter.
2000-2005: A recall was issued for cars sold in certain states that could suffer possible corrosion of the rear door latch that may cause the door to not close securely.
Recall repairs are required by law even if the vehicle is out of warranty. Your dealer can check to see if the repairs were performed and if not, he'll fix the car at no charge to you.
As for safety, the 2000-2007 Ford Focus does okay in the NHTSA crash tests, scoring four out of five stars for the driver and passenger in the frontal crash test, and ranging from one to three stars in the side-impact test. 2004 and earlier three-door Focus models scored poorly, especially in the passenger side impact test. The Insurance Institute for Highway Safety (IIHS) gives the 2000-2007 Ford Focus Sedan a GOOD rating in its frontal offset crash test, but a POOR score for its performance in the side-impact test.
The 2000-2002 Ford Focus came with a 3-year/36,000 mile warranty, but that has long expired. In 2003, Ford upped the powertrain warranty to 5-years/100,000 miles but left the basic warranty unchanged. This model run is too old to qualify as a Certified Pre-Owned car, so before you purchase, we recommend doing as much homework as possible. Get a CARFAX report on the car to see its history and if possible, take it to a trusted mechanic for a thorough checkup. You can also visit a dealer to be sure all the recall work has been performed on the car.
Word on the Web
Early Focus models (2000-2003) get a lot of flack from consumer advocacy groups and owners alike. If you're familiar with the Consumer Reports rating scale, you know black shaded circles are a bad thing, and the 2000-2004 Ford Focus has a lot of black circles.
Things improve for the 2005 Focus, and ratings move to a majority of positive red circles for the 2006 and 2007 models. Owners seem to like the good fuel economy, precise handling and overall comfort; they also like how inexpensive the Focus is to purchase used.
There were plenty of complaints on the earlier model cars, mostly around quality control issues (body and trim coming apart, interior squeaks and rattles), but also for some larger issues regarding brakes, transmission and engine electronics. Things seem to improve greatly on 2004 and newer cars, and the lucky few owners of the SVT trims positively love their cars, with the exception of the uncomfortable front seats. Many owners lamented the absence of side-impact airbags on entry- and mid-level trims (S, SE), a feature that was standard on other small cars like the Hyundai Elantra and VW Golf.
Competitive Set
There are plenty of compact cars to compete with the 2000-2007 Ford Focus. The Hyundai Elantra is a great car with better fuel economy and more standard features, including side airbags, but its 10-year/100,000 mile powertrain warranty is reduced to 5-years/60,000 miles when transferred to a second owner. The Honda Civic and Toyota Corolla have superior reliability and resale records, but you'll pay handsomely for these cars due to their strong demand in the used market. Domestically, the Focus actually outshines its competitors, with the Chevrolet Cavalier and Dodge Neon scoring only average to below average in the areas of safety, reliability and resale.
AutoTrader Recommendation
If you can find one in good shape, the performance-oriented SVT Focus is our favorite, hands down. Of course, we know the SVT isn't practical for most people needing a small, efficient compact. That said, we'd steer clear of anything prior to 2004, just to be on the safe side.
Of the trims, we think the ZX and ZTS offer the most bang for the buck, plus many of them are equipped with the optional side airbags and traction control. If your budget will only allow for a 2000-2003 model, be sure it's had all of the recall work performed.
Lastly, try to buy the car from someone who has kept it in good condition and who can show all the repair and maintenance receipts.