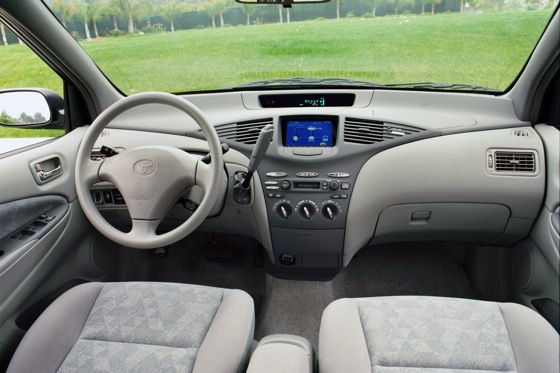 While the Honda Insight was the first hybrid car to reach U.S. consumers, Toyota's Prius actually takes honors as the first production hybrid, having debuted a year earlier in its home market of Japan. The Prius and Insight take a vastly different approach to the hybrid formula, with the Prius favoring a dual gas/electric motor setup and the Insight using a gasoline engine with an electric motor assist. While not as technically sophisticated inside as today's Prius, the 2001-2003 model basically operates in the same manner, albeit with slightly older hybrid technology.
Why You Want It
If you love the idea of driving a hybrid, but your budget says, "find a nice used Ford Focus," the 2001-2003 Toyota Prius is your best bet. Unlike the only other hybrid available to you in this model year range, the two-seater Honda Insight, the Prius can accommodate four passengers in relative comfort. Equipped with a conventional trunk as opposed to the hatchback design that graces today's Prius, the first generation car provides less utility but a bit more security for valuables. The Prius' fuel economy shines brightest in city driving, where its electric motor does most of the work. EPA ratings for the 2001-2003 Toyota Prius are rated at 42-mpg city and 44-mpg highway.
Now, before you go jumping for joy, we must point out that the life expectancy on the hybrid battery pack can vary widely. Toyota's original warranty period is eight years or 100,000 miles, but we've read consumer postings where the battery pack has lasted as little as 70,000 and others where it made it well past 200,000. And, if you have to buy a new battery pack from Toyota, it can cost thousands of dollars, effectively killing the cheap deal you thought you'd made buying an older model hybrid. Before you buy your Prius, it would be wise to acquaint yourself with the full warranty as well as companies such as Re-Involt (Re-involt.com) that can remanufacture the hybrid battery pack for around $1,600.
Notable Features & Options
The 2001 Toyota Prius was pretty much a "one size fits all" model. Standard equipment included power windows, locks and mirrors, a rear defogger, variable wipers, 14-inch wheels and tires, ABS (anti-lock brakes), air condition and an AM/FM stereo radio with four speakers. A dealer installed six-disc CD changer was one of the few options. In 2002, Toyota added more choice, offering cruise control, side airbags, navigation and some new colors. The dealer also offered some additional items such as mud guards, floor mats and theft protection options.
Model Milestones
2002 – New options for the Prius include front side-impact airbags, daytime running lights (DRLs), a DVD-based navigation system and cruise control,
2003 – The Prius remains unchanged for 2003.
Engines and Performance
The 2001-03 Toyota Prius is powered by a 70-horsepower, 1.5-liter four-cylinder gasoline engine teamed with an electric motor that adds about 45 more horsepower to the drive train. Combining the two motors brings the Prius' total horsepower rating to just under 115. In stop and go driving or at speeds under 25 mph, the Prius' electric motor does all the work, that is until the battery back runs low, at which point the gasoline engine comes on to power the vehicle and recharge the battery pack. The compact hybrid battery pack can also be recharged through regenerative braking, a system that uses the electric motor's generator to slow the car while simultaneously recouping energy that otherwise would be lost. A Continuously Variable Transmission, or CVT, maximizes the Prius' power and fuel economy. The combination of an infinitely variable gear ratio transmission and the electric motor make the Prius driving experience somewhat unfamiliar. It takes some time to get used to the silent operation when under electric power as well as the complete lack of gear changes (that little "bump" you feel when a standard automatic transmission changes gears) that are the hallmark of the CVT.
Recalls, Safety Ratings and Warranties
The National Highway Traffic Safety Administration, or NHTSA, has issued the following recalls for the 2001-2003 Toyota Prius:
2001 – A recall was issued for a possible problem with a faulty sensor that could cause the steering to become heavier than normal.
2001-02 – A recall was issued for a possible defect in the crankshaft position sensor plug that could cause it to come loose resulting in engine stalling.
2001-03 – A recall was issued for possible loose steering linkage that could result in loss of steering.
Recall repairs are required by law even if the vehicle is out of warranty. Your dealer can check to see if the repairs were performed and if not, will fix the car at no charge to you.
As for safety, the Prius performs only marginally, earning three out of five stars for the driver in the front and side-impact crash tests, three stars for the front passenger in the side impact test and four out of five stars for the front passenger front end crash test. The 2001-03 Prius earns four out of five stars in the Government's rollover test. NHTSA did not test the Prius with the optional side airbags. The Insurance Institute for Highway Safety (IIHS) did not test the 2001-03 Toyota Prius.
The 2001-03 Toyota Prius came with a 3-year/36,000 mile basic warranty, and 5-year/60,000 mile powertrain warranty and an 8-year/100,000 mile warranty covering the battery and hybrid components. This model is too old to qualify for Toyota's Certified Pre-Owned warranty program.
Word on the Web
We found lots of information from consumers, both from older posts when the Prius was still new and from second and third owners with many miles logged. Consumer groups such as ConsumerReports.com give the 2001-03 Toyota Prius excellent marks in all categories except for the electrical system, which receives worse than average marks. The posting from consumers seems to bear this out, with numerous posts about electrical problems with fuel gauges, lights and other components. Early frustration with the dealer's ability to service the Prius' problems also abound, although they seem to diminish as the model years go forward. Call it a learning curve. The battery seems to be the largest source of concern, with some complaining about a shorter than expected life span and a costly replacement bill. Others worried about how to dispose of the battery in an environmentally friendly way. Other common complaints involved tires that seem to run bare after just 15,000 miles and a noisy interior.
Competitive Set
The only other hybrid available in 2001 to 2003 was the Honda Insight, which isn't so reliant on the electric powertrain to operate it, but only seats two passengers. You might shop for a 2004 or newer Prius, which brings a better hybrid drive system, a large hatchback opening and substantially more features. A new Prius, however, will cost more than the first generation car. Then again, it may also still have some of its warranty in place. You might also look at some non-hybrid high mileage cars such as the Toyota Corolla, Honda Civic and Volkswagen Jetta and Golf TDI (diesel).
Autotrader Recommendations
If you have your heart set on a first generation Toyota Prius, we'd advise going for a 2002 or 2003 model. We like the available side airbags which should help improve the front passenger's safety in a side-impact collision. We also can't imagine owning a car without cruise control, a feature not offered on the 2001 car. We also think a later model Prius may have less mile and a longer hybrid battery life. If possible, try to find an original owner who can supply you with the car's complete service history.