Editor's note: You may want to read more of Autotrader's model vs. model comparison car reviews as well as Buying a Used Honda Civic: Everything You Need to Know.
If you're interested in buying a budget-priced compact sedan, you might be considering the 2003-2008 Toyota Corolla and the 2006-2011 Honda Civic. Both are excellent small cars, and both offer impressive durability, excellent fuel efficiency and long-lasting reliability. While the average 2003-2008 Corolla is a little older than the average 2006-2011 Civic, the two models overlap by several years and compete in the same compact-sedan market segment. So which one is better, and which one should you get? We've created a close comparison to help you decide whether you should go for the 2003-2008 Corolla or the 2006-2011 Civic, but first let's take a look at the basics of both models.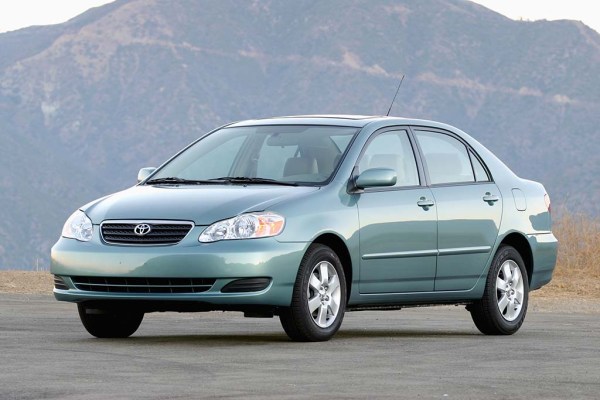 2003-2008 Toyota Corolla: The Basics
The 2003-2008 Toyota Corolla is a compact sedan with an eye on simplicity and reliability. Sold only with 4-cylinder engines, the Corolla didn't offer cutting-edge features or a wide model range; instead, it attracted many buyers with just one powerplant and a simple trim-level range.
2006-2011 Honda Civic: The Basics
In many ways, the 2006-2011 Honda Civic was the opposite of the Corolla. It offered futuristic styling and an even more modern interior, as well as many different powerplants and variants, including a sporty model, a hybrid version, and coupe and sedan body styles. Like the Corolla, however, the 2006-2011 Civic also touts impressive reliability and durability.
Reliability
Although Consumer Reports data only goes back 10 years, the 2006-2008 Corolla received excellent reliability ratings from the firm. The Civic also received excellent reliability ratings, though it's worth noting that some early models — especially the 2006 Civic — stand out for slightly worse ratings than later versions of the popular compact car.
Still, these are clearly two of the most reliable small cars on the market, and we suspect any major differences in dependability will come from how specific used examples have been maintained, rather than differences between the vehicles themselves. As a result, we suggest finding a well-maintained Corolla or Civic — and possibly skipping the Civic's 2006 model year.
Fuel Economy
The vast majority of 2003-2008 Corolla models used one engine: a 130-horsepower 1.8-liter 4-cylinder, which returned 32 miles per gallon in the city and 40 mpg on the highway with its standard 5-speed manual or 29 mpg city/38 mpg hwy with its optional 4-speed automatic. In 2005, Toyota debuted a sporty Corolla XRS, which used a 170-hp version of the same engine and boasted 26 mpg city/34 mpg hwy with its mandatory 6-speed manual transmission.
The Civic, meanwhile, offered several engine choices. Civic Hybrid models were the most efficient, offering a 110-hp 1.3-liter hybrid 4-cylinder, mated to a continuously variable automatic transmission, that returned 49 mpg city/51 mpg hwy. The sporty Civic Si used a 197-hp 2.0-liter 4-cylinder, mated solely to a 6-speed manual, which touted 23 mpg city/32 mpg hwy. But the majority of Civic models used a 140-hp 1.8-liter 4-cylinder, which boasted 30 mpg city/38 mpg hwy with the standard 5-speed manual or 30 mpg city/40 mpg hwy with the optional 5-speed automatic.
The verdict? The Civic Hybrid is the most efficient overall, while the regular Civic is easily the most efficient for drivers who want an automatic transmission and don't want to pay the hybrid premium. The Corolla's fuel economy only trumps the Civic's when comparing base models with manual transmissions.
Safety
In National Highway Traffic Safety Administration crash testing, the Corolla earned a perfect 5-star overall score for frontal impacts, along with four stars in the firm's side and rollover assessments. The Civic's scores were largely identical, though it earned five stars in the firm's side-impact passenger assessment, likely due to the presence of available side airbags.
Those side-curtain airbags are an important distinction, as they were standard on all 2006-2011 Civic models and unavailable in the 2003-2008 Corolla. The Corolla did, however, offer front-side airbags as an option. Also optional on the Corolla was anti-lock brakes — an important safety feature that came standard in all 2006-2011 Civic models. As a result, the Civic is the easy winner in our comparison for drivers who prioritize safety.
Technology
Since the 2006-2011 Civic came out 3 years after the 2003-2008 Corolla, it offered a huge advantage in terms of technology. Just climbing inside both cars confirms it: While the Corolla uses a traditional, dull center stack and gauge cluster, the Civic's center stack was stylish, and its digital gauge cluster looked like something from a spaceship.
The Civic also offered more equipment than the Corolla. We've already covered the Civic's safety advantage, but it didn't stop there: The Civic also touted a hybrid powertrain, a navigation system and satellite radio, none of which you could get in the 2003-2008 Corolla. Though these two models overlapped for 3 years, the Civic had a huge gadget advantage over the compact Toyota.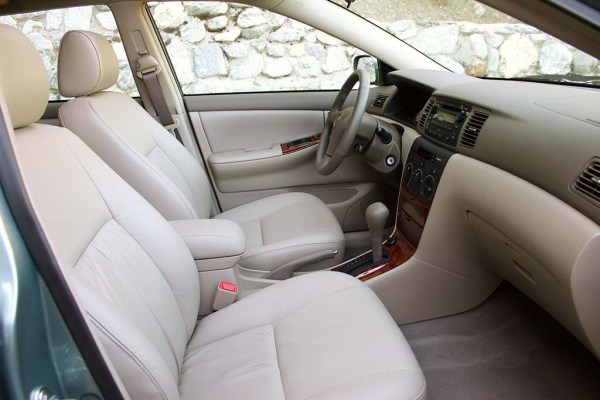 Value
Not surprisingly, the newer Civic beats out the older Corolla in terms of technology, fuel economy and safety. It's also a little roomier inside, and we prefer its more modern design both inside and out. But the Corolla has one major advantage over the Civic: pricing.
While the average 2006-2011 Civic is available on Autotrader for $9,200, the average 2003-2008 Corolla is just $6,700 — a function of the Corolla's simplified lineup and older average age. As a result, we think the Corolla beats out the Civic in terms of value for drivers on an especially tight budget, as it remains relatively competitive with the newer Honda for almost 30 percent less money.
Autotrader's Advice
Although we like both the 2003-2008 Toyota Corolla and the 2006-2011 Honda Civic, it's clear that these two models were designed for different times — even if they did debut only 3 years apart. The Civic is more modern, better equipped, safer and roomier than the Corolla — and its larger lineup allows you to choose a model that better fits your needs. With that said, it's also more expensive — so if you're on a tight budget, we suggest going for the still very respectable Corolla. Otherwise, we highly recommend the Civic.
Find a Used Toyota Corolla for sale