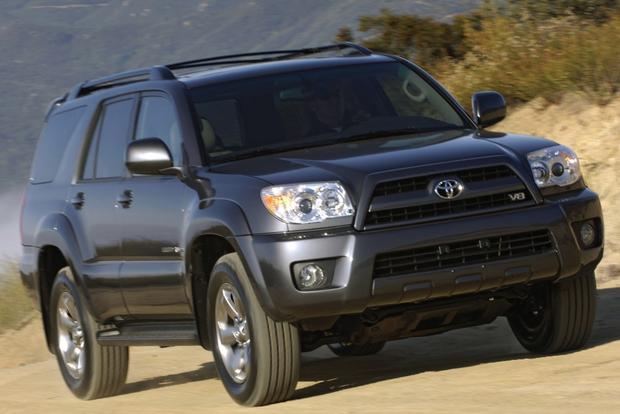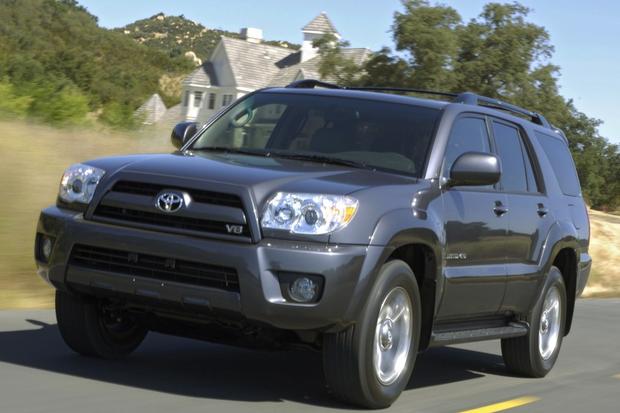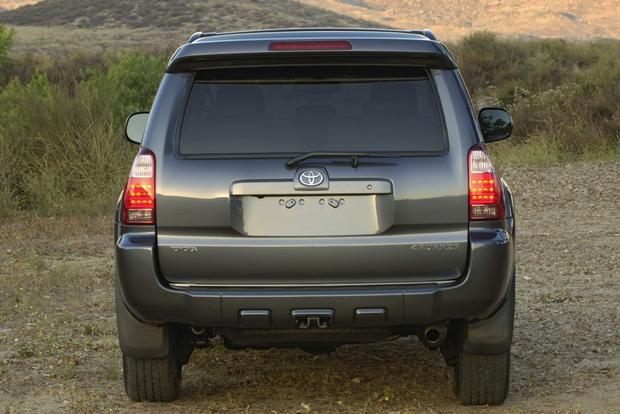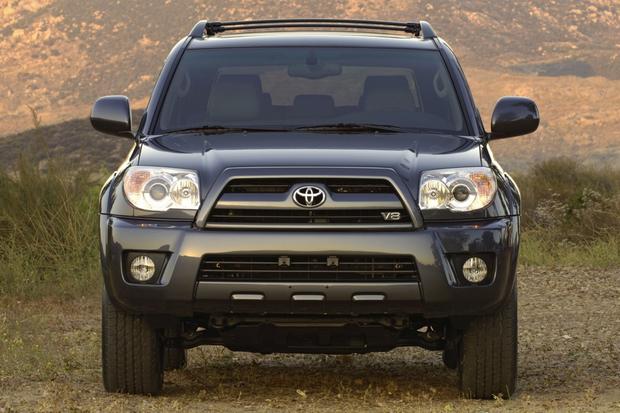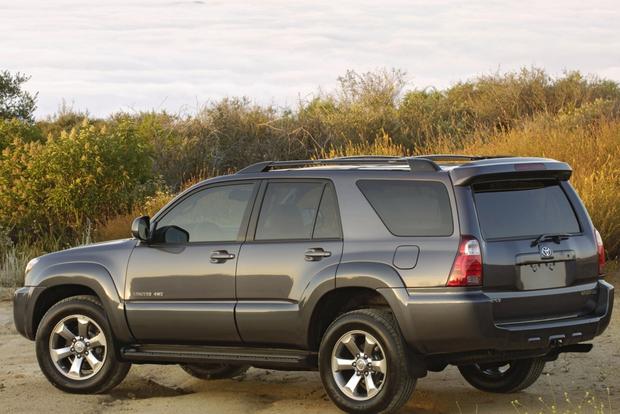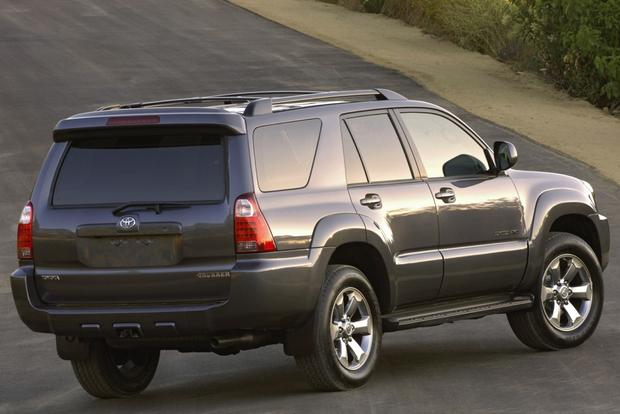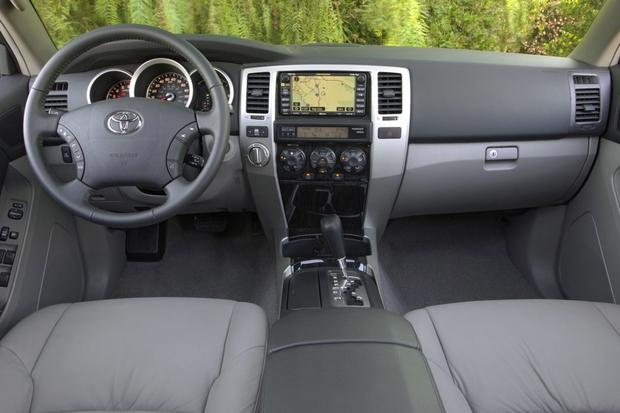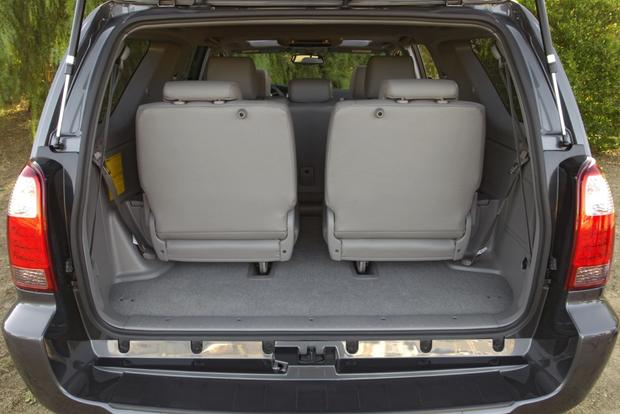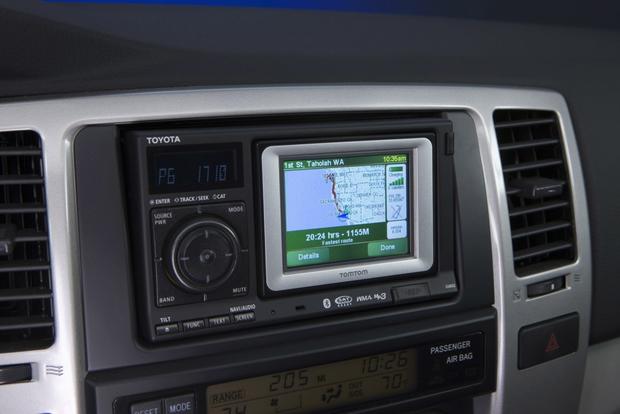 For 2003, Toyota sized up and up marketed its popular midsize 4Runner SUV, giving it a bigger exterior, a slightly more roomy interior and a host of new safety and powertrain options. The 2003-2009 Toyota 4Runner remains a very truck-like prospect, riding atop the same body-on-frame architecture as the Tacoma pickup truck line. In the 4Runner, Toyota offers a choice of V6 or V8 engines, rear-wheel or 4-wheel drive (4WD) and a choice of a 4- or 5-speed automatic transmission. Added to the upgrade is a third row seat option, although the small space it occupies doesn't offer true 2-passenger seating and leaves almost no cargo space. Renowned for its durability and longevity, the 4Runner is a favorite among off-road enthusiasts as well as urban dwellers, which means that a used model, even with high mileage, still commands a pretty high price.
Why You Want It
If you truly use an SUV for its intended purpose -- that being the dual role as daily family transport and weekend off-road warrior -- then the 2003-2009 Toyota 4Runner is an excellent choice. Its 4WD system is tough enough to take on grueling terrain, yet sophisticated enough to be used on paved surfaces at highway speeds. Power comes from a potent V6 or an optional V8 that, on early models, has less horsepower than the V6 but far more torque. Unfortunately, neither engine is easy on fuel, so be prepared for some pretty hefty monthly gas bills. On the other hand, the 4Runner's reputation for low cost maintenance and long term durability should save you a bundle in repairs, something many of the 4Runner's domestic competitors from this time period can't promise. With room for four adults or seven in total with the third row seat, the 4Runner is a great family wagon loaded with safety features as well as modern conveniences. Best of all, the 4Runner can tow up to 7,300 pounds (V8 engine), leaving most crossover SUVs in the dust. And, for those old enough to remember dad's old family station wagon, the 4Runner's power rear window will bring back memories (and gas fumes), but it makes loading long and bulky items much more convenient.
Notable Features & Options
There are three trims that make up the 4Runner line: SR5, Sport and Limited. The SR5, though basic, still comes with a host of features including power windows, locks and mirrors, electronic traction and stability control, Downhill Assist Control, Hill Start Assist, 4-wheel anti-lock disc brakes, automatic transmission, air-conditioning, an AM/FM/cassette/CD stereo, 16-inch steel wheels, cruise control, a rear wiper/washer and side running boards. The Sport gains 17-in alloy wheels, fog lights, a roof rack, 8-way power driver's and 4-way power passenger seat, a tilt/telescopic steering wheel with audio controls, interior rear quarter panel blind spot mirrors and a sporty hood scoop. The Limited adds leather seating, automatic climate control, an 115-volt outlet, 18-in alloy wheels, heated front seats and premium audio.
Options vary by trim and include 4WD, a locking center differential, JBL audio, GPS navigation radio, a rear backup camera, flip-up third row seating, front side impact and curtain side airbags (later made standard), a rear seat DVD entertainment system, a power glass moonroof and an off-road package.
Model Milestones
2004 - A third row seat is made available on Sport and Limited models and a rear backup camera is added to the available navigation system. V8 Limited models offer a rear air spring suspension.
2005 - The V8 engine gains 35 additional horsepower for total of 270 hp. A new 5-speed transmission is made standard on V6 trims.
2006 - The 4Runner gets a slight makeover, with a new grille and headlight treatment and restyled interior instrument cluster. Limited models now roll on 18-in wheels and an auxiliary audio input jack is made standard.
2007 - No major changes were made.
2008 - Side curtain airbags are now standard on all trims.
2009 - The SR5 AWD can be equipped with a Trail Edition package that includes locking rear differential, Bilstein shocks, Active Traction Control (A-TRAC), water resistant seat fabric and a new Tom-Tom navigation radio with Bluetooth, iPod integration and detachable GPS screen.
Engines and Performance
The standard engine for the 2003-2009 Toyota 4Runner is a 4.0-liter V6 that makes 236 hp and 266 lb-ft of torque. 2003-2004 models use a 4-speed automatic transmission, but after 2005 all 4Runners have a 5-speed automatic. Fuel economy for this engine is not great. The Environmental Protection Agency (EPA) rating is 16 miles per gallon city/21 mpg highway for the 2WD models and 16 mpg city/20 mpg hwy for 4WD. Optional on the Sport and Limited is a 4.7-liter V8 that, from 2003-2004, produced 235 hp and 320 lb-ft of torque and after 2005 bumps up to 270 hp and 330 lb-ft of torque. Fuel economy for the V8 is rated at 15 mpg city/19 mpg hwy for the 2WD model and 14 mpg city/17 mpg hwy with 4WD.
As for the 4Runner's road manners, we found that this rugged SUV performs pretty much as one might expect. There is plenty of road and tire noise in the cabin, the handling is tenuous at best with lots of lean and roll in sharp turns, and the steering is somewhat heavy and vague. Off-road, the 4Runner shines, with a hi-lo transfer case, locking rear differential, and hill assent and descent controls that allow better control when climbing or descending steep grades. V6 models have a more sophisticated 4WD system with a multi-mode selectable setting including 2WD, while the V8s offer a basic full-time 4WD setup. Tow ratings are 5,000 pounds for the V6 model, 7,000 pounds for the 4WD V8 and 7,300 pounds for the 2WD V8.
Recalls, Safety Ratings and Warranties
The National Highway Traffic Safety Administration (NHTSA) has issued the following recalls for the 2003-2009 Toyota 4Runner.
2003 - A recall was issued for a possible defective fuel rail assembly damper on V6 models that could leak and lead to a fire.
2003-2009 - The 4Runner was recalled for possible problems involving a sticking accelerator pedal that could lead to unintended sudden acceleration.
2005-2009 - A recall was issued for some 4Runners processed in the southeast and gulf states that have improper load carrying capacity modification labels.
2009 - A recall was issued for a possible problem with the front seat airbag sensor calibration following dealer installed items such as leather seat covers and seat heaters.
Recall repairs are required by law even if the vehicle is out of warranty. Your dealer can check to see if the repairs were performed and if not, will fix the car at no charge to you.
We should note that the 2003-2009 Toyota 4Runner was included in the recall related to uncontrolled acceleration in Toyota vehicles. While there was much media coverage and Toyota recalled nearly 8 million cars, an exhaustive study by both NASA engineers and the NHTSA could find no flaws with the electronics in Toyota vehicles.
As for safety, the 2003-2009 Toyota 4Runner earns good marks from the government, scoring four out of five stars for the driver and passenger in the front-end crash test and five stars in the side-impact crash test. However, the 4Runner earns only three stars in the rollover roof strength test. The independent Insurance Institute for Highway Safety (IIHS) gives the 4Runner its best score of Good in both the offset front-end crash test and the side-impact crash test (when equipped with side curtain airbags).
The 2003-2009 Toyota 4Runner has a 3-year/36,000 mile basic warranty and a 5-year/60,000 mile powertrain warranty. Extended warranties purchased when the car was new are transferable, so be sure to inquire if the vehicle you are buying has an extended plan. Toyota also offers a line of Certified Pre-Owned (CPO) vehicles through its dealerships. If you purchase a Certified Pre-Owned 4Runner, the warranty coverage for the powertrain is extended to 7-years/100,000 miles from the vehicle's original in service date. CPO cars also come with a 12-month/12,000 mile comprehensive warranty, one year of roadside assistance and a free CARFAX report. Best of all, Certified customers are eligible for standard new car financing rates. Vehicles that qualify for the CPO program cannot be older than six years or have more than 85,000 miles on the odometer. To learn more about the Toyota CPO program, visit their website at www.toyotacertified.com.
Word on the Web
Consumer advocacy sites like ConsumerReports.org give the 2003-09 Toyota 4Runner excellent ratings in every category save for the brakes, which have only an average rating. There were also some issues with paint quality and the audio systems in model years 2008 and 2009. Enthusiast off-road sites such as 4Runnerforums.com and Toyota-4Runner.org are filled with praise for the 4Runner's ability as well as endless threads detailing interior and exterior upgrades, suspension modifications and off-road adventuring. When you buy a 4Runner, it's like joining an exclusive club of off-road maniacs. We couldn't find any complaints of note other than some mention of premature brake wear and lots of comparisons between the V6 and V8 4WD system. Most favor the V6, as the engine gets better fuel economy and the 4WD can be manually switched to 2WD for city driving and better fuel economy. The V8 system is a permanently engaged 4WD.
Competitive Set
Jeep Grand Cherokee: The Grand Cherokee can match the 4Runner for power, towing and off-road prowess, but it doesn't offer as much interior room or a third row seat option, and its repair and reliability ratings fall far, far below those of the 4Runner.
Ford Explorer: The Explorer offers a smoother and quieter ride and can also be equipped with a power-folding third row seat. But the Explorer is not very good when off-road and its V6 isn't as powerful or fuel efficient as the 4Runner.
Nissan Pathfinder: The Pathfinder became softer in this year range, more about comfort and urban commuting over snow-covered roads than true off-road adventuring. But, that's not to say that the Pathfinder can't tackle mud and gravel. It offers a flush-folding third row seat but its V6, while more powerful than the 4Runner's V6, is the only engine option.
Auto Trader Recommendations
If we had to pick one trim, we'd go with the Sport. Its options are more to our liking yet we wouldn't be afraid to get it dirty or even a little scratched when off-roading. The V8 seems like overkill to us and we like the V6's 4WD multimode settings better than the full-time setup of the V8. Pick any year and you'll be fine, but be sure early models have the optional side curtain airbags onboard.