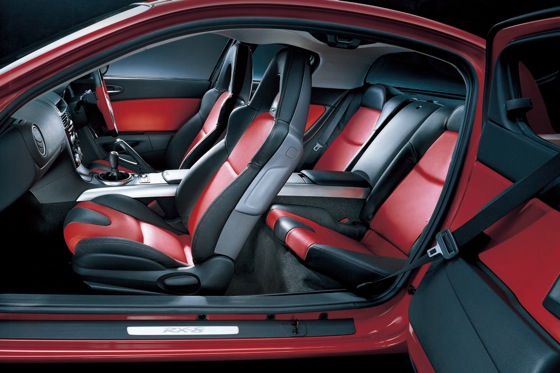 The 2004-2011 Mazda RX-8 spans seven years with only minor changes, making it one of the longest running RX models to date. The RX line of performance cars is legendary for its unique rotary engine that uses two rotating triangle shaped rotors inside a cylindrical casing to generate power. With far fewer moving parts than a conventional piston engine, the rotary is easier to maintain while its compact size helps create a perfect 50/50 front to rear weight distribution, a major contributor to the RX-8's impressive handling. Rotary engines do have their drawbacks, however, most notable being the absences of much low-end torque, the poor fuel consumption and the high oil consumption rate (as much as one quart burned every 3,000 miles).
Why You Want It
As mentioned before, it takes a special kind of driver to fall in love with a rotary-powered sports car. The RX-8's engine needs to be revved high to get any power from it, and its rotary design means it consumes more oil than a conventional engine. It also guzzles gas at an alarming rate. On the plus side, the RX-8's handling is otherworldly, amazingly neutral in the corners and completely predictable in rapid maneuvers. The RX-8 also has a unique body with forward facing rear half doors that allow access to a surprisingly roomy rear seat comprised of two bucket style seats divided by a wide center console. This set up allows you to have the look and performance associated with a high-end sport coupe, but the functionality of a two-door sedan. There is even a decent size trunk for when overnight trips beckon. The RX-8's stylish interior, great seats and marvelously precise manual transmission make it a delight to drive. Best of all, the RX-8 is not all that expensive to purchase used, although maintaining it might require a bit more set aside of the old paycheck.
Notable Features & Options
The RX-8 comes in Sport, Touring and Grand Touring trims, with a few special edition models sprinkled throughout various model years for good measure. The most basic RX-8 includes a six-speed manual transmission, anti-lock brakes, power windows, locks and mirrors, AM/FM stereo with CD, air conditioning, front side-impact airbags, cruise control, rear seat pass-through, side curtain airbags, steering wheel touch controls for audio and cruise, 18-inch alloy wheels, tilt wheel, and a tire pressure monitor. The Touring trim adds a limited-slip differential, electronic traction and stability control, HID head lamps, fog lights, 300-watt Bose audio, six-disc CD changer, and power sunroof. The Grand Touring adds Advanced Keyless entry and Start, heated side mirrors, heat leather seats, an eight-way power driver's seat, and color-keyed synthetic leather door inserts. Options for the Sport include traction control, HID headlamps, larger brakes, the limited slip differential and a sport suspension. Navigation is a stand alone option for the Grand Touring model after 2008.
Model Milestones
2005: No major changes for 2005
2006: A six-speed automatic is made available. Horsepower on the automatic model climbs to 212.
2007: Sand colored leather is offered on Grand Touring models, while the Touring and Grand Touring gain a six-disc CD changer as standard equipment. A special edition Shinka model is offered.
2008: A 40th Anniversary model (basically the previous year's Shinka trim) is introduced to celebrate 40 years of Mazda building rotary engines.
2009: The RX-8 gets a slight exterior freshening both front and rear, sees improvements to its suspension and the introduction of the enthusiast R3 trim.
2010: The Touring trim is dropped and a power sunroof is made standard on the Grand Touring. Significant improvements are made to the RX-8's rotary engine aimed at increasing fuel economy and lessening oil consumption.
2011: No major changes.
Engines and Performance
The RX-8's performance doesn't hit you in the face the way a V8-powered sports car does. Instead, you have to romance the car, coaxing it to go faster while masterfully gliding through the gears. Once the tachometer rises above 4,000 rpm the rotary engine comes to life. Given its 9,000 rpm red line, the RX-8's engine has plenty of room to run before you are required to shift gears. The RX-8's marvelous suspension and near perfect 50/50 balance allows it to be tossed into curves with wild abandon. The front always goes where you point it and the rear rarely steps out. The car feels like a big Miata, slicing around curves and darting through slalom like s-curves with the ease of a boarder collie running an agility course. In manual form, the RX-8's engine pumps out 232 horsepower but only 159 pounds-feet of torque; the automatic sees horsepower drop to 212. As we mentioned earlier, the one drawback to the RX-8's rotary engine is its sometimes ravenous oil consumption and its rather weak fuel economy figures, estimated by the EPA at 16 city and 23 highway, but with consumers reporting figures as low as 13 city and 19 highway.
Recalls, Safety, Ratings and Warranties
The National Highway Traffic Safety Administration, or NHTSA, has issued the following recalls for the 2004-2011 Mazda RX-8:
2004: Recalls were issued for a improperly wired front seat air bags, a cracked heat insulator in the manual transmission, and a possible defect in the lower control arm that can lead to cracks in the lower ball joint socket.
2004-05: A recall was issued for possible excessive heat build up around the exhaust when car is left parked and operated at high rpms. This situation could cause some parts to melt or even lead to a fire.
Recall repairs are required by law even if the vehicle is out of warranty. Your dealer can check to see if the repairs were performed and if not, will fix the car at no charge to you.
As for safety, the RX-8 performs pretty well in the government's testing, scoring four out of five stars for the driver in the front end and side impact crash test, four stars for the passenger in the side impact test and five stars for the passenger in the front end crash test. The RX-8 also earns five stars out of five in the rollever test. The Insurance Institute for Highway Safety (IIHS) did not test the 2004-2011 Mazda RX-8.
From 2004-2006, the RX-8 came with a 4-year/50,000 mile warranty for both the basic coverage plan and the drivetrain. In 2006, the warranty coverage changed to 3-years/36,000 mile bumper to bumper and 5-year/60,000 miles for the drivetrain. If you purchase a late model vehicle, you can buy a Certified Pre-Owned car from and authorized Mazda dealer. CPO Mazda cars come complete with a 150-point inspection as well as extended warranty coverage of 12-month/12,000 miles for the basic warranty and 7-years/100,000 miles on the powertrain. You can also buy additional coverage.
Word on the Web
ConsumerReports.com only has ranking for the 2004 and 2005 RX-8. Given the car's low scores, maybe they just decided to give up on the other model years. A below average rating includes poor scores for the engine, transmission, electronics, climate control and paint. JDpower.com seems to echo CR's sentiment, giving the RX-8 models it tested only average to below average scores for initial quality and reliability, but slightly higher scores for performance and design. Enthusiast sites such as RX8club.com and Mazdaforums.com are full of exciting posts referring to the RX-8's great handling, elegant interior and versatility. There are also lots of helpful tips on how to modify the engine, exhaust and suspension. Along with the praise, however, is a healthy dose of complaints, covering everything from fuel economy, to oil consumption, to poor service, overheating engine coils (2006 and earlier), updates to the complex computer management system, engine flooding and a rough idle (sort of a rotary engine trait).
Competitive Set
There are a number of decent sports cars on the market ranging from the mid teens to the $30,000 mark, including the RX-8. You could look at the Nissan 350Z, which delivers much better off-the-line performance, has better reliability and resale values and is easier to service. But, the 350Z doesn't have a rear seat and its cargo area is painfully small. The Ford Mustang GT offers a trunk and a rear seat, has a V8 engine and gets better fuel economy figures than the Mazda. The Mustang's antiquated suspension, solid rear axle and heavy feel, however, can't compete with the nimble and lithe RX-8. The Audi TT can certainly keep pace with the RX-8, offers the stability of all-wheel drive and has a more luxurious interior. But, the TT's rear seat is barely suitable for two five-year olds let alone two adults, and strong resale can put some models out of reach of budget-minded enthusiasts. Lastly, we suggest checking out the Chrysler Crossfire. It had a limited run, but its Mercedes mechanicals and stunning exterior make it quite the bargain so long as you can live without a rear seat and limited front seat legroom.
Auto Trader Recommendations
As the RX-8 didn't change much over its seven year run, we'd recommend going with a 2010 or newer model due to the improvements in the engine that greatly reduce roughness, flooding and most importantly, oil consumption. If you're on a budget and looking at an older model, try to find a low-mileage one-owner car. Buying from the original owner not only will give you an idea how the car was driven, it will also provide you with the service records and repair history. If you're not one that cares to be bothered by a high-maintenance sports car, we suggest going with something a little easier to live with, like the 350Z. But, if you look at your car like a thoroughbred horse and don't mind the added attention required to keep it in tip-top shape, the RX-8 can be a thoroughly enjoyable ride.