Editor's note: You may want to read more of Autotrader's model vs. model comparison car reviews as well as the 2012 Toyota RAV4 review and the 2007-2010 Honda CR-V used car video review on Autotrader's YouTube channel.
There are lots of reasons why you might be interested in a used compact SUV, including practicality, visibility and affordability. You can get all of these in two of the top used compact SUVs on the market, the 2006-2012 Toyota RAV4 and the 2007-2011 Honda CR-V. But which one is better? And which one should you get? We've created a close comparison of the RAV4 and the CR-V to help you answer those questions. But first, let's cover the basics of both models.
2006-2012 Toyota RAV4: The Basics
The 2006-2012 RAV4 marked the beginning of the SUV's third generation. Offered in base-level RAV4, Sport or Limited trims, this generation of the vehicle offered a major size increase over its predecessor, along with two newly available features you couldn't get in any CR-V: a V6 engine and a third-row seat.
Neither option was especially popular, though, and Toyota stopped offering both items when the fourth-generation RAV4 debuted for the 2013 model year. Standard features on all RAV4 models from this period included side-curtain airbags, anti-lock brakes, cruise control and full power accessories with keyless entry.
2007-2011 Honda CR-V: The Basics
The 2007-2011 Honda CR-V also represented the model's third generation. Available in LX, EX or EX-L trims, CR-V models from this period offered front- or all-wheel drive along with a standard 4-cylinder engine and 2-row seating, just like their predecessors. Standard safety features included an anti-skid system, anti-lock brakes and side-curtain airbags, while options included leather upholstery, a power sunroof and dual-zone automatic climate control.
Reliability
According to reliability experts at Consumer Reports, early versions of the third-generation RAV4 — specifically 2006, 2007 and 2008 models — offered only average reliability. That score improved dramatically beginning in 2009 and increased to well above average by 2010. The CR-V, on the other hand, never had an "average" period, offering above average reliability from its original debut in 2007. The result: while both the RAV4 and the CR-V are likely to offer remarkable dependability, the CR-V will likely outshine early versions of the RAV4.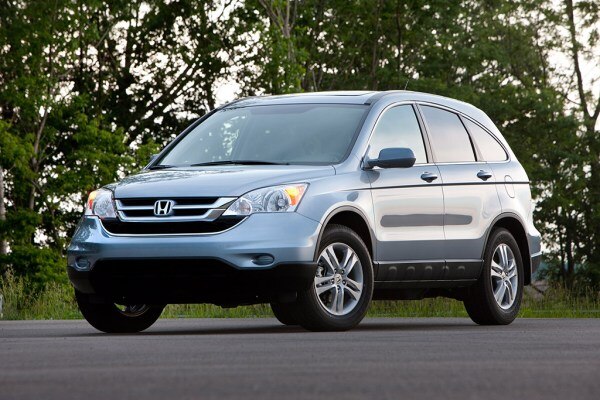 Fuel Economy
The 2007-2011 CR-V offered only one engine: a 166-horsepower 2.4-liter 4-cylinder mated to a 5-speed automatic transmission. Fuel economy reached as high as 20 miles per gallon in the city and 27 mpg on the highway.
Meanwhile, the 2006-2012 RAV4 touted two engine options. Most RAV4s used the base engine, also a 166-hp 2.4-liter 4-cylinder, which returned up to 21 mpg city/27 mpg hwy. But drivers who wanted more performance could upgrade to a 3.5-liter V6 that touted 269 hp, an amazing amount for a compact crossover. Surprisingly, fuel economy was barely affected by the huge power increase: V6-powered RAV4 models topped out at 19 mpg city/27 mpg hwy.
The result? Regardless of whether you get a CR-V, a 4-cylinder RAV4 or a V6 RAV4, you'll probably get about 20 mpg city/27 mpg hwy. Neither model offers any major advantage here.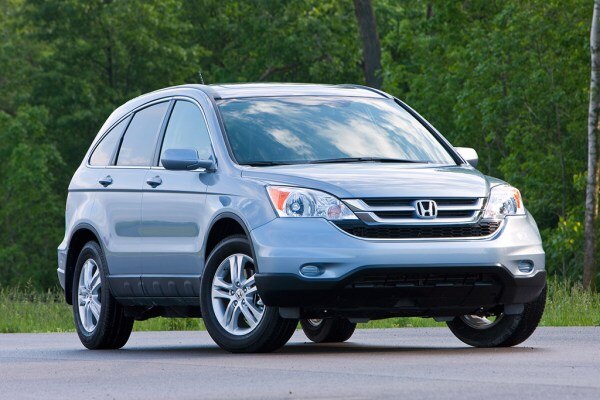 Safety
In crash testing carried out by the National Highway Traffic Safety Administration, the CR-V and RAV4 both earned 5-star front- and side-impact scores. That figure that drops to 4 stars in the rollover category, likely due to the SUVs' relatively high centers of gravity. Meanwhile, both the RAV4 and CR-V earned strong scores on tests carried out by the nonprofit Insurance Institute for Highway Safety, though each model stopped short of the firm's top Good rating in the roof-strength test.
As for safety features, both the CR-V and RAV4 offer everything you might need, including side-curtain airbags, anti-lock brakes and traction control. With that said, the RAV4 didn't offer a backup camera until the 2009 model year, while the CR-V offered it from its launch in 2007. Although that gives the Honda a leg up in terms of safety, it's too slight to matter, so we think this category is a toss-up.
Technology
By today's standards, neither the CR-V nor the RAV4 is particularly advanced when it comes to gadgets and technology. At the time, though, both models were highly competitive. Each offered impressive features like a navigation system, a premium sound system, dual-zone automatic climate control and heated front seats.
Indeed, while you won't find any of today's cutting-edge features in either the RAV4 or the CR-V, both models come equipped with exactly what you'd expect given their decreasing prices and advancing ages. With that said, once again, neither the RAV4 nor the CR-V offers a major advantage over the other.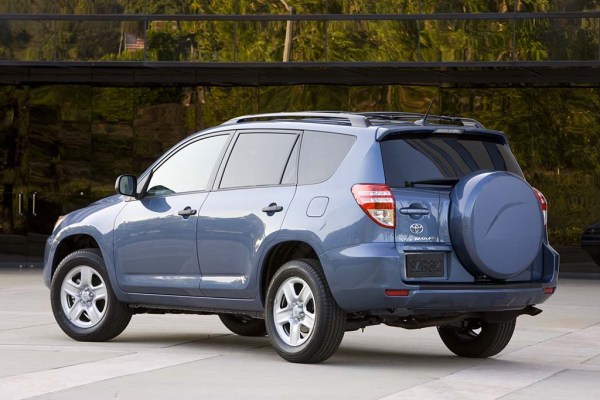 Value
At the moment, there are more than 5,200 different 2006-2012 RAV4 models on Autotrader, with an average price of $14,800. Meanwhile, there are just over 5,000 different 2007-2011 CR-V models, with an average price of $14,200. Limiting our search to only 2007-2011 (when the two SUVs overlap) gives the RAV4 a slight advantage, bringing its average asking price down to $13,800.
Couple that advantage with the RAV4's two unique selling points, a V6 engine and available third-row seating, and we think the Toyota offers a slightly better value than the CR-V. That's especially true of 2009-2012 models, which boast the strongest Consumer Reports scores.
Autotrader's Advice
There's a reason why so many shoppers choose the 2006-2012 Toyota RAV4 and the 2007-2011 Honda CR-V. Both models are reliable, efficient, well-equipped and reasonably priced, making them great choices for used-car shoppers. We think the RAV4 offers a slight advantage due to its lower pricing, increased cargo space and available 3-row seating and V6 engine, but we could quickly change our minds if the right CR-V came along at the right price.
Find a Used Toyota RAV4 for sale