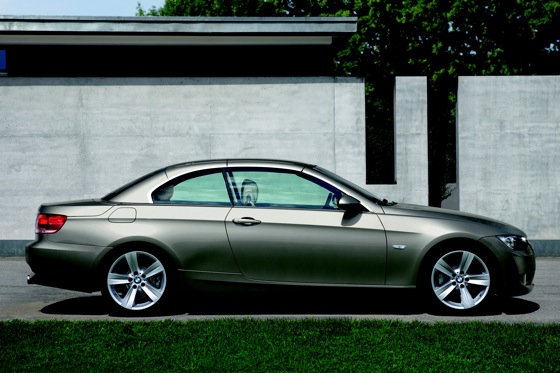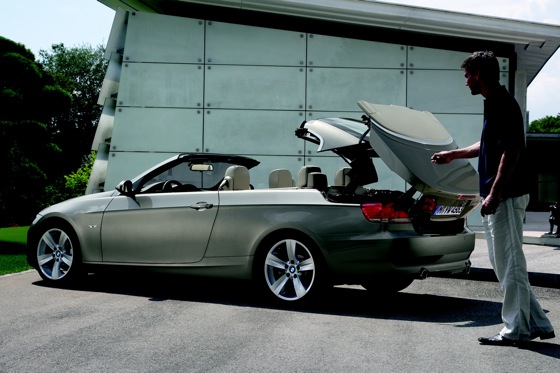 BMW introduced its fifth-generation 3 Series sedan in 2006. The following year a four-seat coupe and convertible model arrived, available in 328i and 335i trim. This is the biggest 3 Series convertible ever. It's roomier inside and, unlike the previous three 3 Series convertibles, uses a retractable hardtop in place of the traditional fabric top. When erected, the folding steel top makes for a quieter cabin and is better insulated from temperatures swings, not to mention the elements; the hardtop also offers better security than a fabric one. When lowered, the hardtop folds into three sections and stacks out of sight in the luggage compartment. Trunk space is a miserly nine cubic feet with the top up, and shrinks considerably with the top down. When factoring in the convertible, sedan, wagon, and coupe body styles, the BMW 3 Series continues to be the best selling luxury model in the US.
Why You Want It
It's a convertible and a coupe all in one. Press a single button and about 22 seconds later the car is transformed from hardtop coupe to convertible, or vice versa. This is not just any droptop, but a BMW 3 Series, the car that created the compact rear-drive performance car segment some 40 years ago, and still owns it today. The 3 Series sets the standard for powertrain performance, handling and agility. While its trademark twin kidney grille and "angel eye" light ring headlamps gather immediate recognition, the convertible's long powerdomed hood, setback cabin, short overhangs and low roof create a sporty and unique profile.
Unlike many other hardtop convertibles, this one doesn't look bloated from behind. The electro-hydraulic mechanism to operate the three-piece steel hardtop and necessary body bracing to stiffen the open cockpit does add about 400 pounds, but the car loses little if any of its structural harmony. This is one well-executed droptop that will likely look as good ten years from now as it does today. The BMW 3 Series ranked highest in the entry premium car segment in the 2010 J.D. Power APEAL Survey, and Car and Driver magazine has included the 3 Series its Top Ten list for 20 years in a row.
Notable Features and Options
The major differences between the 328i and 335i involve the engine and seat coverings. The 328i is powered by a 230 horsepower normally aspirated 3.0-liter inline-six cylinder engine and fitted with leatherette seats, while the 335i is upgraded to leather upholstery and hooked to a 300 horsepower twin-turbo inline-six also displacing 3.0 liters. Otherwise the two models share a high level of standard equipment including a power-operated folding top, run-flat 225/45R17 tires, alloy wheels, power front bucket seats with driver memory and easy rear entry feature, fold-down rear seat, speed-sensitive power steering, tilt/telescope steering wheel, cruise control, dual-zone climate control, real Walnut wood trim, leather-wrapped steering wheel and shift knob, traction and stability control, oversized side-impact airbags, 10-speaker AM/FM/CD stereo with auxiliary input jack, automatic xenon headlamps, fog lamps, and power door locks, heated mirrors, and one-touch windows.
Most 3 Series Convertibles you'll find are equipped with the Premium Package that brings such items as a garage door opener, lumbar support front seats, BMW Assist with Bluetooth, auto-dimming mirrors and a compass. Many also include one of the Sport Packages, which include more aggressively bolstered sport seats, stiffer-riding sport suspension, higher top-speed limiter setting and bigger 18- or 19-inch performance tires.
Key stand alone options include push-button start, heated seats and steering wheel, satellite radio, adaptive cruise control, rear park assist, Logic7 surround sound, iPod input and the iDrive-based navigation system with real-time traffic updates. If you find a 335i (not available on 328i) with Active Steering, make sure you test drive it thoroughly as some drivers report that it interferes with their otherwise intuitive connection with the car.
Model Milestones
2009: A simpler iDrive interface is launched, while new LED turn signals and tail lamps are added.
2010: BMW Professional radio with High Definition reception is now standard. Automatic high beams are available as a stand-alone option.
Engines and Performance
The heart and soul of any performance car is its engine, and the 3 Series has one of the sweetest on the planet. The 328i's normally aspirated 3.0-liter is naturally smooth and balanced, and its power delivery is robust and linear. It's best stirred with the easy-shifting standard six-speed manual transmission that makes it easy to keep the engine purring at peak torque. The twin turbos in the 335i are sized to spool up quickly with no lag, and the engine develops peak torque almost immediately at 1400 rpm for lightning quick throttle response. Optional on both engines is a six-speed Steptronic automatic transmission with normal, sport and manual modes. Sport mode delivers quicker, firmer shifts and manual mode gives the driver complete tap-up/tap-down gearshift control. When an automatic car is equipped with one of the Sport Packages, steering wheel shift paddles are also included.
BMW claims a 0-60 time of 6.7 seconds for the 328i with manual transmission and 7.2 seconds when equipped with the Steptronic automatic. Consumer Reports managed a 7.8-second 0-60 mph time in their test of a 2008 328i convertible with automatic transmission, noting that the heavier convertible was a full second slower to 60 mph than the otherwise similarly equipped 328i sedan. The pulse quickens considerably for the twin-turbo 335i with BMW claiming a 0-60 time of 5.5 seconds with manual transmission and 5.7 seconds to reach 60 mph from rest with the automatic.
Fuel economy is competitive to others in the segment, the best being the 328i automatic EPA rated at 18 mpg city/27 mpg highway. But both versions of the 335i turbo aren't far behind at 17/26. Both engines require premium fuel.
Recalls, Safety Ratings and Warranties
The National Highway Traffic Safety Administration (NHTSA) has announced the following safety recalls involving the 2007 to 2010 BMW 3 Series Convertible:
2008: Some cars had the wrong electrical connectors to the side-impact airbags and belt tensioners that might prevent these devices from deploying in a collision.
NHTSA did not crash test the 2007-2010 BMW 3 Series Convertible, however, the Insurance Institute for Highway Safety gives the 2007-2010 3 Series Convertible a good rating for frontal offset collisions but only a marginal rating for side impacts, even with side-impact airbags. IIHS did not rate the 2007-2010 3 Series Convertible for rollover roof strength.
BMW sold the 2007 to 2010 3 Series Convertible with a 4-year/50,000-mile bumper-to-bumper and powertrain warranty including no-charge roadside assistance, and a 12-year/unlimited-mile rust perforation warranty.
BMW Certified Pre-Owned vehicles have a 2-year/50,000-mile limited warranty that extends coverage of major drivetrain, chassis, electrical and climate control parts and systems to 6-years/100,000 miles, but excludes normal maintenance and wear items such as tires, brakes, upholstery and shocks.
Word on the Web
Surf the web and you'll find a lot of love for the way this car looks and performs. However, there were some issues that surfaced in the forums. One was the tendency of the run-flat-equipped cars to suffer damaged rims and bubbled sidewalls when driven over rough roads or potholes. There were also numerous mentions of issues with premature wear, replacement expense and ride quality and noise of run-flats. A kit is now available to fit an earlier 528i space-saver spare, jack, and lug wrench in the trunk to address this issue and allow owners to purchase cheaper, better-riding non-run-flat tires. Another problem that surfaced frequently is a failed high-pressure fuel pump on the 335i turbo, signaled by rough engine, long cranking time, and reduced power. BMW actually has initiated a voluntary recall that grants an extended emissions warranty to cover free replacement of the high-pressure fuel pump on 2007-2008 335i models only for 10 years or 120,000 miles.
Consumer Reports, on the other hand, gave the 3 Series Convertible high marks for powertrain, handling, steering, rigid structure and fit and finish, but a few demerits for a cramped trunk and rear seat, some controls, inadequate cup holders and high price.
Consumer Reports readers reported average reliability for the 328i, but worse than average reliability for the 335i.
Competitive Set
The front-drive Volvo C70 Cabriolet has the edge in snowy climates, but lacks the precision driving feel afforded by the BMW's rear-drive setup. The Lexus IS convertible fields a competitive folding hardtop convertible and good power with the available 306-hp 3.5-liter V6, but the base 204-hp 2.5-liter V6 is underwhelming. VW's lively 2.0-liter turbo powers the Volkswagen Eos, but the suspension is set up more for cruising than performance driving. With its 328-horsepower 3.7-liter V6 and available six-speed manual or seven-speed automatic transmission, the Infiniti G37 Convertible is a good match for the 3's performance, but its smallish rear quarters lack proper head and legroom for adult passengers.
AutoTrader Recommendation
Keep in mind that the 3 Series convertible is a luxury car with a lot of complex electronics, and good used late-model examples likely cost more than many new family sedans. So unless you are buying a BMW Certified Used Car, it's best to have the car you are considering checked out by a mechanic. As always, stick to lower-mileage cars for fewer problems down the line. Sport Package cars will probably hold their value and be easiest to sell down the line, but beware of cars with oversize 18 or 19-inch tires, and the ride-quality and wheel-bending problems that go along with them. Remember that all 3 Series cars require more expensive premium fuel.