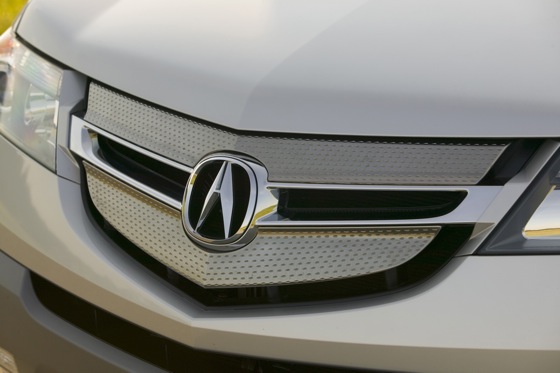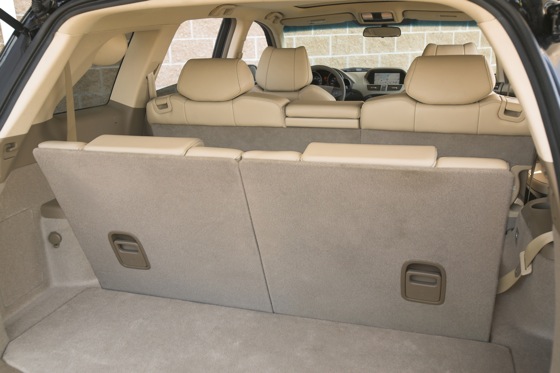 You hear terms like "gold standard" and "envy of the world" tossed about by both manufacturers and advertisers alike. But if ever there was a seven passenger CUV that truly deserved such accolades, it is the 2007-2011 Acura MDX. Praised by the media, adored by its owners and despised by the competition, the 2007-11 Acura MDX is as close to flawless as a modern car can be. With room for seven, the MDX is the perfect family vehicle. Its premium pedigree allows it to double as a token of your achievement and you superior good taste. Toss in excellent marks for safety, resale and overall owner satisfaction, and you'll probably start wondering why everyone doesn't own one. Of course, you can guess the reason: price. The 2007-11 Acura MDX wasn't cheap when it was new and it's not cheap used, either. Still, for those who can afford the price and the slightly more expensive maintenance costs, the 2007-11 Acura MDX is one of the few investments that won't cost you any sleepless nights.
Why You Want It
The 2007-2011 Acura MDX is more than just an upscale seven passenger CUV, it's a vehicle that manages to wear multiple hats without compromise. From a functional point of view, the MDX's cabin is roomy, supremely comfortable and very well constructed. As a luxury vehicle, the MDX excels at delighting four of the five senses (we don't think it tastes very good, although owning one does show good taste), with rich leathers, an elegant instrument cluster, a concert-quality sound system, cutting edge electronics and a ride so smooth you'd swear you were riding in a well-healed luxury sedan. But, the MDX is no sedan. Thanks to its advanced Super-Handling all-wheel drive (SH-AWD), the MDX is undaunted by snow-covered roads or twisting black asphalt. It can even venture down rutted trails, although we wouldn't try taking it too far off road. The 2007-2011 Acura MDX is also as easy on the eyes as it is on gas, relative to the other vehicles in its class, of course. Best of all, when it comes time to sell, you'll likely find a willing buyer who is ready to pay top dollar.
Notable Features & Options
In traditional Acura style, the MDX is offered in one well-equipped model with only a few options bundled into packages. Standard equipment includes a 300-horsepower V6 engine, SH-AWD, power and heated front seats, full leather upholstery, HID headlamps, 18-inch alloy wheels, seven-speaker stereo, Bluetooth hands-free phone connectivity, tri-zone automatic climate control, and more. Standard safety features include front, front side-impact and side curtain airbags, as well as electronic traction and stability control. The MDX options packages include the Technology Package which brings voice-activated navigation with real-time traffic updates, and a DVD-audio surround sound premium audio system with 10 speakers and 410 watts. The Sport Package brings active suspension, premium leather upgrade and unique alloy wheels. The Entertainment Package includes a rear-seat DVD player. After 2010, the Advanced Package supplants the Sport Package and adds Active Damper suspension and 19-inch wheels.
Model Milestones
2008: No major changes.
2009: Models equipped with either the Sport or Technology packages gain a power rear liftgate.
2010: The MDX gets a major makeover, with revised styling, a new SportShift six-speed sequential automatic transmission and improvements to the navigation and audio programming. Also new is the Advanced Package which includes Active Damper adjustable suspension.
2011: There are no major changes for 2011.
Engines and Performance
The 2007-2011 Acura MDX is powered by a 3.7-liter V6 engine equipped with variable valve timing and lift to deliver maximum horsepower and fuel economy. We love this engine. It's smooth, quiet and ready to please with just the slightest tip of the accelerator pedal. And, with 300 horsepower and 270 pounds-feet of torque on tap, please it does. Those who are all about choosing their own gears should look to the 2010 and later models which feature a six-speed sequential shift transmission. The Super-Handling All-Wheel Drive (SH-AWD) is so called because of its complex computer program that continually shifts power to the front or rear wheels, and between the rear wheels from left to right for improved handling on dry roads. When the road turns nasty, the SH-AWD is equally adept at handling wheel slip and maintaining traction. The combination of good power, excellent handling, limited body roll and a smooth, comfortable ride is what makes us so keen on the 2007-2011 Acura MDX.
Recalls, Safety Ratings and Warranties
The National Highway Traffic Safety Administration, or NHTSA, has issued the following recalls for the 2007-2011 Acura MDX:
2007-08: Although not directly related to the MDX itself, a recall was issued for a Honda aftermarket bike carrier sold by the dealers. A pinch bolt between the rack and the carrier arm can cause a severe laceration or even amputation of the one or more fingers.
2009: A recall was issued for a possible defective bolt on the interior side trim that, in the event of the side airbag deploying, may come break off and become a projectile.
Recall repairs are required by law even if the vehicle is out of warranty. Your dealer can check to see if the repairs were performed and if not, will fix the car at no charge to you.
As for safety, NHTSA gives the 2007-2011 Acura MDX five out of five stars in the front end and side impact crash tests, and four out of five in the rollover test. Similarly, the Insurance Institute for Highway Safety (IIHS) gives the MDX its highest rating of GOOD in both the frontal offset crash test and the side-impact test.
The 2007-2011 Acura MDX comes with a 4-year/50,000 mile basic warranty, and a 6-year/70,000 mile powertrain warranty. If you buy your MDX through a Certified Pre-Owned Acura dealer, you can take additional coverage up to 7-years/100,000 miles from the date the vehicle entered service.
Word on the Web
It's easier to catch a greased pig than to find something bad to say about the 2007-2011 Acura MDX. Consumer sites such as ConsumerReports.com and JDPower.com give the MDX glowing reviews. JD Power gives the MDX excellent marks for its engine, build quality and initial quality and reliability. Enthusiast sites are filled with happy owners who love the MDX's look, handling and features. We did find a few complaints about the poor city fuel economy and about the durability of the leather seating, but there were not enough posts to make us worry about a larger trend. The leather seats in the MDX are soft, so putting a big dog on them or treating them like a truck bed probably will result in scratches and tears. If you have to carry a lot of cargo (or dogs), do yourself a favor and fold down the seats.
Competitive Set
If you're looking for something a bit more sporty and hardcore, and doesn't require seven passenger seating, you could look to the BMW X5 or Mercedes-Benz ML. Both are equally as luxurious, but will likely cost you more to purchase and do not have the same high long-term reliability ratings. You could look to the Lexus GX470, which offers the same seating accommodations but is more truck-like in appearance, ride and handling. The Audi Q7 is probably the most similar as far as seating, driving comfort and features, and even offers a diesel model. But, like the BMW and Mercedes-Benz, the Q7 can be pricey and more expensive to own over time. If you're looking for a seven passenger luxury SUV that can truly go off-road, we suggest looking at the Land Rover LR3; but be warned, you won't find the same fuel economy, reliability or resale values found with the Acura MDX.
AutoTrader Recommendations
In the case of the 2007-2011 Acura MDX, there is no one-year that is significantly better than the others. If you want the latest technology and suspension, go for a 2010 or later model equipped with the Advanced Package. Similarly, if you want a power liftgate, look for the 2009 and newer models. Ultimately, try to strike a balance between age, mileage and price. Getting into an MDX that still has two or three years left on its warranty is the optimal position to be in, although odds are, you won't need to use it much.