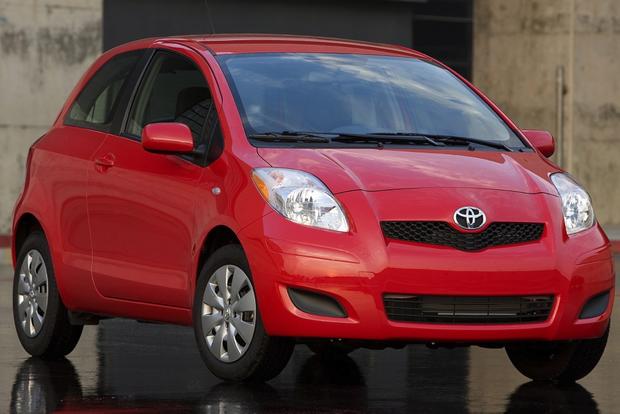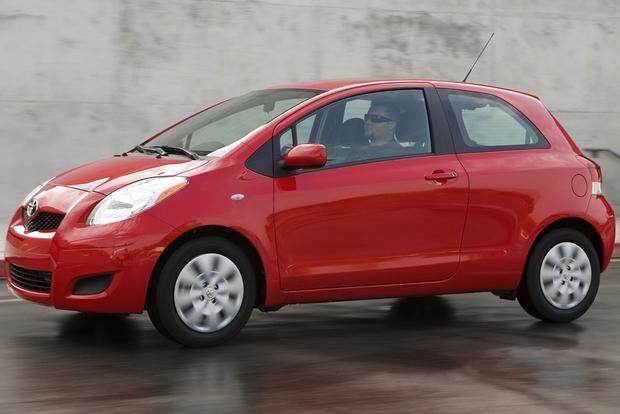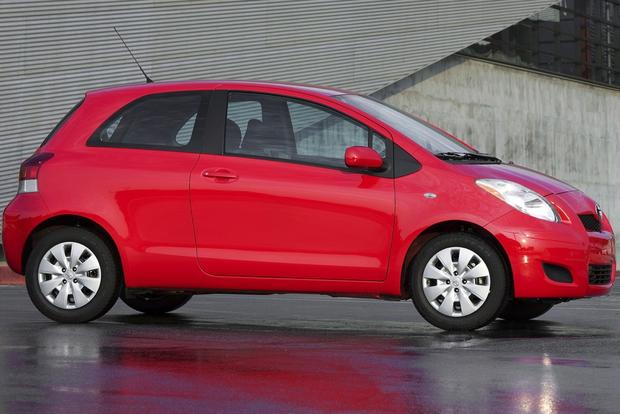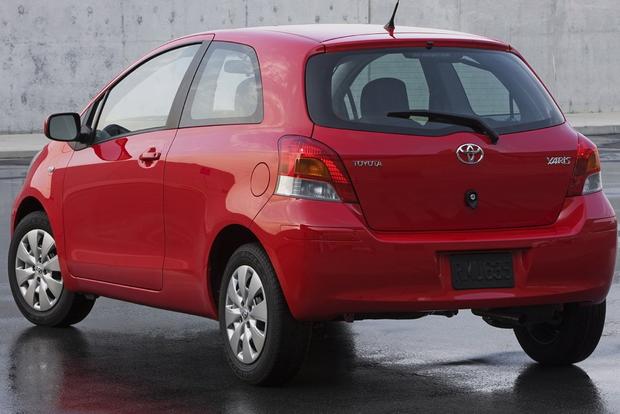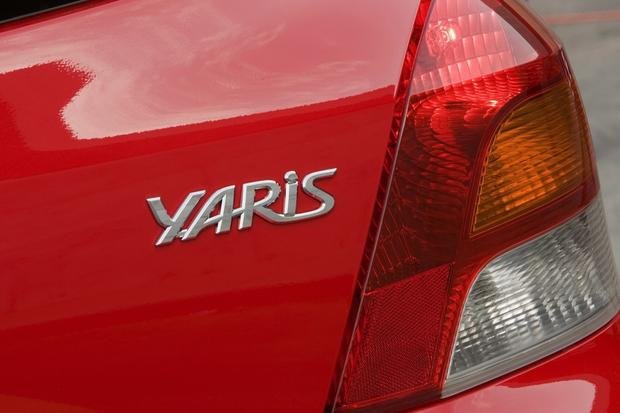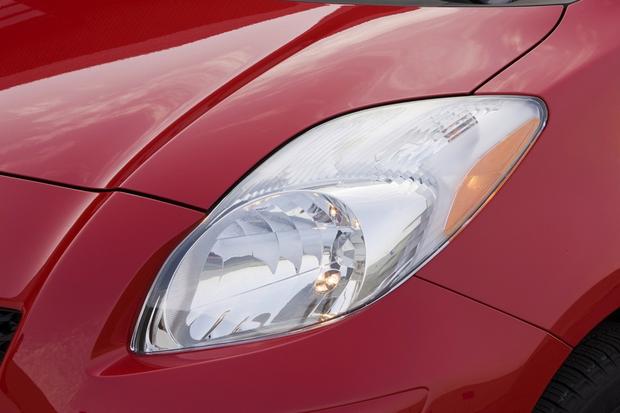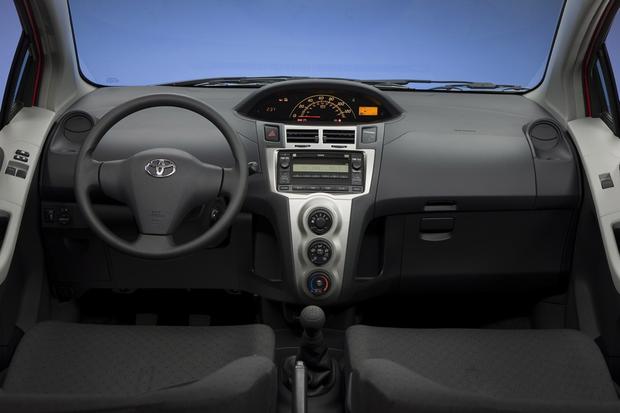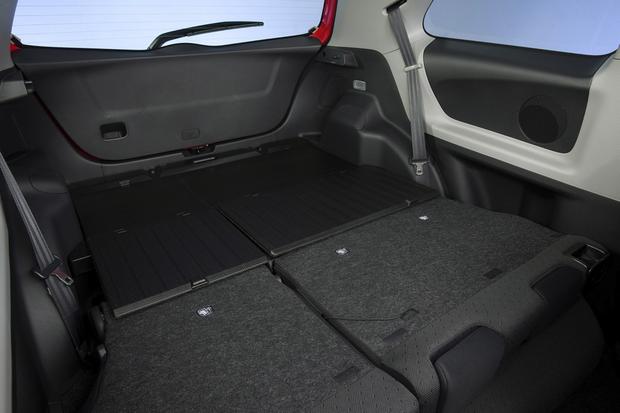 The 2007-2011 Toyota Yaris reminds us of a time when Toyota's compact cars were all the rage. Names like Corolla, FX16 and Tercel consistently topped the charts for fuel economy, dependability and resale. Americans flocked to them like horses to hay. Over time, however, a steady stream of competitors coupled with Toyota's complacency about its own products caused its cars to fade from the limelight. Uninspiring designs like the Echo didn't help much, which is why in 2007 Toyota brought its popular subcompact, the Yaris, to the United States. The Yaris may not have the charm of those early Toyota products, but it does have a lot going for it. The Yaris is cute, it's affordable and it has great gas mileage. Offered as a 3- or 5-door liftback and a 4-door sedan, a previously owned Yaris makes a great first car for college kids, a great second car for growing families and a great commuter car for those looking to keep fuel bills to a minimum.
Why You Want It
The Toyota Yaris is one of a handful of subcompacts sold in the U.S. The Yaris isn't a sports car by any means, but the 3-door liftback has a cool bulldog stance that younger buyers might find appealing, especially if they enjoy customizing their cars with aftermarket wheels and accessories. The strongest arguments for getting a Yaris are its good fuel economy, low price, excellent repair and reliability history and strong resale. And, should something go wrong, it's nice to have Toyota's extensive nationwide dealer network backing you up. Of course, if you're more concerned with getting the most bang for your buck, you'll probably be better off shopping for a late model Hyundai Accent or Kia Rio. Both cars offer a better warranty than the Yaris as well as more standard features.
Notable Features & Options
Keeping true to its economy car roots, the base Yaris doesn't offer much in the way of amenities. Entry-level CE models, for example, don't even offer a radio, let alone such comforts as cruise control or power windows. Air conditioning is one of the few luxuries included as standard. The options sheet for the Yaris includes side curtain airbags and anti-lock brakes (both of these features were made standard after 2009), AM/FM/CD radio with auxiliary input jack, power windows/locks/mirrors, cruise control, a rear defroster, 15-inch wheels with full wheel covers and upgraded seat fabric. In 2008, Toyota added the sporty S trim to the liftback model which brought a leather-wrapped steering wheel and shift knob, sport seat fabric and color-keyed front and rear spoilers.
Model Milestones
2008: The sporty S trim is added to the Yaris lineup.
2009: A 5-door liftback joins the 3-door model, while cruise control is made available on the liftbacks. Anti-lock brakes (ABS), front seat side airbags and side curtain airbags are all made part of the Yaris model's standard equipment list. Satellite radio is offered for the first time.
2010: New standard equipment includes electronic traction and stability control and a rear window defroster. 5-door models with the manual transmission gain a tachometer.
2011: There were no major changes for 2011.
Engines and Performance
No matter which Yaris model you choose, it will be powered by a 1.5-liter 4-cylinder engine rated at 106 horsepower and 104 lb-ft of torque. This may not seem like much power, but remember the Yaris is a small, fairly light vehicle. As such, it zips along just fine in city traffic but it can struggle at highway speeds above 65 miles per hour, especially when there is more than one person on board. The standard transmission is a 5-speed manual, with a 4-speed automatic being optional. The Environmental Protection Agency (EPA) fuel economy ratings for the Yaris are 29 miles per gallon city/ 36 mpg highway for the manual and 29 mpg city/35 mpg hwy for the automatic.
Driving the Yaris is a carefree event, with tight predictable steering, a firm suspension and a surprisingly comfortable ride. The little tires are not big on grip, but then again not many people are pushing the Yaris through S-curves as if it were a Porsche. The nice thing about the little 14- and 15-in tires is that because there is less surface area in contact, they do better than larger, wider tires in snow and rain. The Yaris model's compact dimensions make it a breeze to maneuver and park, but they also make it susceptible to strong wind gusts and the occasional passing 18-wheeler. Still, if you're looking for a compact with a bit more power and sportier handling, we suggest you test drive a Honda Fit.
Recalls, Safety Ratings and Warranties
The National Highway Traffic Safety Administration (NHTSA) has issued the following recalls for the 2007-2011 Toyota Yaris:
2007 - A recall was issued for a possible condition in which the pyrotechnic seatbelt pretensioners could ignite the surrounding sound insulation in the event of an accident.
2007-2008 - A recall was issued for a possible defective power window master switch that could overheat and catch fire.
2007-2010 - Some vehicles sold in the Southeast region of the U.S. have improper wheel and tire load carrying specification labels. Dealers will inspect and replace if warranted.
Recall repairs are required by law even if the vehicle is out of warranty. Your dealer can check to see if the repairs were performed and if not, will fix the car at no charge to you.
As for safety, the 2007-2008 Toyota Yaris 4-door, without side airbags, earns four out of five stars for its front passengers in the NHTSA front end collision test, and three stars for those same passengers in the side impact crash test. Models after 2009 with standard side airbags perform better, with four out of five stars in the side impact crash test. The independent Insurance Institute for Highway Safety (IIHS) gives the Yaris its highest rating of Good in the offset front crash test and side impact test, when equipped with side curtain airbags. Models not equipped with side airbags earned the lowest rating of Poor.
The 2007-2011 Toyota Yaris has a 3-year/36,000 mile basic warranty and a 5-year/60,000 mile powertrain warranty. Extended warranties purchased when the car was new are transferable, so be sure to inquire if the vehicle you are buying has an extended plan. Toyota also offers a line of Certified Pre-Owned (CPO) vehicles through its dealerships. If you purchase a Certified Pre-Owned Yaris, the warranty coverage for the powertrain is extended to 7 years/100,000 miles from the vehicle's original in service date. CPO cars also come with a 12-month/12,000 mile comprehensive warranty, one year of roadside assistance and a free CARFAX report. Best of all, Certified customers are eligible for standard new car financing rates. Vehicles that qualify for the CPO program cannot be older than six years or have more than 85,000 miles on the odometer. To learn more about the Toyota CPO program, visit their website at www.toyotacertified.com
Word on the Web
As you might guess, there aren't a lot of enthusiast Yaris sites burning up Internet bandwidth. However, we did find some glowing praise from consumer sites such as Consumer Reports, who gives the Yaris strong marks in every category, except Squeaks and Rattles in which it earns only an average to below average mark. We looked on sites like Yarisworld.com and Toyotanation.com and found no widespread common complaints about the car. Overall, the Yaris appears to be a very good, simple car with good safety ratings and outstanding fuel economy.
Competitive Set
Honda Fit: The Yaris offers more variety with a 3-door and sedan model, and it will probably cost less and get better fuel economy. But the Fit has more interior room, more features (like navigation and iPod control) and a more powerful engine; it's also more fun to drive.
Chevrolet Aveo: The Aveo doesn't hold its value as well as the Yaris, so it should be cheaper to purchase. The Aveo offers far more standard and optional equipment than the Yaris, including a 180-watt stereo with USB connectivity and a power sunroof. However, the Aveo doesn't perform as well as the Yaris in the IIHS offset and side impact crash tests.
Kia Rio: Early model Kia Rios have more standard safety features than the Yaris (side airbags) and a 5-year/60,000 mile transferable warranty. The Rio has a bit more horsepower than the Yaris but gets slightly worse fuel economy. The Rio also has more headroom than the Yaris, but the Yaris has more legroom in the backseat.
Auto Trader Recommendations
We think the most versatile Yaris is the 5-door liftback, but those concerned about having a place to lock away valuables might be happier with the sedan. In any case, we'd recommend going with a nicely equipped model built after 2009. We like that these models feature standard side airbags, although they were an option before 2009 and might be on certain 2007 and 2008 models. If you don't mind shifting gears, the manual on the Yaris is quite nice and makes the drive a bit more fun while costing about $1,000 less than a similarly equipped automatic.