Editor's note: You may want to read more of Autotrader's model vs. model comparison car reviews as well as the 2008-2011 Toyota Highlander used car review, the 2015 Honda Pilot used car review, Buying a Used Toyota Highlander: Everything You Need to Know and Buying a Used Honda Pilot: Everything You Need to Know.
If you're looking for a reliable modern SUV offered at a discounted price compared to a brand-new model, we think the 2008-2013 Toyota Highlander and 2009-2015 Honda Pilot should be on your shopping list. Both offer roomy interiors, notorious reliability and reasonable pricing, along with all-important 3-row seating. But which is better? We're taking a closer look at both models to find out, but first let's go over the basics of the Highlander and the Pilot.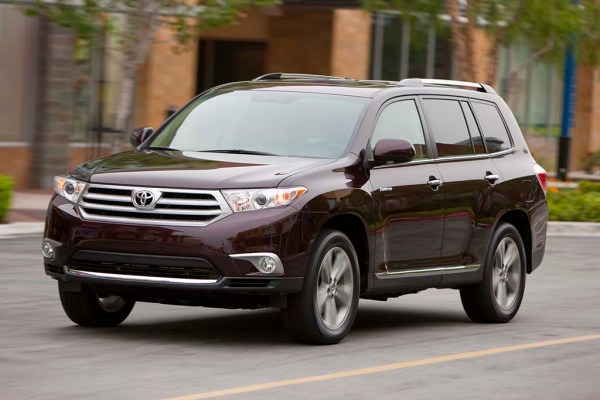 2008-2013 Toyota Highlander
The Highlander is a midsize SUV based on Toyota's popular Camry sedan. Offered with 4-cylinder, V6 or V6 hybrid powertrains, the Highlander's trim level range varied from a fairly basic base model to a well-equipped, high-end Highlander Limited. Third-row seating was standard on all V6-powered Highlander models.
2009-2015 Honda Pilot
The Honda Pilot had a simpler lineup to the Highlander in that there was no V6 hybrid and no 4-cylinder — just a V6 with a standard third-row seat. The Pilot was offered in several trim levels, from the basic LX model to the upscale Touring, and touted bold, boxy styling that set it apart from the Highlander's more traditional look.
Reliability
According to reliability experts at Consumer Reports, both the Highlander and the Pilot score well in terms of reliability. With that said, Consumer Reports ranks the Highlander above the Pilot, giving the Highlander almost universally excellent scores compared to a few years where the Pilot scored worse than average. Experts at J.D. Power agree, giving the 2009-2015 Pilot only average reliability ratings, while the 2008-2013 Highlander earned a score of "among the best."
Our verdict: While we suspect that both the Pilot and the Highlander will offer strong reliability, the experts say that the Toyota will outshine the Honda — an important consideration for shoppers who are interested in buying a used vehicle.
Fuel Economy
The Pilot offers only one engine: a 250-horsepower 3.5-liter V6 that's mated to a 5-speed automatic transmission. The Environmental Protection Agency rates fuel economy at 17 miles per gallon in the city and 23 mpg on the highway with front-wheel drive or 16 mpg city/22 mpg hwy with optional all-wheel drive.
Although the Highlander offers three engines, the vast majority of shoppers choose the SUV's V6. It offers 270 hp and boasts 18 mpg city/24 mpg hwy with front-wheel drive or 17 mpg city/23 mpg hwy with optional all-wheel drive — only a slight improvement over the Pilot. Drivers who are looking to save money can go with the Highlander's standard 180-hp 2.7-liter 4-cylinder, which is rated at 20 mpg city/27 mpg hwy. The available Highlander Hybrid uses a powerful 280-hp 3.5-liter hybrid V6 that boasts 28 mpg city/28 mpg hwy.
The verdict: 4-cylinder and hybrid-powered Highlander models offer better gas mileage than any Pilot, which gives the Highlander a win in this category. But the majority of shoppers will choose the V6 — and in that case, fuel economy numbers are about identical.
Safety
In crash testing carried out by the federal government's National Highway Traffic Safety Administration, both the 2009-2015 Pilot and the 2008-2013 Highlander earned four stars out of a possible five stars overall. Both models also earned a Top Safety Pick score from the nonprofit Insurance Institute for Highway Safety — though that's before the firm added the challenging small frontal-overlap crash test to its repertoire.
As for safety features, both models only offered the basics: side-curtain airbags, anti-lock brakes and stability control with traction control, with an optional backup camera — a feature that became standard in the Pilot beginning in 2013. To get more modern features such as lane-departure warning, forward-collision warning and a blind spot monitoring system, you'll have to opt for the next-generation version of both models — at a considerably higher cost.
With similar crash-test scores and identical safety features, this section is a toss-up: Both models offer good safety ratings and all the equipment you'd expect from a midsize SUV.
Technology
When it comes to technology, the Pilot and Highlander are also fairly similar. Optional features include a navigation system, a backup camera, a premium sound system, a rear-seat DVD entertainment system, leather upholstery, heated seats and more. With so many shared items, neither model stands out to us more than any other — regardless of the year you choose. It's also worth noting that neither the Pilot nor the Highlander touted any especially unique or unusual features that would set them apart from one another or from other midsize SUVs of their day.
Value
There are currently around 6,200 different 2008-2013 Toyota Highlander models listed on Autotrader with an average price of $24,300. By comparison, there are around 7,500 different Pilot models with an average price of $27,100. Of course, some of that difference comes from the fact that the Pilot continued along for two more model years than the Highlander. If you only search for 2009-2013 versions of both SUVs, you'll find that the Pilot's average price is $24,800, compared to $25,400 for the Highlander — a fairly small difference.
All else being equal, we think the Highlander presents a better value. Not only does it offer more efficient engine options than the Pilot, but it also touts better reliability — for the same basic price on the used market.
Autotrader's Advice
Although both the 2008-2013 Toyota Highlander and the 2009-2015 Honda Pilot represent excellent choices among used family SUVs, we think the Highlander is the better pick. Both Consumer Reports and J.D. Power say the Highlander is the more reliable choice. We also like the Highlander's larger engine lineup, which includes both a frugal 4-cylinder and a gas-saving hybrid V6. With that said, it's hard to go wrong with either model, as they both touted roomy interiors, excellent equipment and impressive powertrains.
Find a Used Toyota Highlander for sale