Editor's note: You may want to read more of Autotrader's model vs. model comparison car reviews as well as the 2013 Honda Fit used car review, the 2013 vs 2014 Ford Fiesta comparison review and the 2014 Ford Fiesta review.
If you're looking for an excellent, city-friendly, fuel-efficient used car, you probably have the 2009-2013 Honda Fit and the 2011-2014 Ford Fiesta on your shopping list. After all, both models are great for city use — and they both tout strong gas mileage, along with reasonably modern interiors and good technology. But which one is better? And which one should you buy? We've created a close comparison to help you choose between the two — but first, a few basics of both models.
2009-2013 Honda Fit: The Basics
The Honda Fit is a subcompact hatchback, and it's not available with a sedan body style. The 2009-2013 version is the second-generation Fit; the original model was sold from 2007 to 2008. Every gas-powered Fit uses a 1.5-liter 4-cylinder engine with 117 horsepower; 5-speed manual and 5-speed automatic transmissions were offered. A rare electric-powered Fit, called the Fit EV, was available for the 2013 model year only. Every Fit came standard with anti-lock brakes, side airbags and side curtain airbags.
2011-2014 Ford Fiesta: The Basics
The Ford Fiesta debuted in 2011 as a direct competitor to the Honda Fit. Aside from obvious differences like styling, engine power and equipment, the biggest different between the Fit and the Fiesta was body style choices: The Fiesta offered a 4-door sedan version in addition to the 5-door hatchback. While all Fiesta models were initially offered with a 120-hp 1.6-liter 4-cylinder, two new engines came out for 2014: a 123-hp 1.0-liter turbocharged 3-cylinder, for better gas mileage, and a 197-hp 1.6-liter turbocharged 4-cylinder (installed in the Fiesta ST), for better performance. Although the Fiesta is still in production without a major redesign since it debuted in 2011, we've cut off this comparison for 2014, as that's the final year for which its pricing is most directly comparable to the Fit's.
Reliability
According to J.D. Power reliability ratings, the Fiesta scored "worse than average" for predicted reliability in 2014 — and since 2014 models are largely similar to 2011-2013 versions, that score likely carries through to earlier models as well. The Fit, on the other hand, earned a "better than average" reliability rating from J.D. Power, suggesting strong reliability.
This rating is generally mirrored in reviews from real owners on Kelley Blue Book. While the Fit's average rating among KBB owner reviews is slightly above 8 out of 10, the Fiesta's is lower, coming in somewhere around 7.3 out of 10. Many of the Fiesta's reviewers attribute their lower scores to reliability issues — and specifically issues with the Fiesta's automatic transmission, which caused Ford to issue a 10-year/150,000-mile warranty for all 2011-2015 Fiesta automatic transmissions.
That warranty is good peace of mind — but probably not as good as simply not having any issues at all. In that sense, the Fit beats out the Fiesta in terms of reliability.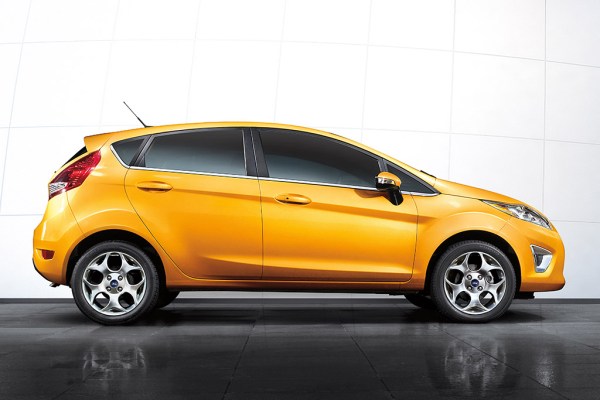 Fuel Economy
The Fit's sole gasoline engine, a 117-hp 1.5-liter 4-cylinder, returned 27 miles per gallon in the city and 33 mpg on the highway with its 5-speed manual transmission and 28 mpg city/35 mpg hwy with its optional 5-speed automatic. The rare, only-for-2013 Fit EV could travel up to 81 miles on fully electric power; it offered no "range extending" gasoline engine to supplement the battery pack.
From 2011 to 2013, the Fiesta used a 120-hp 1.6-liter 4-cylinder; it returned 28 mpg city/37 mpg hwy with the 5-speed manual or 29 mpg city/38 mpg hwy with the optional 6-speed automatic. For 2014, Ford released a new 3-cylinder engine that made 123 hp and an impressive 31 mpg city/43 mpg hwy with the manual or 28 mpg city/38 mpg hwy with the automatic. In any case, the Fiesta's gas mileage is better than the Fit's — unless you specifically choose the electric-powered Fit EV.
Safety
In terms of standard safety equipment, the Fit and Fiesta are largely similar; both came standard with side curtain airbags and anti-lock brakes. The Fiesta also came standard with a knee airbag and traction control; the Fit didn't offer a knee airbag, and traction control was only offered on the upper-level Fit Sport trim in 2009 and 2010 (though it became standard on all Fit models in 2011).
As for crash-test ratings, both the Fit and Fiesta earned four stars out of five in the NHTSA's overall crash safety ratings. The Fiesta fared just slightly better in the specific tests; while the Fit earned four stars in NHTSA's front- and side-impact and rollover tests, the Fiesta earned a perfect five stars in the side-impact assessment. As a result, the Fiesta has a slight edge here, with a few more standard safety features and slightly better crash-test ratings.
Technology
As you might imagine, neither the Fit nor the Fiesta can quite keep up with modern cars in terms of high-tech features and gadgets, as their designs are several years old — and their subcompact status means they weren't privy to the most expensive or modern technologies. As a result, don't expect advanced high-tech safety features like lane-departure warning or blind spot monitoring.
With that said, the Fiesta has the upper hand over the Fit — largely due to its later debut. Even from the beginning, the Fit offered a voice-controlled SYNC infotainment system, a remote engine starter and the aforementioned knee airbag. The Fiesta even offered leather upholstery with heated seats — something you couldn't get in a Fit. While base-level versions of these two models are largely the same, shoppers especially interested in modern technology will want to seek out a highly-equipped Fiesta, as it'll have more equipment than its Honda rival.
Value
The average asking price on Autotrader for a 2011-2014 Ford Fiesta is just under $9,000. Meanwhile, the average asking price for a 2009-2013 Honda Fit is $10,300. If you only focus on 2011-2013 models — from the years when the two models overlap — the average asking price for the Fiesta falls to $7,700, while the Fit rises to just over $11,000.
From a value standpoint, therefore, the Fiesta is the better buy. Yes, its transmission issues are troubling — and yes, the Fit is a little larger inside. But the Fiesta has more available tech, better standard safety equipment and safety ratings, and better gas mileage — with a dramatically lower price. Plus, Ford's extended transmission warranty should provide some extra peace of mind.
Autotrader's Advice
In the end, choosing between these two cars is surprisingly difficult. The Fiesta is the clear winner in most categories, including technology, equipment, safety features, safety ratings and gas mileage — and it's also a lot cheaper than its Honda rival. That makes it seem like the Fiesta is the easy choice.
However, shoppers interested in a used vehicle are often primarily focused on reliability — and there's no doubt the Fit is more reliable than the Fiesta. It's also a little larger inside for passengers and cargo. If roominess is a big concern or if reliability is very important (if, for example, you plan on keeping the car for several years), the Fit is probably your choice. If you're looking for a car to last only a couple years and deliver the best fuel economy and the most features for the lowest price, the Fiesta is probably the better option.
Find a Used Honda Fit for sale