Car News
2011 Acura TSX wagon - New Car Review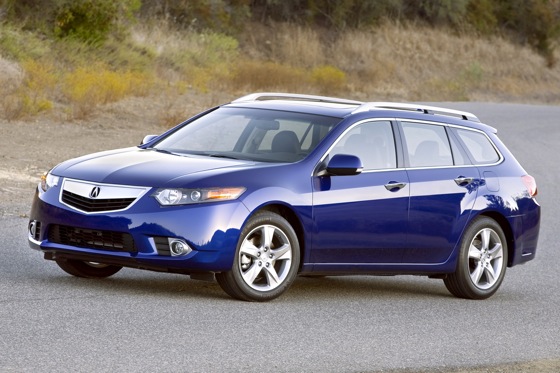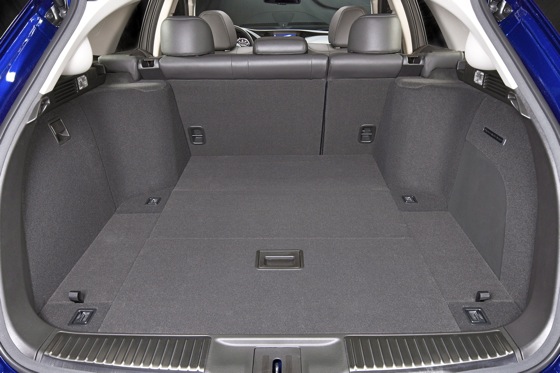 It hasn't been all that long since the term "station wagon" was the automotive equivalent of George Carlin's seven words you can't say on TV. But Carlin is gone, most of those seven words have become broadcast acceptable, and even though we're in the age of the crossover – autodom's most elastic descriptor – wagons are making a comeback.
Of course, no one is willing to actually call them station wagons anymore – sport wagon is the more common term.
But be that as it may, for those who don't care for the tall profile of the many sport utility crossovers offered today, but need a little more cargo capacity, a number of traditional wagons have quietly rolled into the marketplace.
This is particularly apparent in the premium entry category – base prices ranging from about $30,000 to $35,000 – where there are currently some half-dozen players. BMW's 3 Series is the long-time leader of this small but growing segment. And the mid-size five-passenger Acura TSX is the latest addition.
This is new territory for Acura, whose bestseller – the MDX – is a crossover. But the TSX wagon does have a number of strong suits: Acura's quality reputation, for one. Agile handling. Respectable fuel economy (22 mpg city, 30 mpg highway, per the EPA). Plenty of standard luxury features baked into an attractive price. And standout good looks.
Just the prescription, according to Acura's marketing troops, for an affluent young family who want the fun-to-drive factor of a sports sedan along with a little extra room for a young family's baggage.
Family Accord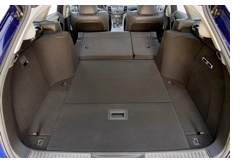 Like the TSX sedan, the wagon is based on the European Honda Accord, a distinctly smaller car than the Accord sold in the US. It shares the sedan's 106.4-inch wheelbase, and is only 3.6 inches longer overall. But it delivers a 25.8 cubic foot cargo hold behind the rear seats, a flat load floor, a shallow storage well below the floor, and several tie-down points.
With the rear seats folded flat – flat means truly flat here – cargo capacity expands to 60.5 cubic feet, which is as good as anything in this class, and better than most.
Aside from added cargo capacity, the wagon's interior is identical to that of the sedan with snugly supportive heated bucket front seats clad in supple leather, quality materials and the same extensive array of standard features.
There is only one option – a Technology Package (upgraded audio, navigation and other techno gadgets).
Like just about any five-passenger car in this class, the TSX provides comfortable room for four adults, and a center rear seating position to be assigned to someone the owner doesn't like very much.
The eyes have it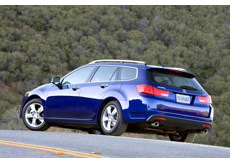 Styling isn't quite as important on the scale of wagon buyer priorities as it is among sedan shoppers, but it's always a factor in any purchase, and it's a strong suit for the TSX Sport Wagon.
The wagon's rear hatch is canted forward, which adds a swoopy suggestion of speed, and also enhances access to the rear cargo hold – with less likelihood of whacking one's head against the top of opening.
In fact, it's not unreasonable to say that the five-door body is more eye-catching than the TSX sedan, and has high appeal among its competitive set. Some may prefer the Audi A4 Avant, but the TSX is no wallflower.
No whiplash
While the sleek shape suggests speed, the TSX's straight ahead go-power tends toward deliberate, the only soft point in this wagon's otherwise impressive performance resume.
There are several reasons for this. For one, the wagon offers only one powertrain – a 2.4-liter four-cylinder coupled with a five-speed automatic transmission. The sedan's 280-hp 3.5-liter V-6 engine option is absent, as is the availability of the precise six-speed manual transmission that's standard in the four-cylinder four-door.
For another, the wagon is heavier than its sedan counterpart – 129 pounds more than the four-cylinder four-door with automatic, 199 pounds heavier than the manual sedan.
Almost all of the wagon's competitors bring more power to the party, some of them considerably more, a shortfall that's particularly apparent in passing maneuvers on two-lane highways.
While there's no danger of acceleration-induced whiplash, the TSX's power measures up as adequate in everyday operation, and the rest of its dynamic scorecard is above average. Its reflexes are athletic, its steering quick and precise, its ride quality firm but compliant, its overall operation exceptionally quiet.
A six-speed automatic would improve the TSX's performance a little, and an all-wheel drive option would broaden its appeal in climates that include snow, but neither of these is available at the moment, and all-wheel drive isn't even on the near horizon.
But for all that, the TSX's blend of good road manners, comfort, and respectable fuel economy make it a pleasant companion for all kinds of driving.
The value proposition
With a base price of $31,280, the wagon is $1350 more than the sedan, but still ranks at the low end of the spectrum among entry premium wagons. Although it lacks all-wheel drive – offered by four of its six primary competitors – it is otherwise very well equipped.
With the Technology Package the price soars to $35,470, still at the low end of pricing versus comparably equipped competitors.
The competition
This category can be loosely interpreted to include a half-dozen cars, but it's dominated by just two – the BMW 3-series (328i and all-wheel drive 328i xDrive) and the Audi A4 Avant. The BMW brings typical BMW virtues to the game – eager responses, sporty persona, smooth 3.0-liter inline six-cylinder power (230 hp). The A4's turbocharged 2.0-liter four-cylinder delivers lots of low-rpm torque, and is mated with a slick new eight-speed automatic transmission. That, plus Audi's Quattro all-wheel drive system (standard) and sophisticated styling, inside and out.
Volvo's V50 is another key player, and brings a long history of wagon know-how plus plenty of turbocharged power (227 hp) to the table, albeit no all-wheel drive option. The Saab 9-3 SportCombi is another turbo Swede (220 hp), and unlike the Volvo does offer an all-wheel drive version, the 9-3X.
All-wheel drive is standard equipment at Subaru, which offers a pair of wagon-esque choices, the popular Outback and the Impreza WRX. However, the Outback has edged close to crossover SUV territory in its latest iteration, while the 265-hp WRX – and its 305-hp WRX STI variant – are more in the hot hatchback realm than family wagondom.
The last word
Acura's sales projections for the TSX wagon are cautious – just 4000 units annually – which accounts for its lack of powertrain choices. The limited business case calls for simplicity.
This is the first traditional wagon offered by Honda/Acura since the fifth generation Honda Accord, whose model run ended at the conclusion of the 1997 model year.
Whether Acura will amplify the Sport Wagon's options in the next generation TSX will obviously depend on demand for this one. But even if there's no follow-up model, it's hard to imagine buyers of this first generation being dissatisfied.