Car News
2011 Chevrolet Volt - New Car Review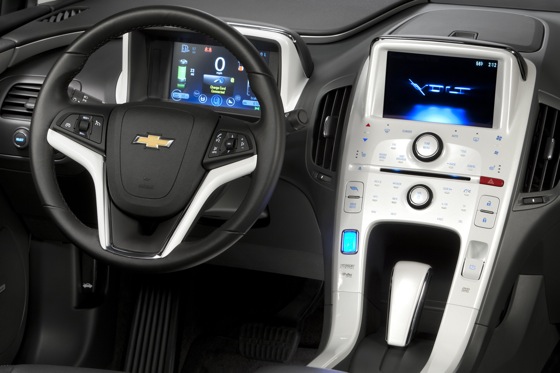 For almost four years, the Volt has been part of the American automotive lexicon, portrayed by General Motors as a new and environmentally responsible chapter in personal transportation. The publicity value of this long development program–a bright spot during GM's darkest days in 2009–has been widespread and uniformly positive.
Rarely has a new car been so eagerly anticipated, particularly by environmental groups, as well as the Obama administration, which is actively encouraging development of electric cars.
Now, with cars due for a December debut in Chevy showrooms, the long buildup is finally at an end. And it's time for the reality check.
Basics: Chevrolet has been lobbying hard to have the Volt recognized as an "extended range electric car," as distinct from, say, a plug-in hybrid or some other kind of hybrid–the range of classifications has been expanding steadily.
The rationale for this argument is that (a) the Volt's basic operating mode is electrically-powered, and (b) even though its power train includes an internal combustion engine, the engine doesn't enter the propulsion picture until the lithium-ion battery pack is run down, whereupon it functions as a generator for the car's electric motors.
So is this in fact an electric car? There's been considerable media debate on this topic, some of it heated. But the question a prospective owner is more likely to ask is this: who cares? Does that really matter?
What matters is what this new car–this unique new car–can deliver. And viewed from that perspective, the answer is simple: a blend of unprecedented capabilities.
More on that in a minute. First, let's take a look inside.
A not-so-compact compact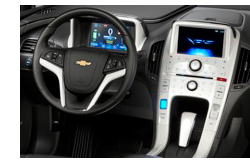 The Environmental Protection Agency is responsible for vehicle size classifications–subcompact, compact, mid-size–and the classifications are based on interior volume.
By that system, the Volt is a compact car. But as with many contemporary compacts, the Volt's interior design team has made good use of the dimensions available to them. Aside from slightly limited rear seat headroom, there's space for four adults to travel in reasonable comfort, perhaps with a little cooperation from those up front if those in back are over six feet.
Unlike other compact sedans, the Volt is rated for only four passengers. The center seat has been sacrificed to accommodate the 435-pound T-shaped battery pack, which rides beneath the passenger compartment.
A bigger plus for this interior is the quality of the materials employed, the multi-layered headliner, the upscale look of the instrument package, and the solid thunk of the door closures, a sound that goes with triple seals, which are rare in this class.
Besides a rich look to the interior, the attention to detail yields quiet operation at all speeds, whether the car is running on straight electric power or using its on-board generator. The noise that seeps through to the cabin come mostly from other vehicles, with a little bit of tire hum, depending on road surface.
Volt or Cruze?
If you happen to think the new Cruze is a knockout, that's good, because the Volt is almost a dead-ringer for Chevy's mainstream compact. That's not too surprising, because the Volt uses a lot of Cruze architecture, as well as most of its sheetmetal. Aside from subtle differences up front, the two cars are all but indistinguishable.
But is this a good thing? Maybe not. With the arrival of the Cruze, Chevy's compact and mid-size sedans–Cruze and Malibu–are hard to distinguish from one another unless they're parked side by side, and neither can be called gorgeous.
A bigger question is whether a car pioneering trend-setting technology should be wrapped in relatively anonymous sheetmetal. An important part of the success of Toyota's Prius hybrid is that it looks like nothing else in the corporate lineup. Many of the buyers who sign up do so in part because the Prius sends a clear signal that they're doing their part on behalf of planet Earth–a highly visible and unmistakable green badge of commitment.
What's your hurry?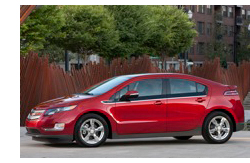 As noted, the Volt is primarily an electric car, augmented by an on-board generator driven by a 1.4-liter 84-horsepower four-cylinder gasoline engine. The primary propulsion is provided by a 149-horsepower electric motor that drives the front wheels. At speeds over 50 mph, a second electric motor–72 horsepower–adds its output to the complex transmission.
When the battery pack is discharged down to a certain level–the car's computer will never allow all of its 16 kilowatt-hour capacity to be completely used up–the engine comes on line.
According to Chevrolet, a careful driver can go as much as 50 miles before this occurs. That would be a very careful driver–30 to 35 miles is probably more realistic.
That's enough to cover the distance most urban commuters travel to and from work, again according to Chevrolet. But if it doesn't, no worries: the owner can keep right on driving, up to 300 miles, with the generator sending power through the battery and into the electric motor.
If the driver wants to keep going beyond that, all that's needed is a stop for a gasoline refill (9.3 gallons), and it's all systems go once again.
The generator does not recharge the battery pack. Doing that requires about 10 hours on normal 120-volt household current, or just four with a 240-volt system.
Both recharge intervals are much better than those required for the pure-electric Nissan Leaf, largely because the Leaf's battery pack has a much larger kilowatt-hour capacity.
The Volt is also a little quicker than the Leaf–9.2 seconds to 60 mph, according to Car and Driver test results. That's not particularly impressive–almost any compact car will leave the Volt behind in a drag race–but it's brisk enough in urban traffic, and the single-speed transmission is smooth as whipped cream.
And the transition from pure battery propulsion to generator-aided is essentially seamless. Occupants might detect the gasoline engine coming to life on a quiet back road, but probably wouldn't in city traffic.
What does it all mean in terms of miles per gallon? The EPA is still wrestling with that question, but even assuming that a driver will activate the gasoline generator the Volt will go a long way on just a little fuel. The Car and Driver calculation is the equivalent of about 75 mpg.
Other elements of the Volt's demeanor measure up well compared with ordinary compact cars. Even though it's heavy–about 550 pounds heavier than a Cruze, 575 more than a Prius–the Volt responds well to quick directional changes, in part because all that mass is carried low in the chassis.
Braking performance–176 feet from 70 to 0 mph–may not sound praiseworthy compared to sports car results, but it's consistent with other compact cars, despite all that mass (3755 pounds), regenerative braking (translating kinetic energy into electricity), and low rolling resistance tires.
Ride quality is smooth, so is the powertrain, and the quiet interior makes for a pleasant drive. It's far from stimulating, but it delivers on its promise and then some.
To keep or not to keep
By compact car standards, the Volt is extraordinarily expensive. The base price, including a $720 destination and delivery charge, is $41,000. This test car was also enhanced by $3085 in options, including leather upholstery, heated front seats, premium paint, a rear view camera, and park assist, among others.
Even with a $7500 tax incentive, that adds up as a lot of money for a small car. An owner will probably never recoup the added cost in fuel savings over the life of the car, and as the miles mount, the Volt's value will plummet. Even though both Chevrolet and Nissan back their battery packs with 100,000-mile warranties, the batteries will deteriorate over time, and the cost of replacement pretty much guarantees that when the warranty is up the car's value will be zero.
The bottom line: lease, don't buy.
Alternatives
Although it will certainly provoke imitators, the Volt is unique in today's market. Among newcomers to the clean and green marketplace, its prime rival is the Nissan Leaf. Other options are more familiar–the Toyota Prius (from a little over $22,000) and Honda Insight (from $25,550). (Based on 2010 prices.) Both are more conventional gasoline-electric hybrids. The Prius does offer a plug-in hybrid version, but its electric-only range is tiny.
Is the Volt right for you? It's obviously expensive, and whatever GM may say to the contrary, it stacks up as a hybrid car, rather than an electric.
But if your new car acquisition is influenced by green considerations, and there's room in your budget for just one car, the Volt stands alone. No other car today offers a comparable combination of clean operation and all-around usefulness.