Car News
2011 Chrysler 300 - New Car Review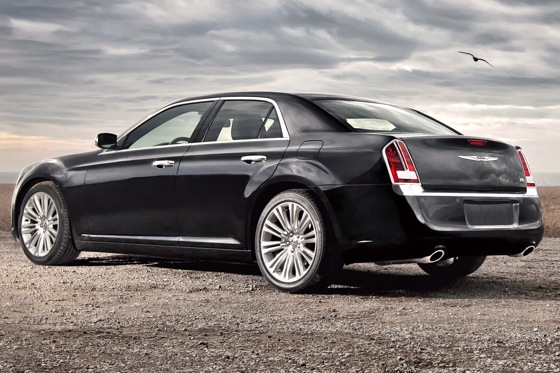 The Chrysler 300 has awoken from its slumbers. Once a giant among domestic cars, and a multiple award-winner at that, the 300 seemed to be stuck in its 2005 time warp. The good thing is that bringing this giant back to the present was not the work of some Marvel comics superhero, but a revitalized Chrysler, a company intent on snatching survival from the jaws of extinction. This new-for-2011 car is one of its best strategies.
Anyone with a penchant for full-size sedans (as opposed to sport utility vehicles), looking for a fairly luxurious ride that punches above its weight price-wise – and might want to fly the good old Stars and Stripes – will find the 2011 Chrysler 300 to be an excellent choice. It isn't necessarily for an older buyer, but it does represent a certain maturity and, perhaps, masculinity too.
Inside – a fortress of solitude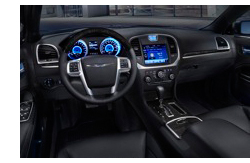 The steering wheel will definitely feel more comfortable in the hands of a big man. It's thick. No doubt because this half-wood, half-leather-covered helm has to contain a heating element (impressively, even the wooden section is heated). But everyone else will feel comfortable with the rest of the interior.
Seats are big, well-padded and, with the right option package, covered in decent-quality perforated leather. The fronts may be heated or cooled, while the rears (also with a seat-warming option) offer plenty of legroom. Materials like the dashboard plastic and various trim parts tend to maintain this air of opulence, helped by the substantial feel of the switchgear and other points where a driver or passenger comes into contact with the cabin, plus an almost eerie quietness. Chrysler has paid particular attention to creating a tranquil environment with sound-deadening materials and acoustically treated glass.
An 8.4-inch touchscreen dominates the center console. It's the largest of its kind to date, with excellent graphic resolution. Functions like climate control, audio, navigation (Garmin, optional) and even lighting are all accessed and adjusted from here. It's pretty user-friendly too.
A somewhat updated exterior
The first generation represented one of the more successful designs among modern American cars. So an update couldn't stray from the path too much, or in the wrong direction. It's a matter of taste whether the new, softer-looking grille and Audi-inspired headlights are preferable, but the nose has a definite presence, especially coming up in a rear-view mirror.
The line that rises behind each headlamp, touches the top of the front wheel arch and stretches along the side is now lower, creating a larger glass area and therefore better visibility. It also comes to an end looking a lot like a tail fin above vertical rear lights, ensuring a definite presence once the car has passed you on the highway.
Power from under the hood
This is a re-vamp, not a whole new model. The fundamentals are still rooted in a Mercedes-Benz E-Class front-engine/rear-drive platform the German company stopped using in 2002. That said, it's still a great place to start, and Chrysler has worked hard at getting the new 300 to tackle turns and ride with refinement like the up-to-date car it is.
Lower-level models are propelled by a 3.6-liter V6. It whips up 292 horsepower and 260 pound-feet of torque while returning a respectable 18 miles per gallon in the city and 27 on the highway. It's the company's newest engine, well regarded in other applications (such as the Jeep Grand Cherokee) and a good match for the rest of this machine in terms of quality and modernity. It's just that when the scales hover around the 4,000-pound mark for the whole car, 292 hp doesn't seem so potent.
Thank goodness, then, for the 5.7-liter V8 in the 300C. With 363 hp and 394 lb-ft, the car takes on a more forceful personality. And it's only a couple of miles per gallon thirstier than the V6 on each EPA cycle (16 city/25 highway). The C's option of all-wheel drive will also appeal to those who live in the more northerly latitudes.
Both engines are linked to a five-speed automatic transmission, but neither drivetrain will give you a nose bleed. The V6 variant canters from standstill to 60 mph in a little over seven seconds; Chrysler has no official figures, but claims the V8 can do the same sprint in just under six seconds. Nice enough, but that's not what the 300 is all about. It excels at composed cruising, with enough agility not to let the side down once on those curvier roads beyond the off ramp.
An optional sports suspension comes with 20-inch wheels. As part of the overall look, these rims appear perfectly suited. But this option will have an impact on ride quality. It's tauter, but brings rough pavement surfaces more into focus.
Other large sedans compete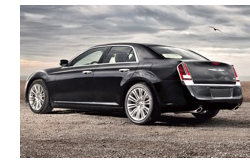 Buick has seen a resurgence of late. The 2011 LaCrosse is one reason why. It mixes space, style and equipment with a decent helping of driving dynamics. What it doesn't have so much of is muscle. The most powerful version has a 280-hp V6; there is no V8. A 182-hp four-cylinder is found in the CX, which starts at $26,995 and achieves 19 mpg in the city, 30 on the highway.
It's a similar story with the 2011 Ford Taurus. Just a 263-hp V6 for most of its guises, although a turbocharged engine in the all-wheel-drive SHO model brings 365 hp to the party. Along with a massive trunk, the Taurus also offers Ford's hands-free infotainment system, Sync, just as the Buick LaCrosse has OnStar. The cheapest model to buy and run is the SE, from $25,355 for 18 mpg (city) and 28 mpg (highway).
The 2011 Toyota Avalon (from $32,595) has just gone through a refresh process, sporting a new nose and tail, some interior tweaks and a longer list of standard features. Passenger comfort is paramount in the Avalon, it even has reclining rear seats. Its 3.5-liter V6 is punchy enough to deliver 268 hp, but sufficiently thrifty to claim 20/29 mpg (city/highway).
If $33,000 is a workable budget, look into the 2011 Hyundai Genesis, since this car can offer a 290-hp V6 connected to a rear-drive setup (the rivals above are front-wheel-drive, with the exception of the Taurus SHO). Another $10,000 procures a 378-hp V8. The Genesis offers a lot of standard equipment, plenty of space, some novelty value (since it really feels like a car from a higher price bracket) and solid residual values as well, thanks to a long and comprehensive warranty. The V6 model gets 18/27 mpg, while the V8 returns 17/25.
What the original 300 managed to do was occupy that vague space between everyday commuter specials in the Toyota Camry/Honda Accord bracket and the lower models of luxury marques like Lexus, Lincoln and Infiniti. But because of its design, it made a virtue of its place in the automotive pecking order. The 2011 300 should continue this tradition, even if its styling doesn't have quite the same impact.
The price is still right
Pricing starts at $27,170 and ranges up to $40,320 for the V8-powered, all-wheel-drive 300C. The latter car also uses a tad more gasoline than its rear-drive sibling: 15/23 mpg (city/highway). There's a Luxury package for the V6 Limited trim level, that features leather, heated/cooled cup holders, 12-way adjustable front seats and a power rear sunshade. Safety equipment (some of it in the Safety Tec Group option package) includes stability control, adaptive headlamps, Rain Brake Support, LED daytime running lights, collision warning systems that monitor the front, rear and blind spots, plus a reassuring collection of airbags.
If the price of gas wasn't going up every five minutes, the 300C would be more tempting. In any guise, the 2011 300 is a well-built, well-equipped sedan. Even if there was no bite from a radioactive spider, it still has some impressive powers.