Car News
2011 Suzuki Kizashi - New Car Review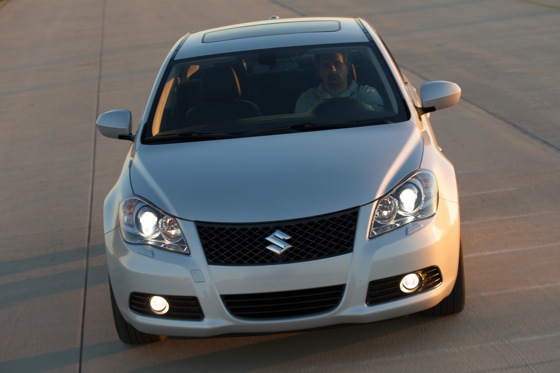 Suzuki's surprise
Before we go full tilt into reviewing the Suzuki Kizashi, let's talk about electric guitars for a moment. In the 1970s and '80s, there were a few factories in Japan making replicas of well-known American electric guitars, but with much lower prices. The quality became so good, often surpassing the home-grown original, that these instruments are now highly prized. In a way, Suzuki has done the same thing. It has made an excellent replica of the Volkswagen Jetta.
Slightly smaller than a Toyota Camry, but somewhat bigger than a Honda Civic, the Kizashi is classified as a mid-size sedan. It is one of the biggest cars Suzuki has made and bears absolutely no relation to any of the company's previous four-wheeled products.
Not only is the Kizashi the best car to ever wear a Suzuki badge, it's also a fine machine in the market place as a whole. It would be easy to assume that this is just badge engineering, that another company had made most of the car and was just licensing this out as a way to make it more cost-effective. That's not the case. From the fundamental underpinnings to the exterior design, everything has been created by Suzuki. Anyone simply looking for a decent car at a decent price – even those in the snow belt – should definitely consider this.
Behind power-locked doors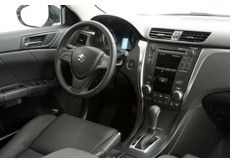 This is where the "Japanese Volkswagen" idea begins to crystallize. There's a solidity about the cabin. The dashboard is made of similar high-quality, soft-touch plastics while being formed into pleasing lines. And there are some good-looking gauges in the instrument cluster.
Passenger space is perfectly adequate for a sedan that is not as big as a Toyota Camry. Trunk size, likewise. Visibility is generally good and is helped by the large side mirrors. The rear seats also split and fold, and a ski hatch separates them.
However, there are some ergonomic snags to be aware of. Getting an ideal position takes some tweaking, even though the steering wheel adjusts for height and reach in every trim level. Things might seem OK after a brief slide, tilt or raise, but after a few miles down the road, there will inevitably be another minor adjustment or two. For some people who prefer the steering wheel on the low side, its upper arc might partially obscure the dials, causing the driver to peer down. The seat cushions may also seem a little short for some, failing to support the legs properly. Those with larger feet may also find that the pedals feel a tad close together.
The occidental stylist
Suzuki has managed to sidestep the usual ho-hum styling rut many Asian cars have fallen into. The Kizashi has an understated presence, but it's certainly not weak. More like European, with that sporty front fascia, especially once those multi-spoke 17-inch alloy wheels (from a higher trim level) are fitted.
Moving around to the tail, the trunk lid kicks up a little at the end to hint at a rear spoiler. The tail lights are large and interestingly shaped, while the trapezoidal exhaust tips are far from traditional, but small in a good way.
On the move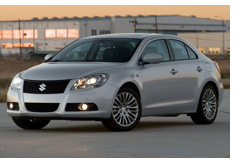 Front-wheel drive is standard; all-wheel drive is an option. Either way, there's one engine doing the work, a 2.4-liter four-cylinder that makes a respectable 185 horsepower and 170 pound-feet of torque. Attaining highway speeds and keeping up is easy, while there's sufficient zip off the line to help thread through urban traffic. It can sprint from standstill to 60 mph in about eight seconds – hardly blistering, but more than bearable.
A six-speed manual is the basic transmission, but most will probably prefer the two-pedal option, which is a continuously variable transmission (CVT). These things can be slow-witted and prone to droning. In this car, it's actually OK. For 90 percent of the time, it calls no adverse attention to itself and can be quite useful on hilly roads. Since there is essentially only one ratio, it is always in the right gear on inclines and downhill stretches. In some versions, there are steering wheel-mounted paddles to shift through the pre-programmed steps that simulate different ratios.
Fuel consumption works out to 21 mpg in the city, 31 mpg on the highway for the basic model with either the manual transmission or CVT. In other trim levels, those figures only differ by around one or two miles per gallon.
No one usually expects a budget brand to come out with something that handles exceptionally well, while also delivering a ride quality that could shame some more expensive rivals. But that's exactly what the Kizashi does. It can take a corner without leaning. It changes direction quickly and cleanly (despite a slightly heavy feel to the steering). Yet it can drive over rough surfaces without bothering its occupants through unacceptable noise or vibration.
Compare and contrast
The 2011 VW Jetta is a good way to start this section. The latest version was all-new for 2010 and represents a change of tack by VW. To get a Jetta with comparable power (170 hp from a 2.5-liter five-cylinder), the price starts at $18,195 for the SE. This model returns 23 mpg in the city and 33 mpg on the highway. The Jetta does the same straddling of conventional sedan classes as the Kizashi.
Most compact sedans don't pack the same kind of power, so there are better apples-to-apples comparisons to be made with mid-size sedans. The major player is the 2011 Honda Accord. In its lowliest form, it still offers convenience features like power windows and mirrors, plus safety features like traction control as standard. The LX with a manual transmission offers 177 hp from a 2.4-liter four, along with 23 mpg (city) and 33 mpg (highway), for upwards of $21,180. The Accord also has more passenger and trunk space, and its resale values are super-strong.
It's a similar scenario with the 2011 Toyota Camry. A 179-hp SE model starts at $22,490 with a manual transmission. Toyota claims fuel consumption of 22 and 33 mpg, city and highway respectively. However, while the Camry does well at providing no-hassle transport, there is more of a fun factor to the Kizashi.
Making a big splash in this particular pool is the 2011 Hyundai Sonata. It's easy to see why, since the car sports 198 hp from its 2.4-liter four-cylinder engine, and the GLS version with a manual transmission starts off at $19,195 while returning 24 and 35 mpg. Space, style and value make the Sonata a good choice. But it's not exactly a driver's machine.
Perhaps these major mid-size sedans are too big for some people, or may not offer much in the way of thrills. The Kizashi has more going for it in this respect, plus the option of all-wheel drive.
It has plenty going for it anyway. The basic S model starts at $18,999 and includes eight airbags, traction and stability controls, keyless entry, power windows and mirrors, and air conditioning. The CVT is a $1,100 option.
Things start to get nicer with the SE, such as 17-inch alloy wheels, sunroof, a leather-covered steering wheel and eight-way power adjustment of the driver's seat. The GTS gets a sunroof, 18-inch alloys, Rockford Fosgate audio system, Bluetooth and shift paddles for CVT-equipped versions.
The most luxurious trim is the SLS, where leather upholstery, heated front seats and rear parking sensors come into the equation. There is also a slightly separate version, the highly enjoyable Sport, that has a slightly tweaked suspension, uprated brakes, different seats, lighter wheels and some cosmetic differences, and costs from $22,899.
The fact that the Kizashi is not a predictable contender works against it. The company doesn't have such an extensive dealer network, so even getting in one for a test drive could be difficult. Which is a shame, because the well-built Kizashi is more than capable of changing the general public's perceptions of Suzuki cars.