Car News
2011 Volvo S60 T6 - New Car Review
In a segment that includes the Mercedes-Benz C-Class, Lexus IS and Acura TL, along with more driver-oriented machines like the BMW 3 Series, Audi A4 and Infiniti G37, the Volvo S60 used to get lost in the shuffle somewhat. A fresh version could now emerge as a major player.
Volvo set out to make its 2011 S60 sedan the "sportiest and most dynamic Volvo ever." Providing a big shove in that direction is an improved version of the 3.0-liter turbocharged straight-six engine that puts out 300 horsepower and an impressive 325 pound-feet of torque. Power is up by 10 percent; so is fuel economy by the same figure. And owners can select their own levels of sportiness and ride comfort, utilizing all-wheel drive plus three choices of suspension and steering settings.
This new S60 also proves that amped-up performance and swoopy styling can still coexist with traditional Volvo virtues such as a comprehensive array of advanced safety features including Pedestrian Detection with Full Auto Brake.
Inside lines
Emphasizing the car's dynamic, driver-oriented personality, Jonathan Disley, Volvo's head of interior design, drew inspiration from the shape of a race circuit. The cabin features uninterrupted lines that, as Disley puts it, "embrace the driver's cockpit." To complete that feeling, the gauges and Volvo's "floating" center stack are angled 15 degrees toward the driver. One upgrade is a console-mounted, seven-inch, high-resolution color display for navigation and infotainment that is controlled with buttons mounted on the steering wheel.
Disley also added a modish three-spoke sports steering wheel. With all the curves and satin-finish accents throughout the interior, the S60 T6 comes across as a driver's machine while avoiding the stark, dark landscapes of its German competitors. Adding to the user-friendly atmosphere are contemporary Scandinavian-style leather-covered sports seats with supportive side bolsters. Rear passengers are also treated to comfortable seats, including the raised central area that can accommodate a fifth passenger.
Those in the back enjoy 2.1 inches of additional legroom, thanks to a 2.4-inch stretch of the wheelbase. Although overall vehicle size remains similar to the outgoing S60.
Volvo designs outside the box
From the shape of its grille, large Volvo emblem, slicked-back headlamps and aggressive air intakes, it's clear the new S60 intends to shake off the stodgy looks of its ancestors. A contoured arc flows up from the hood, over the roof and continues along sloping C-pillars toward the tail lamps.
A forward-leaning rake has also been dialed in for a sportier stance, while LED lighting in the form of "eyebrows" over the headlamps, mirror-mounted turn signals and distinctive "waterfall" tail lamps serve as accents.
To protect these athletic curves, parking sensors front and rear – along with a rear-view camera – are available. There is also the option of a new 180-degree forward field of view camera mounted in the grille that provides split-screen images. This is ideal for maneuvering in tight spaces when the view of crossing traffic is obstructed.
Fierceness beneath the finery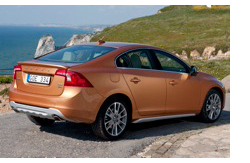 This turbocharged inline six-cylinder is the most powerful engine offered by Volvo in the United States (a 227-hp T5 will be available later in 2011). With its maximum 325 lb-ft of torque available from just 2,100 rpm, a sweet spot is maintained with the slick-shifting six-speed automatic transmission that adapts to a driver's style. There's enough grunt to move this 3,901-pound car from standstill to 60 mph in 5.8 seconds.
Pretty quick, but what makes the S60 T6 such a sporty pleasure to drive is its chassis. Volvo offers three distinct choices. The standard version is referred to as Dynamic and includes a 10 percent faster steering for enhanced feel and sharper responses in addition to a stiffer suspension. What this means is that the S60 goes pretty much where it is pointed and in a much quicker fashion than any Volvo before. Yet the ride is never uncomfortable.
For those seeking a more traditional Volvo driving experience, the softer Touring setup is a no-cost option. For the best of both worlds, spring for the optional Four-C active chassis with self-adjusting dampers that monitor ride and handling continuously. It features driver-selected modes of either Comfort, Sport or Advanced. Steering can also be adjusted between soft, medium or hard settings. The Four-C setup's ability to adapt to any sudden changes of driver input is nothing short of remarkable.
There is a host of safety technology available, from Driver Alert Control, Lane Departure Warning, Collision Warning with Full Brake and the latest: Pedestrian Detection with Full Auto Brake. It can detect a human in its vicinity and stop the car automatically as circumstances dictate. It only works up to about 19 mph and only in daylight, so there's still a lot to be said for the traditional low-tech method of keeping one's eyes on the road.
In this competition, the buyer always wins
There are many tempting choices in the field of mid-size sport sedans. And although they may not have the same level of safety equipment as the 2011 S60 T6, there will still be some impressive technologies on offer.
The benchmark and big seller is the BMW 3 Series. A 2011 335i, also with a turbocharged straight six that makes 300 hp, starts at $41,100 for a rear-drive model (a configuration preferred by the enthusiast). All-wheel drive is another $2,000. BMW offers free scheduled maintenance for four years or 50,000 miles.
Style gurus may be swayed by the handsome 2011 Audi A4. But there is no model with comparable power, transmission and traction to the new S60 T6. So that means settling on a 211-hp 2.0-liter turbo with all-wheel drive from $34,140. Or forking out for the more driver-focused 333-hp S6 Quattro with a seven-speed S tronic gearbox; that'll be $56,075.
Last of the German triumvirate is the Mercedes-Benz C-Class. The 2011 C350 Sport, with 268 hp from its naturally aspirated 3.5-liter V6 and a seven-speed auto transmission driving the rear wheels starts at $39,990. Mercedes-Benz can often give Volvo a run for its money in the safety stakes and this is a much better car than the previous-generation C-Class. But the Sport in its name is more of a trim level designation than any kind of driver's manifesto.
Of the Japanese pack, the 306-hp Lexus IS 350 is hugely popular. And now there is an all-wheel-drive version for 2011 starting at $41,030. Nice car, but not the sportiest ride. The same could be said of the 305-hp Acura TL with a five-speed auto and all-wheel drive from $38,855.
If anything can match BMW for premium-class fun, it's the Infiniti G37. With 328 hp from its much-loved V6 engine (the same as in the Nissan 370Z), the G37 is slightly over-qualified. An all-wheel-drive version, the 2011 G37x, starts at $36,650.
At a base price of $38,550, the 2011 Volvo S60 T6 compares favorably against such rivals. Even with the $2,700 multimedia package that includes Audyssey theater-quality sound and a real-time navigation system, it still offers a fairly priced blend of performance, style and luxury. Mileage is nothing to shout about at 18 mpg city/26 mpg highway. But sweetening the pot is a free six-month subscription to Sirius satellite radio and an unmatched five-year/60,000-mile warranty that provides free scheduled maintenance – including wear and tear items – plus four years of roadside assistance.
Volvos have always been well-made, reliable vehicles with a strong emphasis on safety. But for the most part, the styling has been mundane at best and driving satisfaction even less inspiring. The 2011 S60 T6 retains its Volvo DNA, but adds panache and performance that stacks up well against the established names.