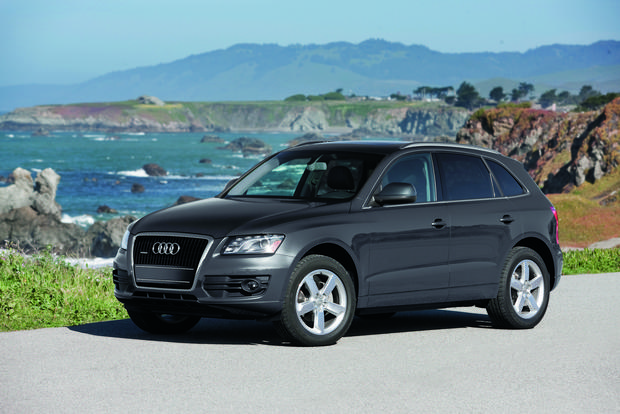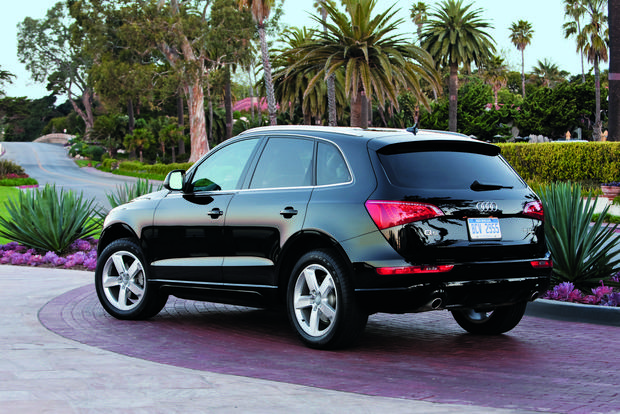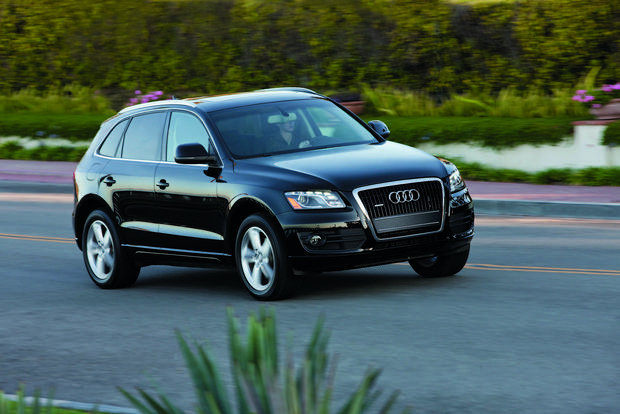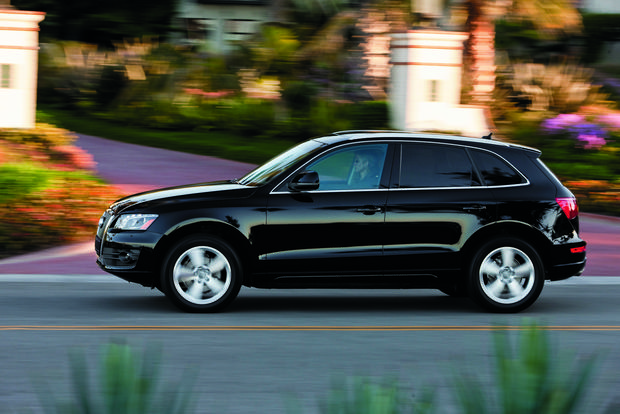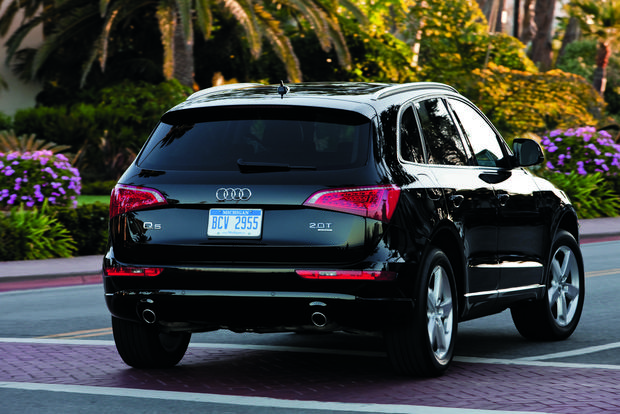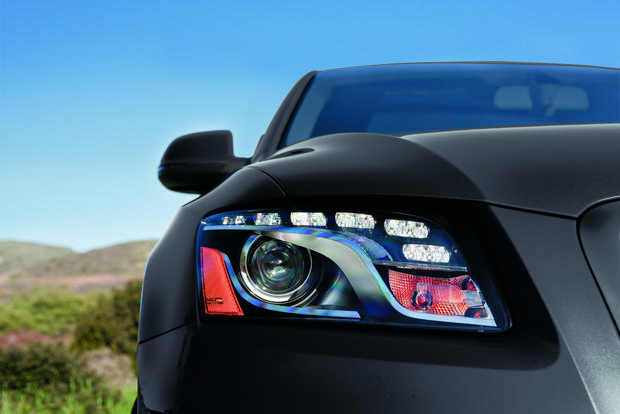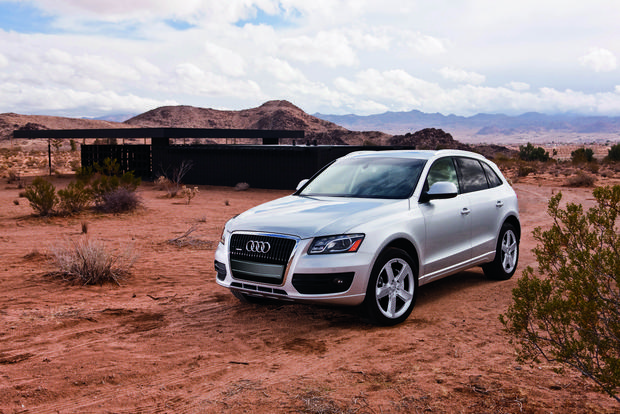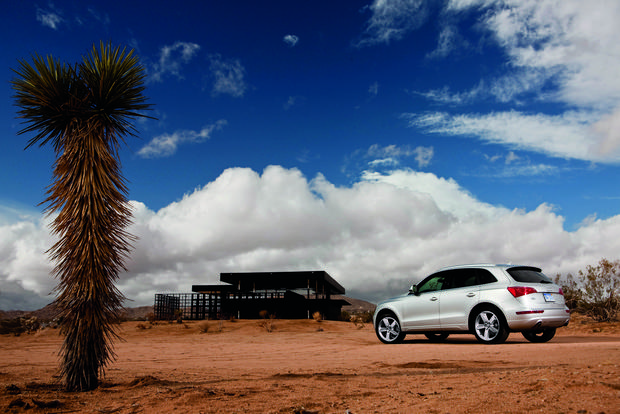 Pros: Upscale looks, fun to drive, high-quality interior, good 4-cylinder fuel economy, satisfying optional V6.
Cons: Smallish cargo hold, forgettable 4-cylinder performance.
Introduction
Practically every luxury crossover SUV promises "carlike performance," but few deliver as resoundingly as the 2012 Audi Q5. Based on the A4 platform, the Q5 rides higher and holds more cargo than its A4 relatives, yet its driving character is remarkably similar. We've often questioned the point of crossovers, especially when similarly practical regular cars are already offered-like the A3 hatchback and A4 Avant wagon, for example. But the Q5 does such a bang-on impression of a car that it basically neutralizes our default crossover criticism.
Of course, if you really start to attack corners, you'll notice that Q5's elevated center of gravity translates into increased body roll and lower limits. But come on, who really drives like that in a crossover? People typically buy these vehicles so they can ride higher and feel safer, even if it means sacrificing some handling capability. In the Q5, the sacrifice is so small that most drivers won't even notice.
A more significant sacrifice is required by the standard turbocharged 4-cylinder engine. We're already lukewarm on the "2.0T" in the A4, and the Q5 adds about 300 extra pounds to the 211-horsepower inline-4's workload. The optional 3.2-liter V6 solves the power problem, but it costs a lot more, too. So the Q5 does force you to compromise under the hood: you can have value or performance, but not both.
Nonetheless, we're big fans of Audi's compact crossover. If you want your new luxury SUV to feel as little like a truck as possible, make sure you get some seat time in a Q5.
Comfort & Utility
The 2012 Audi Q5 is offered in three trim levels: Premium, Premium Plus and Prestige. Note that the 2.0T engine is available in Premium or Premium Plus trim, while the 3.2-liter V6 engine comes in Premium Plus or Prestige trim.
The Premium comes with 18-inch alloy wheels, foglamps, LED taillights, leather upholstery, power front seats with adjustable lumbar, a tilt-telescopic steering wheel, woodgrain interior trim, tri-zone automatic climate control (including a separate temperature control for the back seat), the Multi-Media Interface (MMI) system with a dash-mounted control knob and a ten-speaker audio system with an auxiliary input, an SD card reader and satellite radio.
The Premium Plus adds xenon headlamps with LED running lights, a panoramic sunroof, a power liftgate, auto-dimming mirrors, driver memory functions, Bluetooth and iPod integration and heated seats. Notably, the 3.2 Premium Plus has a few standard features that the 2.0T doesn't, including 19-inch alloy wheels, S line styling enhancements and keyless entry with push-button ignition.
The 3.2 Prestige steps up to adaptive xenon headlamps, manual rear sunshades, a blind-spot warning system, a 14-speaker Bang & Olufsen audio system and an MMI navigation system that includes an upgraded display screen, a console-mounted control knob with a joystick-like top, and an extra SD slot.
Many of the higher trims' features-notably Bluetooth and iPod integration-are available on lower trims as options. The Prestige is eligible for some exclusive upgrades, including a leather-trimmed dashboard, cooled front seats, adaptive cruise control and the Drive Select system, which provides electronic adjustments for steering, transmission and throttle calibrations.
The Q5's front seats are comfortable enough, but they lack the range of adjustments that some competitors provide (BMW, for example), and their lateral support is minimal. Thanks to the standard seat-height adjustment and tilt-telescoping wheel, though, everyone should be able to find a comfortable driving position.
Behind that leather-wrapped wheel, the gauges are classic Audi-two simple circles for the tachometer and speedometer, with numerals rendered in Audi's distinctive font. Materials quality is excellent for this price range, and although the Q5 largely borrows the A4's dashboard, it does its sedan sibling one better by getting rid of the cheesy silver plastic trim that surrounds the A4's gauge cluster and MMI screen.
As with the A4, the Q5's ergonomics are hit-or-miss. Try to adjust the climate control's fan speed and you'll see what we mean-it's a two-step process. Whatever happened to a dedicated fan knob that simply does what it's told? On the bright side, we think Audi has made great strides with the MMI system's intuitiveness, though we only fully endorse MMI if you get the navigation system with its console-mounted control knob. The base MMI's dash-mounted knob is an uncomfortable reach for the driver.
The Q5 makes the most of its compact rear compartment by providing slide and recline functions for the back seat, not to mention the rare luxury of separate rear temperature controls. While the bottom cushion is still a bit lower than our taller editors would prefer, we'd call the Q5's rear passenger space satisfactory for this class.
However, maximum cargo space is on the small side, at 57.3 cubic feet. And while the 29.1 cubic feet of space behind the rear seatbacks sounds ample, we've found it challenging to fit a couple of golf bags into this relatively narrow cargo area.
Technology
Like the A4, the base Q5 doesn't come standard with iPod or Bluetooth connectivity, but you can easily add both as standalone options. Also, the absence of a USB port from the Q5's features list means that flash-drive loyalists will have to transfer their mp3s onto an SD card instead. Again, not a huge deal.
The technological nerve center of the Q5 is the MMI system, which comes in two forms. In standard spec without navigation, MMI is controlled via a knob on the center stack that we find to be too far from the driver for comfort. If your budget can handle it, we recommend stepping up to the MMI Plus system, which includes navigation, a more sophisticated display screen and a control knob that's conveniently mounted precisely where your right hand rests on the center console. Audi has greatly improved the intuitiveness of MMI's menu structure, and the console-mounted knob now features a nifty joystick-like top section that facilitates some operations.
Performance & Fuel Economy
The Q5 Premium and Premium Plus come standard with a turbocharged 2.0-liter inline-4 rated at 211 horsepower and 258 lb-ft of torque. The transmission is an eight-speed automatic. Even the base Q5 2.0T weighs nearly 4,100 pounds, and 211 horses aren't very many when you're dealing with that kind of mass. That's why we prefer the 3.2-liter V6-optional on Premium Plus and standard on Prestige-which pumps out a healthier 270 horsepower, albeit with less torque (243 lb-ft). The V6 helps the Q5 keep up with the swifter crossovers in this class, and the standard six-speed automatic always seems to be in the right gear.
All Q5s feature Audi's Quattro all-wheel-drive system. Fuel economy is a strong 20 mpg city/27 mpg highway with the 2.0T but drops to 18/23 mpg with the V6.
Safety
The 2012 Audi Q5 features standard stability control, four-wheel antilock brakes and six airbags (front, front side, full-length side-curtain). Rear side airbags are optional.
The government has not crash-tested the Q5 as of this writing, but the independent Insurance Institute for Highway Safety gave the Q5 its highest rating of "Good" in every category.
Driving Impressions
At reasonable cornering speeds, the Q5 feels like the sport sedan of compact luxury crossovers-an A4 on stilts, yes, but an A4 nonetheless. Push harder and you'll get smacked by old man Understeer, but like we said, no one buys one of these to chase motorcycles in the hills. The true calling of the Q5 is to traverse both highways and patchy urban pavement with lofty composure, and for the most part, that's exactly what it does. The ride is already on the firm side of normal, though, so think hard when your Audi dealer tries to sell you on the S line package with the 20-inch wheels.
Other Cars to Consider
BMW X3: The athletic X3 sports a pair of wonderful inline-6 engines (a turbo four will replace the base inline-6 for 2013), and its interior is right there with the Audi's in terms of quality.
Cadillac SRX: Newly fortified with a 308-horsepower V6 for 2012, the SRX also boasts a beautiful cabin and a unique sense of style.
Mercedes-Benz GLK-Class: The GLK's butch styling makes a strong statement, but don't be fooled. This is really just a C-Class sedan in a superhero costume. Not that there's anything wrong with that. Indeed, the GLK is one of the most rewarding drives in this segment, and it offers far more power than the Q5 2.0T at a comparable price.
AutoTrader Recommends
Cost no object, we'd take the Q5 3.2, but folks shopping for a vehicle like this may still be budget-conscious. For their sake, we'll recommend the Q5 2.0T-it costs thousands less, and its superior fuel economy will keep saving you money in the years ahead.