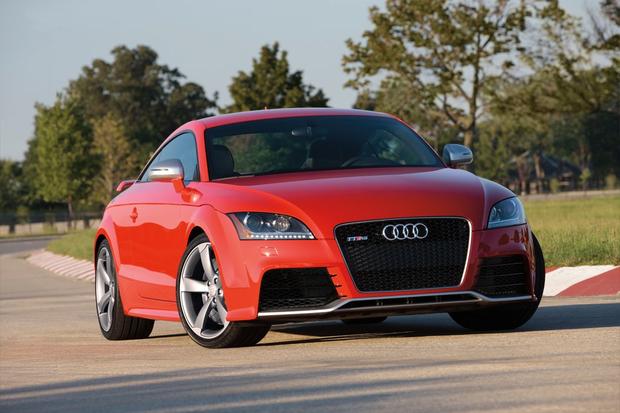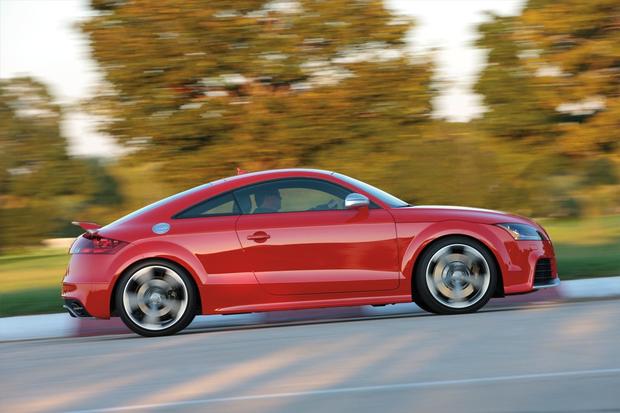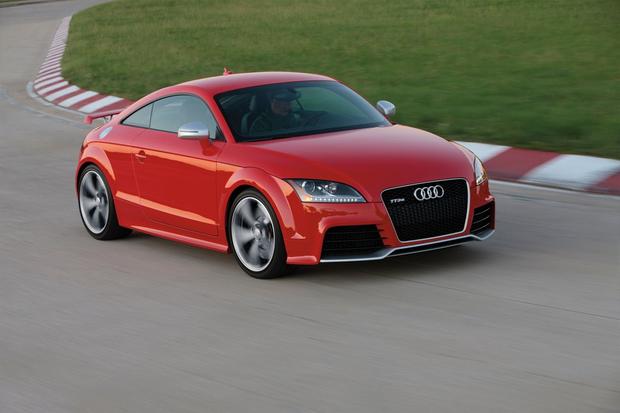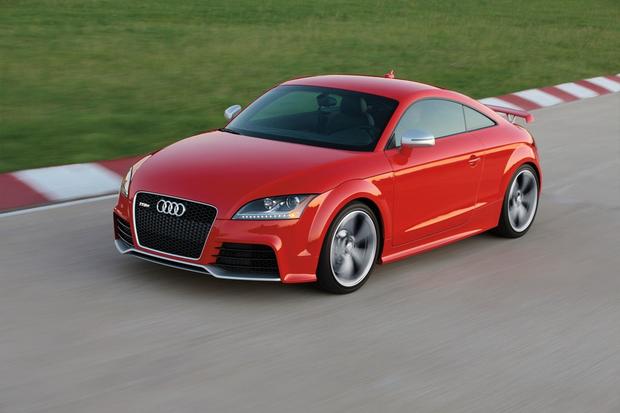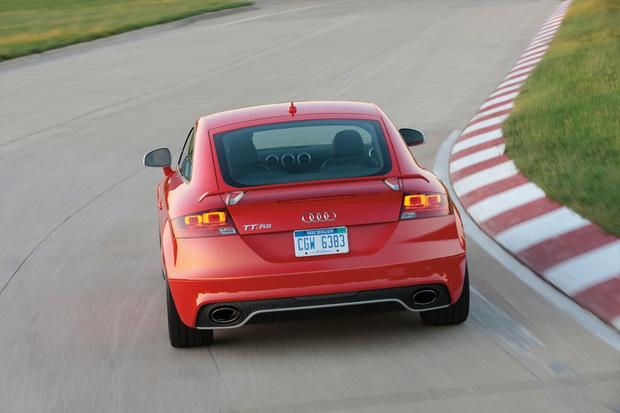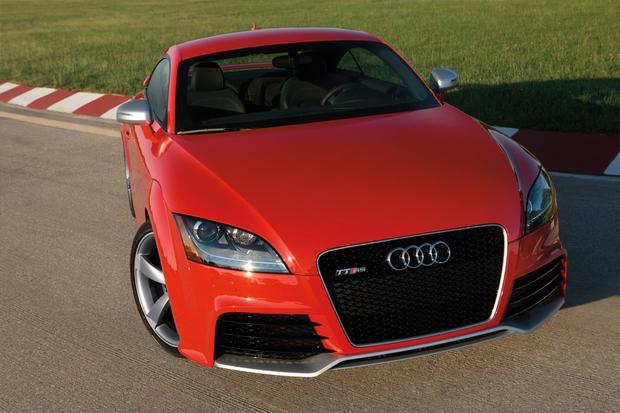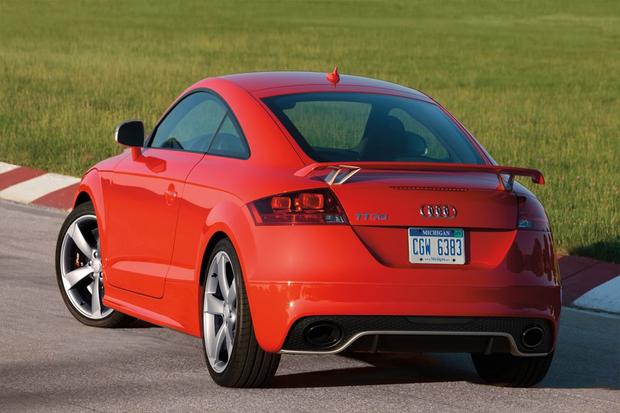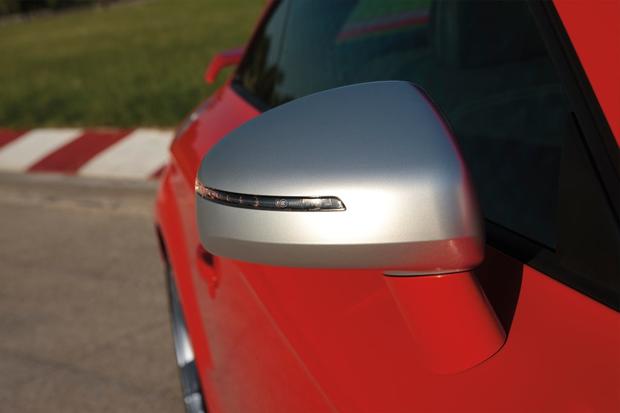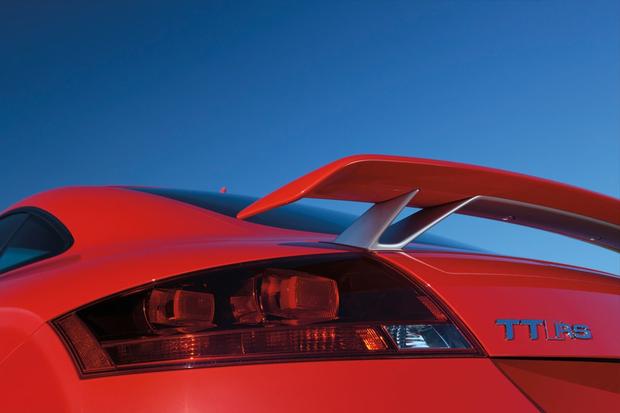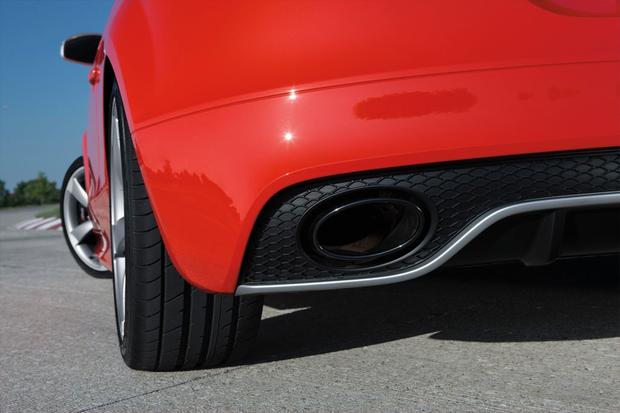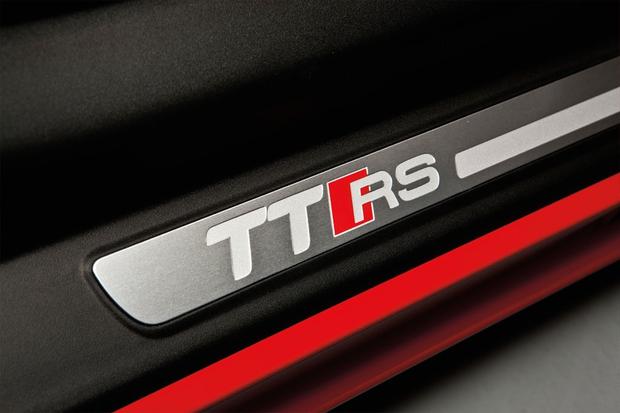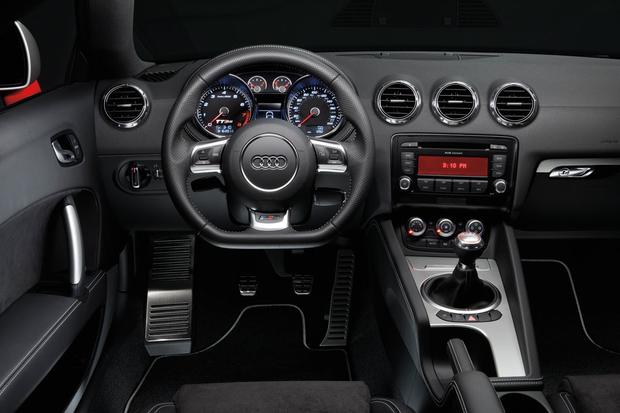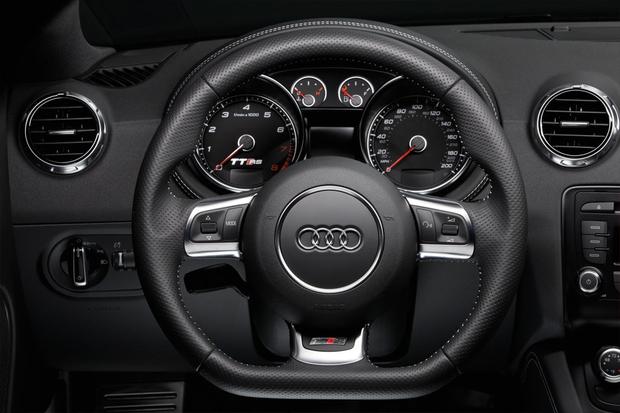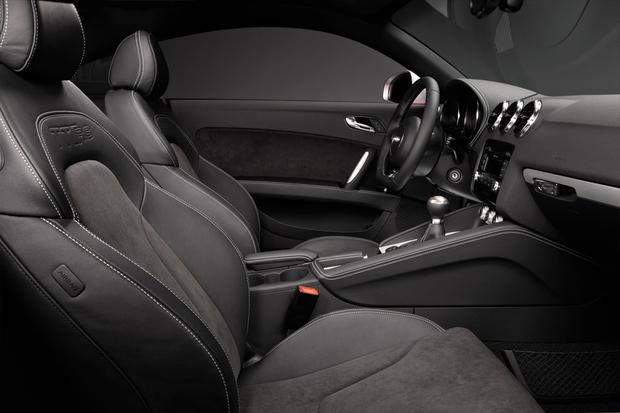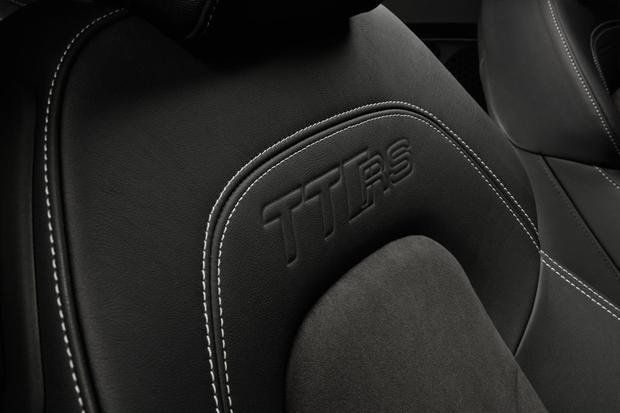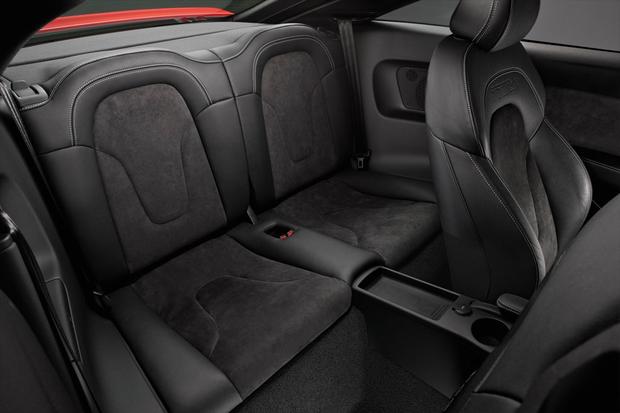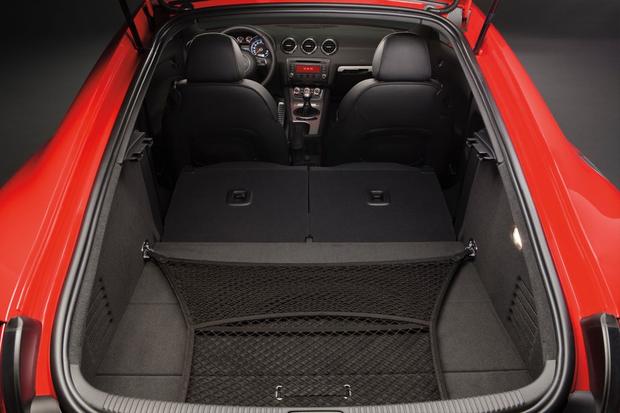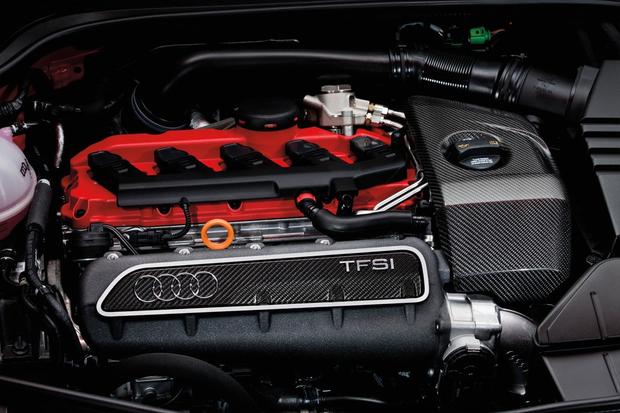 Pros: Foolproof all-wheel-drive handling, incredible acceleration and soundtrack from unique turbocharged inline-5, super-cool interior, distinctive styling.
Cons: Noisy at speed, not offered as a convertible, you probably won't be able to find one.
Introduction
We may have doled out lukewarm praise to the other members of the TT family, but let's be honest-the 2012 Audi TT RS is pure awesome. It's got a totally different engine, for starters, a turbocharged inline-5 (yes, five) that produces 360 horsepower and 343 lb-ft of torque, along with one of the most memorable engine notes we've ever heard. The front brakes are bigger, and the Quattro all-wheel-drive system has been beefed up to complement the heart transplant under the hood. Furthermore, every TT RS is equipped with a proper six-speed manual transmission. That's right, folks: unlike every other TT, you'll have to use your left foot if you want to drive this car.
Simply put, the TT RS is something very close to a supercar-and a user-friendly one at that. It'll whip virtually all comers on a track, and it transforms even mediocre drivers into superheroes on winding roads. The inline-5 is a gem. You'll be thanking yourself for ponying up for the TT RS every time the turbo kicks in and you hear that distinctive five-cylinder honk. This car is a conversation piece. It's worth every penny of what Audi's charging.
But here's the biggest problem with the TT RS: Audi only plans to make about 1,000 of them between 2012 and 2013, and the 2012 models have already been spoken for. We wouldn't let that stop you, though. Head down to the Audi dealership and tell them you want one-see if they can't hook you up somehow. For a car this awesome, it's worth going the extra mile.
Comfort & Utility
The 2012 Audi TT RS coupe comes standard with 19-inch alloy wheels, an electronically adjustable magnetic-ride suspension, upgraded brakes, flared fenders, a fixed rear spoiler (which can be deleted at no cost), various other RS-specific exterior styling cues, xenon headlamps with LED running lights, a carbon-fiber engine cover, Nappa leather upholstery (Alcantara is a no-cost option), a three-knob climate system with automatic temperature control, a tilt-telescopic steering wheel, Bluetooth connectivity and a 140-watt audio system with an SD-card slot, an auxiliary input and satellite radio.
The major option is the Tech package, which adds adaptive xenon headlights, parking sensors, interior LED accents, a 255-watt Bose audio system and Audi's Multi-Media Interface (MMI) with a 6.5-inch display screen, a dash-mounted control knob, navigation with real-time traffic, two SD-card slots and iPod integration. Other options include a sport exhaust and heated front seats.
The TT RS's interior is the pinnacle of TT cabin artistry, combining the usual top-shelf materials with a tastefully sporty RS theme. The flat-bottom steering wheel is unique in that it doesn't have shift paddles-the TT RS is the only TT that offers a proper manual transmission. The seats are familiar with the exception of their RS badging, and they continue to do a solid job of holding you in place around corners, though adjustable side-bolsters would be welcome. Although the TT RS is a tiny car, tall folks fit surprisingly well thanks to the tilt-and-telescopic steering wheel and the standard power height adjustment for the driver's seat.
Behind that flat-bottom wheel are a classic analog tachometer and speedometer with numerals rendered in Audi's distinctive font. The climate controls eschew Audi's typical two-knob digital setup in favor of a simpler three-knob setup that actually lets you adjust the fan speed without going through an extra step or two. However, as in other TTs, the TT RS's outdated previous-generation MMI system (see "Technology," below) is not particularly user-friendly.
We thought Audi might just delete the tiny back seat in the focused TT RS, but it's still there, and we'd still leave it folded down most of the time to take advantage of the hatchback trunk's Corvette-like 24.7-cubic-foot maximum cargo capacity (compared to 13.1 cubic feet behind the rear seats).
Technology
Our assessment of lesser TTs applies with even greater force to the expensive TT RS: this car is mildly disappointing when it comes to tech, at least by Audi's standards. For example, you can't get full iPod integration unless you pony up for MMI, which is part of the $3,500 Tech package. Other Audis let you add iPod integration as a separate, far cheaper option. Also, while the TT RS comes standard with SD-card compatibility, a USB port is absent, so you'll have to adapt if you're used to carrying around a flash drive full of mp3s or connecting your mp3 player via USB.
Additionally, the MMI system offered in the TT RS isn't the latest version, so it's got an older, less-intuitive menu structure-and it's DVD-based, so its performance lags behind that of the latest hard-drive-based MMI in other models. Another issue with this version of MMI is that the control knob is located on the dashboard rather than on the center console. The latter is a more convenient spot for the driver, and it's increasingly becoming Audi's default.
Performance & Fuel Economy
The TT RS is powered by a turbocharged 2.5-liter inline-5 that churns out 360 horsepower and 343 lb-ft of torque. Quattro all-wheel drive and a six-speed manual transmission are standard. If you found our praise for lesser TT motors unduly faint, we're about to make up for it. The TT RS has one of the most engaging engines on the market, serving up serious speed and scintillating sounds-amplified nicely by the sport exhaust-in equal measure. The manual shifter is just as joyous, offering short, precise throws that enhance the TT RS's vibe of exclusivity. There are many desirable drivetrains at this price point, but the TT RS has got one of the very best.
The TT RS's fuel economy is EPA-rated at 18 mpg city/25 mpg highway. That's pretty laudable for a car that's projected to hit 60 mph from rest in 4.1 seconds.
Safety
The 2012 Audi TT RS comes with standard stability control, four-wheel antilock disc brakes, and six airbags (front, front side, front knee).
Like the rest of the TT family, the TT RS has not been crash-tested in the US.
Driving Impressions
The TT RS's suspension is largely similar to that of the TTS, including the slightly lowered ride and standard two-mode magnetic dampers. So why are we so much more excited about the way the TT RS drives? The manual transmission has a lot to do with it, as does the distinctive five-cylinder warble at full throttle. The effect is transformational. Whereas the regular TT models leave us a bit cold with their paddle shifters and drab 4-cylinder engine notes, the TT RS has a passionate pulse. Of course, the insane grip from the 19-inch tires and Quattro all-wheel drive doesn't hurt, either. It's a special car. Frankly, we're surprised that it only costs an extra ten grand or so relative to the TTS.
Other Cars to Consider
BMW M3: For 2012, the M3 is still available with its high-revving 4.0-liter V8, which is one of the few engines at this price that's as entertaining as the TT RS's inline-5. The handling is phenomenal, too. The M3 is due for replacement soon, so drive one while you still can.
Mercedes-Benz C63 AMG: Now offered as a coupe as well as a sedan, the C63 has a scintillating V8 of its own, including a bawdy exhaust note that's pure car porn.
Porsche Cayman R: This supreme version of Porsche's mid-engine sports car packs a 330-horsepower flat-six and handling that just might be better than that of the mighty 911.
AutoTrader Recommends
We'd want MMI in our TT RS, so that means checking the box for the pricey Tech package. Give us the sport exhaust, too.