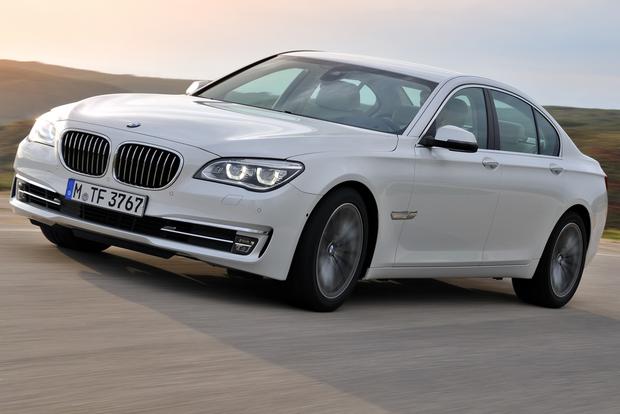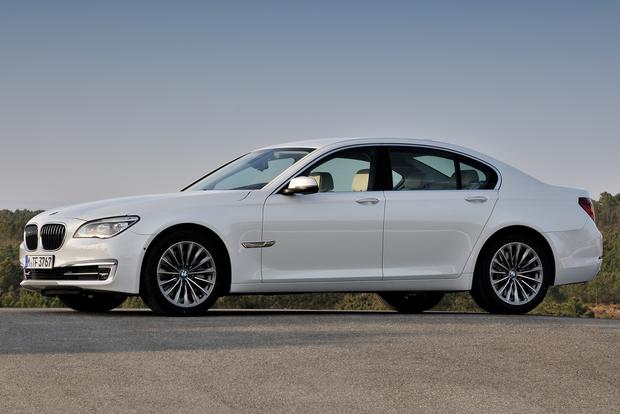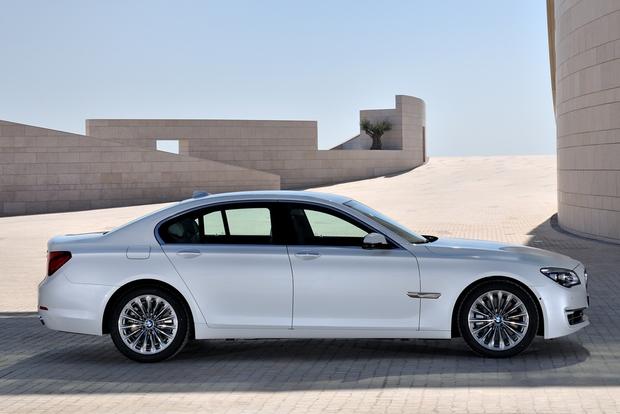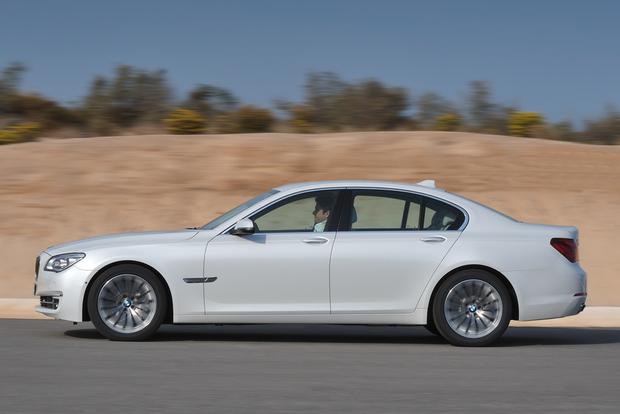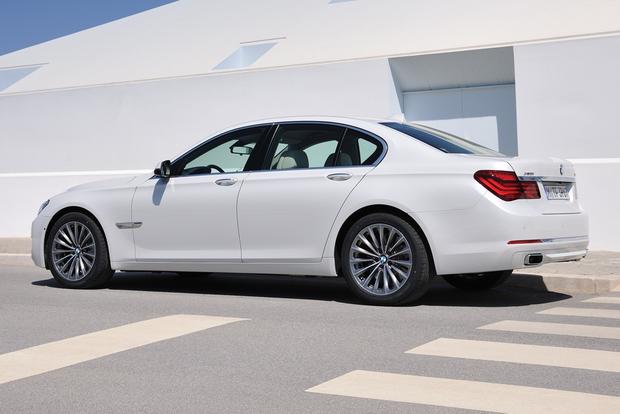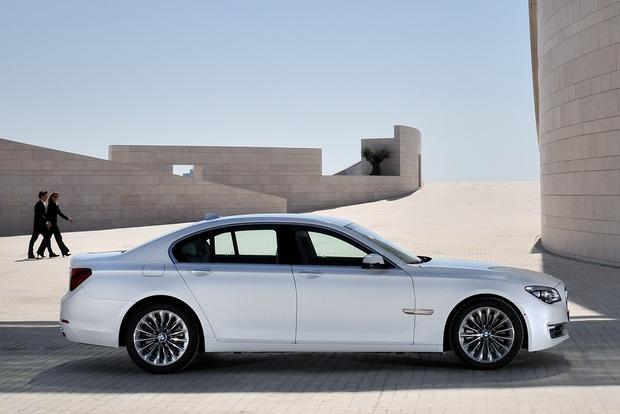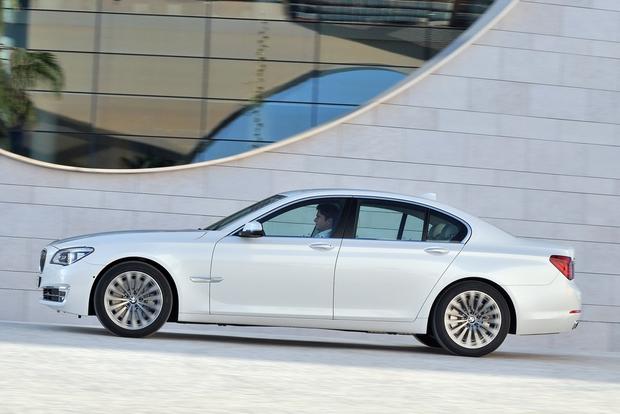 Pros: Excellent engines; choice of two wheelbase lengths; sumptuous interior with tons of features; capable handling; available Hybrid model
Cons: Bland styling; no longer the Ultimate Driving Machine in this class; mediocre fuel economy even for Hybrid
The 2012 BMW 7 Series is so satisfying to drive, we almost wish we didn't have to critique it. It cruises the highway the way a 747 cruises the skies. The power from the twin-turbo V8 is incredible - not to mention the exclusive twin-turbo V12 - and even the base inline-6 is no slouch. The cabin is an exercise in tasteful restraint with enough technology to please a programmer. Let's be clear: the 7 Series is an awesome ride.
But we get paid to pick nits, so here we go. The first thing that gives us pause about the 7 Series is its relatively soft, anonymous styling. The 7 Series used to be taut and angular, but now its corners are rounded, its assertiveness tamed. Competing luxury barges from Mercedes and especially Jaguar look sharp and distinctive by comparison. We're also disappointed to report that the 7 Series has more or less treaded water for the past decade on the handling front; meanwhile, Audi and Jaguar have caught up with, and perhaps even surpassed, the formerly peerless Bimmer.
All right, so we did our job - we found a couple of things that aren't perfect about the 7 Series. But the essential story here isn't the car's shortcomings; it's how amazingly competent the 7 Series is as an overall package. Critique it though we must, this BMW can hang out in our garage anytime.
Comfort & Utility
The 2012 BMW 7 Series sedan is offered in three trim levels: 6-cylinder 740i, 8-cylinder 750i (also offered as the Active Hybrid 750i) and 12-cylinder 760Li. The 740i and 750i are the short-wheelbase versions by default, but long-wheelbase 740Li and 750Li models are also available; the 760Li is long wheelbase only. The long-wheelbase models have generally similar equipment rosters but ride on a self-leveling air suspension.
The 740i comes standard with 18-inch alloy wheels, adaptive xenon headlamps, fog lamps, electronically adjustable dampers, front and rear parking sensors, a sunroof, leather upholstery, power front seats with lumbar support and memory functions, a power tilting and telescoping steering wheel, quadruple-zone automatic climate control, iPod/USB and Bluetooth connectivity, a 10-speaker audio system with dual subwoofers and the hard-drive-based iDrive information and entertainment system with navigation, digital music storage and a 10.2-inch wide-screen display with a rear-view camera.
The 750i adds a twin-turbocharged V8 engine, 19-inch wheels, power automatic soft-closing doors, a power trunk lid, 20-way multi-contour heated front seats, Nappa leather upholstery and a 16-speaker audio system with a 600-watt amplifier. The Active Hybrid 750i tacks an electric propulsion system onto the twin-turbo V8 and includes hybrid-specific information displays.
The 760Li is loaded up with a twin-turbo V12 engine, rear bucket seats with power adjustments, a leather-trimmed instrument panel, a head-up display and side- and top-view cameras.
Many of the higher trims' standard features are available as options on lesser models. Among the optional packages are an M Sport appearance package and a Rear Entertainment package with twin 8-inch screens on the backs of the front headrests.
There's also a high-performance Alpina B7 model-offered in both wheelbase lengths-that boasts a stronger version of the 750i's twin-turbo V8, 21-inch wheels, a sport-tuned suspension and various Alpina-specific styling cues.
In truth, even the bone-stock 740i has a mind-blowing roster of luxuries. You could drive one for the rest of your life and never want for more. Well, we take that back; you'll absolutely want the sublimely supportive multi-contour front seats, which are a bargain at $1,300 and come standard on 750i and above. The gauges use BMW's classic white-on-black theme, changing to orange on black at night, but they're complemented by an electronic display that seamlessly integrates with the bottom of the gauges when the car is on, and goes black when the car's off. The quality of the interior materials is outstanding, and the tastefully understated dashboard design incorporates a center stack subtly canted toward the driver in a nod to BMW tradition. The iDrive system includes a beautiful 10.2-inch wide-screen display.
The standard 7 Series back seat is roomy enough for all but chauffeur-driven shoppers, who might plausibly want more legroom while they're kicking back with their iPads. For them, the extended-wheelbase Li models can satisfy that desire. The trunk space in the short-wheelbase 7 Series officially measures a modest 14 cubic feet, but the Germans must have a funny way of translating their trunk sizes to our measurements, because this trunk is pretty huge. The ActiveHybrid model's trunk loses just one cubic foot of space to the hybrid hardware, checking in at 13 cubic feet.
Technology
The 7 Series has all the expected technology features and then some, including available side- and top-view cameras for completely stress-free parking. What's unexpected, though, is how satisfying the latest version of iDrive turns out to be. There's that attractive 10.2-inch wide screen, but it's more than just a pretty face; iDrive has improved dramatically from its controversial early years, featuring a vastly better menu structure and numerous physical buttons next to the controller knob for direct access to common pathways. Furthermore, iDrive is now hard drive based, which gives you higher processing speeds and the fringe benefit of digital music storage. It's one of the very best information and entertainment systems on the market - something we never expected to say when using the clunky early versions of iDrive.
Performance & Fuel Economy
The 740i is powered by a twin-turbocharged inline 6-cylinder engine rated at 315 horsepower and 330 lb-ft of torque. The transmission is a six-speed automatic. There's plenty of smooth thrust for most tastes, but we wouldn't be able to resist the siren call of the 750i's twin-turbocharged 4.4-liter V8, which pumps out 400 hp and 450 lb-ft of torque through a six-speed automatic. This V8 is one of our favorite engines, doling out force and refinement in equally awesome doses. It's also offered in superfast Alpina B7 (500 hp, 516 lb-ft of torque) and fuel-saving Active Hybrid (455 total hp) forms, with the latter receiving an eight-speed automatic with automatic stop/start technology. The 760Li's twin-turbocharged 6.0-liter V12 crushes most comers with 535 hp and 550 lb-ft of torque, although, to be honest, we like the 760Li more for its eight-speed automatic transmission than for its modest power advantage.
On the fuel economy front, the best the 7 Series can do is 17 mpg city/25 mpg highway in the 740i. The Active Hybrid comes in second at 17/24 mpg, a rather disappointing performance for a hybrid - even one that makes 455 hp. The non-hybrid 750i drops to 15/22 mpg, while the Alpina B7 gets 14/22 mpg, and the 760Li brings up the rear at 13/19 mpg.
Rear-wheel drive is the default layout for the 7 Series, but all-wheel drive is available on the non-hybrid 750i and the Alpina B7. Fuel economy for both is 14/20 mpg.
Safety
The 2012 BMW 7 Series comes with standard stability control, four-wheel ABS, active head restraints and eight airbags (front, front knee, front side, and full-length side curtain).
Neither the Government nor the independent Insurance Institute for Highway Safety has crash-tested the 7 Series.
Driving Impressions
No matter which model of the 2012 7 Series you choose, you'll be getting one of the world's supreme fast-lane cruisers. BMW basically engineers this car to do 155 mph on the German autobahn with more composure than any other sedan. We can't go that fast in this country, of course, but suffice it to say that the 7 Series has few peers at speed. We prefer the invincible Mercedes-Benz S-Class on rough roads, but the BMW's suspension is expert at soaking up bumps. On winding roads, the 7 Series is still palpably a BMW, turning in crisply and keeping body roll minimal through the corners; however, the Audi A8 and Jaguar XJ will now give the 7 Series a run for its money.
Other Cars to Consider
Audi A8/S8: The executive-class Audi may have cookie-cutter styling, but it's very rewarding to drive, and its interior is one of the best on the planet. Try the twin-turbocharged S8 for acceleration that rivals the best from BMW.
Mercedes-Benz S-Class: The current S-Class has been around for years now, but it's still the car to beat in this class. That should tell you something about how good it is. New this year is an excellent 5.5-liter twin-turbocharged V8.
Jaguar XJ: The XJ doesn't have the consistent excellence of the German competition, but it compensates with loads of British driving character and the most expressive styling of the lot.
AutoTrader Recommends
Because we're a little nostalgic for the racy BMWs of yore, we'd try to make the Alpina B7 fit into our budget. Failing that, the 750i is an immensely satisfying car at a price that's pretty reasonable for this segment.