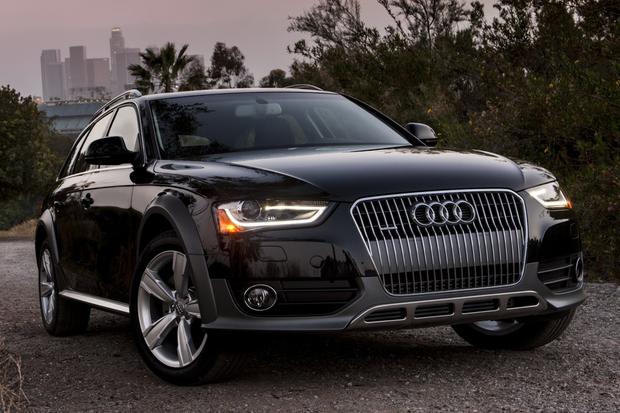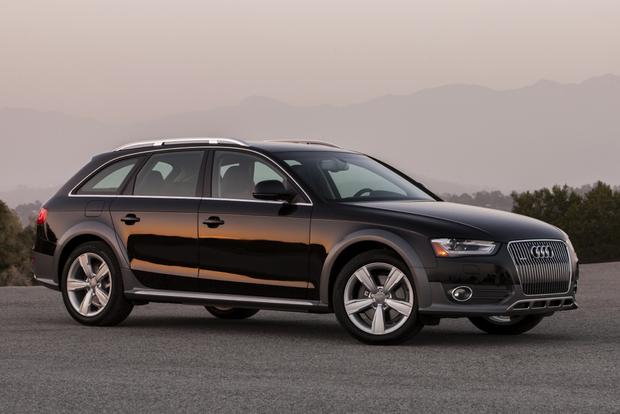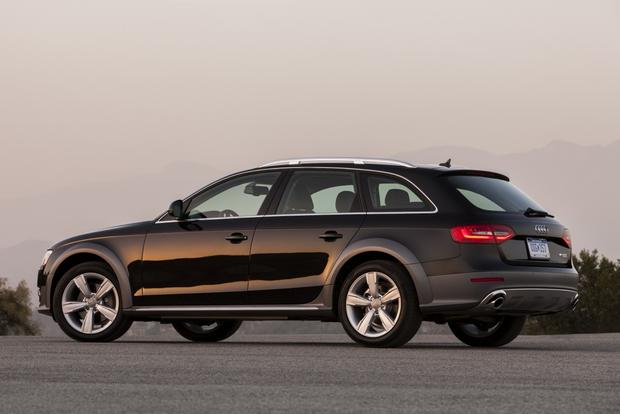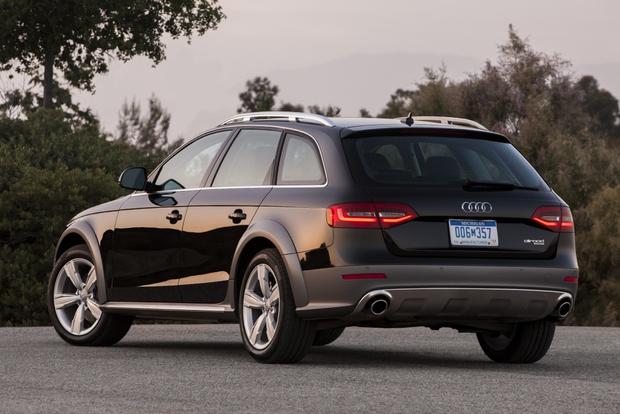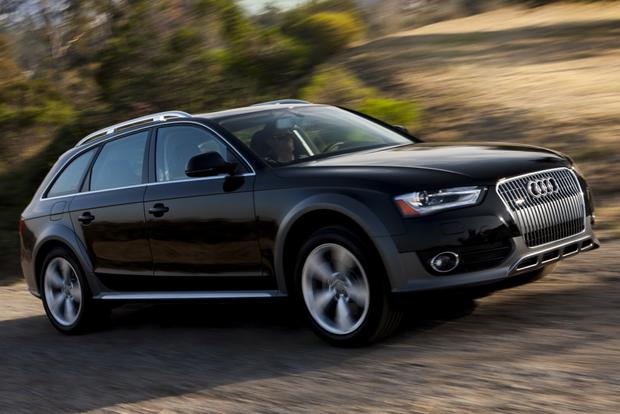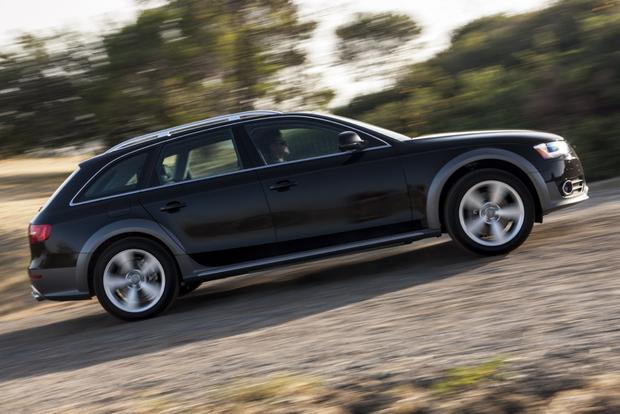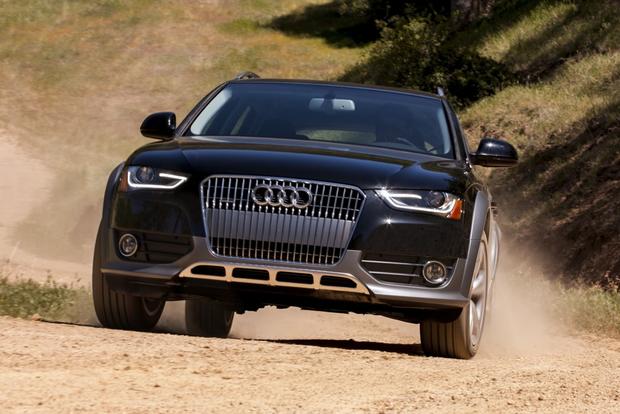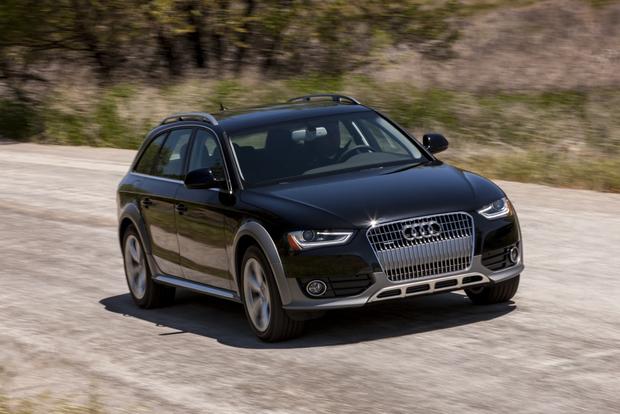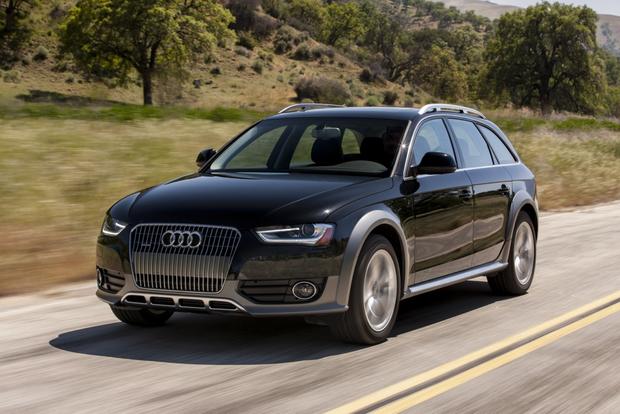 Pros: Engaging handling, more off-road capability than most wagons, fancy interior, excellent technology features.
Cons: Mediocre power and fuel economy, modest cargo capacity, Bluetooth and iPod integration aren't standard.
What's New: The Audi allroad is a new model for 2013.
Introduction
If the 2013 Audi allroad (yes, Audi spells it with a lowercase "a") sounds familiar to you, well, you're right. We've been down this road before. The original allroad, based on the midsize A6 wagon, debuted over a decade ago with funky off-roader styling, Quattro all-wheel drive, and an unusual twin-turbocharged V6.
This time around, the allroad is based on the A4 wagon and features a four-cylinder engine with a single turbo. But it's got enough of the old allroad's plucky character to satisfy longtime fans and win some new ones, too.
While the 2013 allroad isn't a true off-road vehicle, it does offer some meaningful upgrades. Stainless steel skid plates provide added underbody protection, and the allroad's extra 1.5 inches of ground clearance bring light-duty washboard roads into play. Also, the allroad just looks tough with its flared wheel arches and shiny door sills. The styling alone should be enough to win over some would-be crossover buyers.
The 2013 allroad may lack the twin-turbo punch of its predecessor, but in all other respects, it's a worthy heir. Check it out if you like the idea of a premium wagon that doesn't mind getting dirty.
Comfort & Utility
The 2013 Audi allroad wagon is offered in three trim levels: Premium, Premium Plus, and Prestige.
The Premium comes with 18-inch alloy wheels, headlight washers, fog lights, skid plates, a panoramic sunroof, leather upholstery, 8-way power front seats with driver lumbar adjustment, single-zone automatic climate control, the Multi-Media Interface system with a dash-mounted control knob, and an audio system with an auxiliary input, an SD card reader, and satellite radio.
The Premium Plus adds auto-leveling xenon headlamps with LED daytime running lights and LED taillights, a power tailgate, auto-dimming mirrors, heated and power-folding exterior mirrors, an upgraded trip computer, Bluetooth and iPod integration, heated front seats, and tri-zone automatic climate control (meaning the rear passengers get their own controls).
The Prestige goes all-out with adaptive xenon headlamps, a blind-spot warning system, keyless entry with push-button ignition, a color driver information display, a rearview camera with rear parking sensors, MMI Plus with navigation and a console-mounted joystick knob, a Bang & Olufsen audio system, and the Audi connect telematics suite (see "Technology," below).
Many of the higher trims' features are available on lower trims for a fee. Other options, depending on the trim level, include 19-inch alloy wheels, a Sport Interior package (sport front seats and a three-spoke steering wheel with shift paddles), adaptive cruise control, and the Drive Select system, which allows the driver to adjust settings for steering, transmission, and throttle response.
In our interior evaluation, we found that the allroad's standard front seats don't offer much in the way of support, but the Sport Interior package rectifies this in a big way, so check that box if you can. In any case, most drivers will easily find a comfortable position thanks to the tilt-telescopic steering wheel and multiple power adjustments. However, drivers with long legs may find their left elbows hanging off the back of the stubby door armrest.
The allroad largely borrows its dashboard and control layout from the A4, so that means it sports exceptionally high-quality materials all around. It also means that ergonomics are spotty due to missteps like a fan-speed control that requires two steps to adjust. But to Audi's credit, the MMI system has become vastly more intuitive as of late, as we explain in detail below.
Although the A4-based 2013 allroad is technically one size smaller than the old A6-based allroad, the A4 platform has grown up since the late '90s. In other words, the new allroad is hardly a compact car, so four adults can ride together all day without issue, even if back-seat space trails that of most crossovers.
Cargo capacity is unimpressive by crossover or wagon standards, however, checking in at 27.6 cubic feet behind the rear seats and 50.5 cubic feet with the rear seatbacks flipped down.
Technology
The allroad doesn't come standard with iPod or Bluetooth connectivity, and if you want these features, Audi dings you $1,100 for something called the Convenience package. That's annoying on a luxury car. We also question the absence of a USB port, though if all you usually do is plug in a flash drive full of mp3s, it's not that hard to buy an SD card and use the standard SD slot instead.
In any case, the technological nerve center of the allroad is the MMI system, which comes in two forms. In standard spec without navigation, MMI is controlled via a knob on the center stack that requires an uncomfortable reach from the driver's seat. If your budget can handle it, we recommend stepping up to MMI Plus, which includes navigation, a more sophisticated display screen, and a multifunction control knob that's conveniently mounted precisely where your right hand rests on the center console.
New and notable for the A4 family for 2013 is Audi connect, which employs a 3G data connection to integrate Google Maps into the MMI Plus navigation system. Other Audi connect features include Google search with voice-command functionality, real-time weather and travel information, and even mobile wi-fi connectivity for up to eight devices.
Performance & Fuel Economy
The allroad is powered by Audi's familiar turbocharged 2.0-liter inline-4, which makes 211 horsepower and 258 pound-feet of torque. Quattro all-wheel drive and an eight-speed automatic are standard. Audi has tuned the engine and transmission to feel quick around town, but passing power at higher speeds is limited by the allroad's 3,891-pound heft. The "2.0T" is still a fine motor on its own merits, but 211 horsepower just isn't very much these days for a turbocharged engine of this size.
Fuel economy is likewise unimpressive, clocking in at 20 mpg city/27 mpg highway, according to the EPA.
Safety
The 2013 allroad comes with standard stability control, four-wheel antilock brakes, and six airbags (front, front side, full-length side-curtain). Rear side airbags are optional on all trims.
The allroad itself has not been crash-tested, but its A4 platform-mate received four stars out of five overall in government crash tests, including four stars for frontal impacts and five in all other categories. The independent Insurance Institute for Highway Safety gave the A4 its highest rating of "Good" across the board.
Driving Impressions
The allroad sits 1.5 inches higher off the ground than a standard A4, and that should compromise handling significantly. But it doesn't. The allroad is a relatively wide vehicle with plenty of rubber, so it still handles like a proper European car. Naturally, the discontinued A4 Avant (wagon) felt more glued to the road, but the allroad's extra ground clearance and unique suspension tuning allow it to tackle gentle off-road routes that would have normal cars running for cover.
Other Cars to Consider
BMW 328i Touring: The new 3 Series can still be had as a wagon, and it's a good one, boasting fine road manners and a turbocharged inline-4 that beats Audi's in both power and fuel economy.
Volkswagen Touareg: Check the prices on Touaregs before you go with the allroad, because there's a chance you might be able to snag VW's excellent SUV for less coin. The Touareg uses the same platform as the Porsche Cayenne, so it can handle just about anything you throw its way.
Volvo XC70: Volvo actually beat Audi to the punch, as there hasn't been a regular V70 wagon since 2010. Its replacement, the XC70 wagon, is the same kind of vehicle as the allroad, though its SUV-like fuel consumption gives us pause.
AutoTrader Recommends
As noted, we much prefer the allroad with the Sport Interior package and MMI Plus. You can specify both as options on the Premium Plus model, so that's where our money would go.